Writing about REIT brands and differentiating growth and income strategies is an easy layup at Retail Opportunity Investments Corp. (NASDAQ:ROIC). Distinguished by the clever ticker symbol, the West Coast sharp shooters have built a rookie brand around proven management and exceptional high-quality acquisitions.
Since transforming from a SPAC in late 2008, ROIC has achieved one of the best balance sheets, asset bases, and management teams in the REIT industry. Led by industry veteran all-star Stuart Tanz (president and CEO), the company targets retail shopping centers with large, financially stable anchor stores. These locations have proven better able to ride out rough markets as the company's most common anchor store (established grocery chains) draws large crowds regardless economic conditions.
As of December 310, 2011, ROIC owned 30 shopping centers comprising 3.2 million square feet with a stabilized portfolio occupancy of 93.7% (over-all portfolio was 91.2%). If interested you can read an article I wrote on ROIC back in July 2011, or simply read about the most recent scorecard for the formidable shopping center "sharp shooting" brand:
Fourth Quarter 2011 Highlights
Net income of $.2 million, or $.01 per diluted share for 4Q11
Funds From Operations (FFO) of $7.5 million, or $.17 per diluted share for 4Q11
$17.5 million grocery-anchored shopping center acquired in 4Q11
$77.2 million in net proceeds raised through common stock offering in 4Q11
$.12 per common share cash dividend declared
Year 2011 Highlights
Net income of $9.7 million, or $.23 per diluted share for 2011
FFO of $33.0 million, or $.78 per diluted share for 2011
$288.2 million of shopping centers acquired in 2011
91.3% portfolio occupancy rate at December 31, 2011
24.5% debt-to-total assets ratio at December 31, 2011
Stuart A. Tanz, president and CEO of ROIC, stated,
"During 2011, we successfully achieved a number of key objectives. Through our acquisition program, we expanded our portfolio by 80%, in terms of gross leasable area, enhancing our presence across all of our core markets in the western United States. Additionally, we continued to capitalize on the strong demand for space across our portfolio, aggressively leasing space at newly acquired properties. We also completed several important balance sheet initiatives, including refinancing our unsecured credit facility, significantly lowering the borrowing spread, as well as competing our first public stock offering as a shopping center REIT. Looking ahead at 2012, we are already off to a solid start with $65 million in shopping center acquisitions committed to date. Additionally, with our leasing activity during the past year, together with the current demand for space, we are poised to generate strong, same-store cash net operating income in 2012."
Tanz stated further,
"In the last two years since commencing operations as a shopping center REIT, we have successfully completed $654 million of shopping center investments and established a solid operating platform in our core markets. We believe we have the critical mass and infrastructure in place today to drive strong operating results going forward and continue growing our business."
As of December 31, 2011, ROIC had total assets of $694.4 million with $169.9 million of debt outstanding, equating to a 24.5% debt-to-total asset ratio. As December 31, 2011, ROIC had no borrowings outstanding on its $175 million unsecured revolving credit facility.
The ROIC brand is perhaps best distinguished by its exceptional NOI growth. While most retail REITs have reported flat or modest income growth, ROIC has produced some compelling income stats: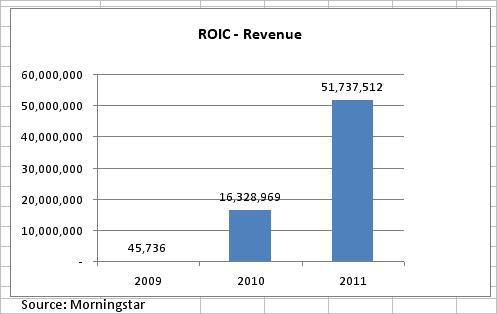 Click to enlarge
As a result of the stalwart income growth, ROIC is continuing to grow its dividend. The current dividend is 4.1% and I expect to see continued growth as Stanz and his team grow closer to the targeted $1 billion dollar mark (assets under management) - likely to top the big "B" by Q3-12. The accretive income and extraordinarily strong balance sheet should propel the brand into the big leagues. The junior varsity team has already proven that it can run with the big boys as the REIT's 25% total return contribution was the No. 1 performer (of all shopping center REITs) in 2011. Here is a snapshot of the sound dividend growth: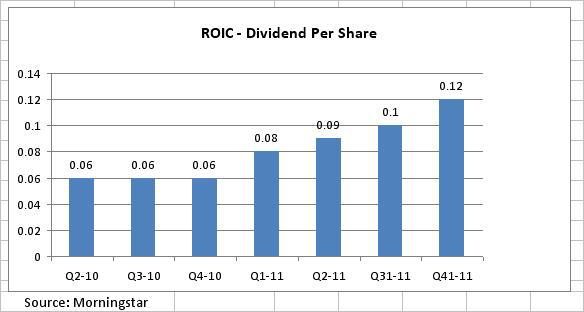 Click to enlarge
In summary, ROIC deserves more playing time. The West Coast squad has proven it can pass, dribble and shoot. The young squad has plenty of room to grow as the portfolio has just around 24% of leverage - making for very attractive yield enhanced earnings (and dividends). The stock is currently trading at $11.54 (52-week high was $12.10) and the dividend yield is around 4.1% and growing. The top performer should continue to deliver all-star results and is destined to be a slam dunk champion for years to come.
Disclosure: I have no positions in any stocks mentioned, and no plans to initiate any positions within the next 72 hours.