After the first long-term repo operation (LTRO) done last December by the European Central Bank (ECB), on 29 February, 2012, the ECB offered another unlimited 3-year LTRO, at a cost of 1% to European banks. In this operation banks raised €529.5bn, a small increase compared to the previous €489bn raised on the first LTRO. Around 800 banks receive this cheap funding, clearly above the 523 banks registered the first time. As discussed recently in my article "EUR/USD: What To Expect From Next Week's LTRO", this number is below expectations (survey from UBS) and possibly a sign that European banks are in better shape than expected.
Since the last operation, the ECB has shown great willingness that banks resort to such financing. The ECB president said that there was no stigma attached with to the LTRO, the reason why Deutsche Bank (NYSE:DB) said he had been out of the LTRO. Even financial subsidiaries from European companies, like Volkswagen (OTCPK:VLKAF) and Peugeot (OTCPK:PEUGY), were encouraged to fund themselves with this cheap money. This clearly demonstrates that the ECB wants to flood the market with cash to avoid a credit crunch, even if it is for people to buy cars!
In addition, on February 9 the ECB approved new eligibility criteria for additional credit claims. Estimates by the central bank's point to an additional collateral pool of €600-700bn, but these numbers fall to about half taken into account the haircuts made by the ECB to the nominal value of assets. Only seven central banks (from a total of seventeen) widened the collateral pool accepted, mainly from countries where banks have less access to capital markets. The other central banks did not like the plans or were unwilling to accept riskier assets. In either case, this clearly demonstrates a signal of fragmentation in the European Monetary Union which is negative given the current sovereign debt crisis.
Conclusion
The ECB continues to support the European financial system with this cheap money and with a Greek default avoided, at least in the short-term, I think that the European bank shares should continue to rally. The sector outperformed the European market with an 11.4% rise YTD, measured by the iShares MSCI Europe Financial Sector Index (NASDAQ:EUFN).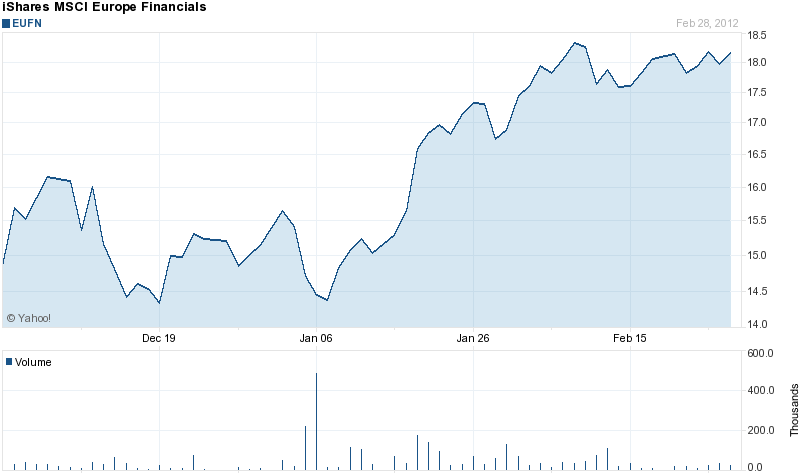 Click to enlarge
Source: YahooFinance.
Although this good performance can continue in the short-term, for more fundamental driven investors they must take into consideration that the outlook for European banks continue weak, as I discussed on my previous article "ECB's LTRO: Reason Enough To Buy European Banks Shares?". Namely, the balance sheet deleveraging, wholesale funding drought, higher capital ratios and a weak macroeconomic environment are negative factors that the LTRO doesn't remove.
Disclosure: I have no positions in any stocks mentioned, but may initiate a long position in EUFN over the next 72 hours.