Let me start off by saying I have a great deal of respect for Warren Buffett. I have a great deal of respect for anyone who has generated such a massive amount of net worth. It's not "easy" and takes a certain amount of intelligence. There's a reason you hear his name so often, and there's a reason there is such a fascination with him among many people. Who wouldn't want to be in his shoes?
The answer to that is "very few of us."
This news by now is a couple of weeks old. Buffet's Berkshire Hathaway (BRK.A, BRK.B) bought into Liberty (NASDAQ:LMCA) in the latter portion of last year. As many of you know, Liberty currently holds a 40% stake in satellite radio company SiriusXM (NASDAQ:SIRI). To many people (including myself), when someone takes stock in Liberty they understand that they are effectively placing a very large portion of that money into SiriusXM through indirect means.
It is humorous sometimes to go back through the articles from the timeframe the purchase would have been made. It's ok to laugh a little bit.
Now, if Buffett felt SiriusXM was a poor investment he certainly would not have placed his bets on Liberty. It's a very reasonable conclusion to arrive at. Thus, we can assume that Buffett believes SiriusXM was a very good investment. Buffett has often been quoted as saying to buy stocks "on sale" and that is exactly what he accomplished here.
Let's see if Buffett was right, based on SiriusXM's performance:
click to enlarge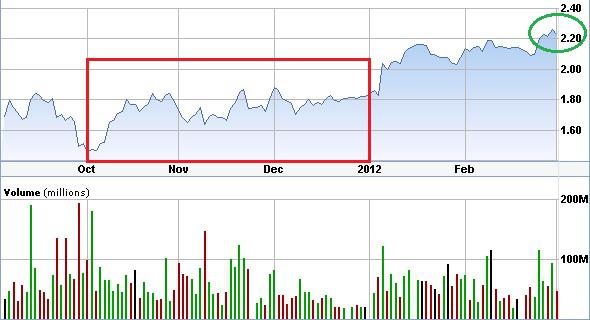 Click to enlarge
This is a 6 month chart showing SiriusXM's performance. The red square is the timeframe in which Buffett purchased Liberty shares (and for our purposes, SiriusXM). The green circle is today.
As you can clearly see, if we assume Buffett purchased when SiriusXM was around $1.70 the return in less than 6 months would be over 30 percent. Buffett did indeed purchase SiriusXM while on sale, and it was certainly a good investment.
For comparison's sake, let's look at Liberty's chart:
Click to enlarge
Again the red square is Buffet's entry range, and the green circle is today. You can clearly see that Buffett made a very good choice in investment. The gain here for Liberty as a whole is roughly 20 percent if we assume the purchase was made at the $75 level.
How does this help us today? If we are following Buffett we need to consider whether or not Buffett would sell today. We need to consider whether or not Liberty, and subsequently SiriusXM, is overvalued or not right now. We need to consider how that impacts our own decisions surrounding the stock.
The fact of the matter is, Buffett wins far more times than he loses. His net worth is indisputable proof of this. Do you think SiriusXM is a Buffett stock? Do you see what Buffett is seeing in Liberty's 40% stake in SiriusXM?
I believe Buffett has invested in the long term. And by long term I mean at least as long as it takes for impending actions to play out surrounding Liberty's moves with SiriusXM on or after March 6th. Even in the absence of a move, if things are kept exactly as they currently stand, SiriusXM is poised to have an exceptional year. This will benefit Liberty, and thus this will benefit Buffett.
I believe SiriusXM and Liberty both are on sale, and I believe that to date Buffett has not yet realized his expected gains. As a long term play, both Liberty and SiriusXM present opportunity for extensive upside.
Disclosure: I am long SIRI.
Additional disclosure: I am long SIRI March $2 calls.