Refining companies have gotten a bad rap as oil prices floundered in the recent US recession. The crack spread fell, and refiners profits (margins and volumes) fell along with it. Oil prices recovered after a year or more, but then they weakened again in the second half of 2011. Oil prices have strengthened again in the last 5 months, and the crack spread has risen along with oil prices.
Overall world oil demand is rising. Mostly emerging market demand is rising. This rise should put a much higher floor under oil prices, even if we see troubled economic times in the near future. The EIA recently raised its forecast for global oil demand to +1.32 million bpd for 2012 and to +1.49 million bpd for 2013. Supplies are tightening. Simultaneously the EIA has decreased world oil output forecasts for non-OPEC countries by 140,000 bpd for 2012. The EIA estimates that US oil prices could average more than $100 for the first time ever in 2012. These factors should keep oil prices high, and they should keep refiners busy.
If oil prices do not go too high, it will likely mean that refiners will experience greater margins for most of 2012 and 2013. Margins do tend to drop, when oil prices get far over extended. On top of all of this Iran oil exports are likely to disappear from the EU and the US markets for most if not all of 2012. Saudi Arabia has promised to replace any lost Iranian production with its own oil production. This is important because much of Saudi Arabia's oil is "sour crude". Not all refineries can refine this crude.
The EU is especially lacking in this ability. Many US refineries such as many of Valero's can refine sour crude. This means that Valero (NYSE:VLO) will likely be that much busier in 2012. It will have to refine more sour crude not only for the US, but for the EU too. This should lead to increased overall volumes for VLO (refineries running at near full capacity). Plus the wider crack spread should lead to greater margins. Together these factors mean greater revenues and greater earnings growth for Valero. To illustrate my point, the Bloomberg Nymex WTI Cushing Oil First Month 321 crack spread chart is below.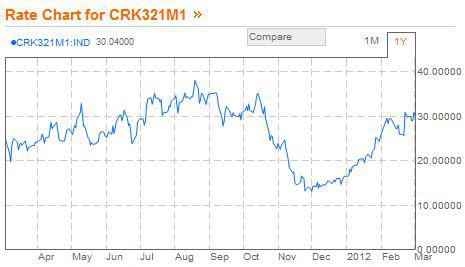 The fundamentals for Valero are already good to great even before much of the effects of the above described events have come much into play. These fundamentals are only likely to improve, barring a significant US recession. VLO trades at a P/E of 6.99 and a FPE of 6.19. It has a good dividend of 2.40%. It has a next five years EPS growth estimate per annum of 11.53%. These are the statistics of a solid, healthy company, and recent events make one think these fundamental statistics are likely to improve. The crack spread chart is strongly trending upward. Oil demand is increasing. Demand for VLO's specialized refining capabilities is increasing. Prospects don't get much better for any company.
The five year chart of VLO below provides some technical direction for this trade.
click to enlarge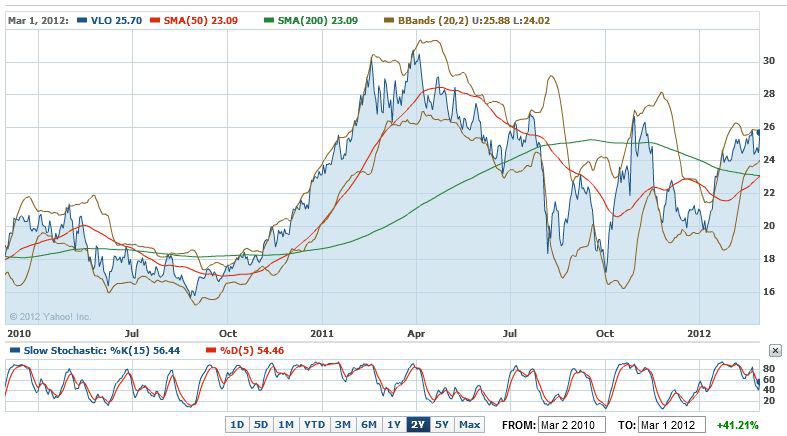 The slow stochastic sub chart indicates that VLO is neither over bought nor over sold. The main chart shows that the 50-day SMA is just at the point of crossing the 200-day SMA as it moves upward. This is considered a buy signal. When you see how much higher the price was in 2007-2008, you realize how much higher VLO's stock price could rise.
There are a few factors that could affect this trade. First, the overall market is over bought. If it falls soon, VLO with a Beta of 1.42 is likely to fall along with it. Second, Enbridge Inc. (NYSE:ENB) expects to have its first phase of the Seaway pipeline reversal in operation by sometime in Q2 2012. Instead of 150,000 bpd of oil flowing from the Texas Coast to Cushing, OK. That amount will flow in the opposite direction to the Texas Coast from Cushing, OK. This will mean a net of 300,000 bpd more of oil on the Texas Coast. At least 150,000 of that will be light sweet crude. This last can be shipped to almost any refinery, so it could possibly hurt oil prices and the WTI crack spread. The ENB CEO has also said that ENB will try to further expand the Seaway capacity toward the Texas Coast to 300,000 to 500,000 bpd by the end of 2012.
The CEO further mentioned building a twin pipeline next to the Seaway perhaps by the end of 2013. More light sweet crude available on the Texas Coast could hurt the crack spread and the prices of both WTI and Brent crudes. Of course, both of these prices could be much higher by the time such events occur. Third the geopolitical trouble with Iran could be resolved at some point in 2012, or it could worsen. The former could push oil prices down. The latter could push oil prices up.
Whatever happens, there should be adequate positive factors to ensure increased profits for VLO -- beyond current estimates. As current estimates are revised upward, VLO's stock price should rise.
Many of the above factors described as beneficial for VLO above are also beneficial for Holly Frontier (NYSE:HFC),Tesoro (NYSE:TSO), and Marathon Petroleum Corp (NYSE:MPC). The fundamentals of all of these companies are good to great. All four are likely good buys at this time, although I am partial to VLO due to its sour crude refining capabilities. About two thirds of its refining capacity can use sour crude. Given the overbought states of US equities markets, averaging in is probably the best strategy.
Good Luck Trading.
Disclosure: I have no positions in any stocks mentioned, but may initiate a long position in VLO over the next 72 hours.