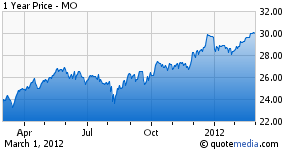 As dis­cussed in "The Real Earn­ings Sea­son Starts Now", annual reports are the best source for devel­op­ing invest­ment ideas. I pro­vided my clients with dozens of insights in 2011 that deliv­ered impres­sive returns, and I am con­tin­u­ing that trend today with my rec­om­men­da­tion to buy Altria Group (NYSE:MO), which I recently upgraded from a Neu­tral to Very Attrac­tive rat­ing after review­ing the company's 2011 10-K.
Focus­ing on the reported account­ing earn­ings of MO leads investors down the wrong path. Accord­ing to its 2011 10-K filed on Feb­ru­ary 16, 2012, MO's GAAP earn­ings dropped by over $500 mil­lion or 13% com­pared to 2010.
The prob­lem with rely­ing on those results is that they are dis­torted by about $700 mil­lion in non-operating charges that inap­pro­pri­ately depress account­ing earn­ings. Remov­ing those items reveals that eco­nomic earn­ings that rose by 11% or $278 mil­lion in 2011.
These hid­den charges are nor­mally buried in "Cost of sales" or "Mar­ket­ing and admin­is­tra­tion costs". In our detailed report on the topic last year, we noted over 13,000 hid­den items that dis­torted reported account­ing results over the last decade plus.
In Altria's case, the largest one-time item is a $490 pre-tax charge related to the write-down of cer­tain lever­aged lease assets. Details are on page 23 of the 100-page 10-K fil­ing. This charge is non-recurring in nature, and there­fore, I exclude it (along with sev­eral other smaller charges) from the cal­cu­la­tion of the company's after-tax cash flow (NOPAT). These adjust­ments result in a higher NOPAT, which, in turn, dri­ves an increase in the company's ROIC from 13% in 2010 to 14% in 2011.
Notably, we did not find any one-time income or rev­enue that inflated MO's 2011 earnings.
The net impact of my detailed review of the foot­notes in MO's 2011 10-K is that the true, under­ly­ing prof­itabil­ity of the busi­ness is improv­ing not declin­ing. MO's cur­rent 5.5% div­i­dend is not only safe it could grow.
This per­for­mance under­scores the strength of MO's busi­ness and the abil­ity of its man­age­ment team to allo­cate cap­i­tal intelligently.
My analy­sis under­scores the poten­tial futil­ity in rely­ing on account­ing results, quar­terly earn­ings and ana­lysts' esti­mates. Keep your eye on the cash flows not the "EPS"
Look­ing toward the future, one can­not deny the clouds on the growth hori­zon of tobacco com­pa­nies. Cig­a­rette smok­ing is on the decline in the United States, and may never grow again. MO's smoke­less tobacco busi­ness is grow­ing, but slowly, and not fast enough to off­set the entire decline in cigarettes.
I am not a smoker and never will be. How­ever, I can­not deny the profit advan­tage that addic­tive prod­ucts tend to have over prod­ucts that are not addic­tive. And addic­tive prod­ucts not only deliver higher profit mar­gins, but they also main­tain stead­ier rev­enues as large num­bers of users are not likely to quit cold turkey even if they know the prod­uct is killing them. In other words, I doubt sales will fall off a cliff.
And yet, the stock mar­ket is pric­ing in a per­ma­nent 10% decline in the company's after-tax cash flow (NOPAT) - at ~$29.65/share. The stock is worth over $32/share if the company's NOPAT remains flat.
No mat­ter the head­winds in the tobacco busi­ness, I trust Altria's man­age­ment team to grow prof­its. More of the growth may come from non-tobacco invest­ments, such as wine and leas­ing. But man­age­ment will con­tinue its excel­lent track record for achiev­ing high returns on the cap­i­tal invested with it.
I expect man­age­ment will con­tinue to diver­sify into prod­ucts, like wine and cig­ars, that will cre­ate value for share­hold­ers just as they have in the past.
Do not fall asleep on this stock. A stock val­u­a­tion that implies a per­ma­nent 10% con­trac­tion in NOPAT is too low. Though most investors may not have noticed, the com­pany did grow prof­its last year. And I believe they will con­tinue to do so in the future.
As my reg­u­lar read­ers know, I also cover 7400+ ETFs and mutual funds. My pre­dic­tive fund rat­ings lever­age the deep research I do on all of the 3000+ stocks cov­ered by my firm, New Constructs.
The funds that allo­cate the most (6.5%) to MO are DWS Value Series, Inc: DWS Strate­gic Value Fund (MUTF:KDHIX) and Dre­man Con­trar­ian FundDre­man High Oppor­tu­nity Fund (DRLLX). How­ever, all classes of these funds get my Neu­tral rat­ing or worse because, despite a rather large allo­ca­tion to MO, they allo­cate too much of their cap­i­tal to stocks that get my Neu­tral rat­ing or worse.
The ETFs and funds that allo­cate 4% or more to MO and get an Attrac­tive rat­ing are:
Con­sumer Sta­ples Select Sec­tor SPDR XLP
Van­guard World FundVan­guard Con­sumer Sta­ples Index Fund [VCSAX]
Van­guard Con­sumer Sta­ples ETF VDC
Focus Morn­ingstar Con­sumer Defen­sive Index ETF FCD
ICON FundICON Con­sumer Sta­ples Fund [ICLEX] - note only the "E" shares get my Attrac­tive rating.
Disclosure: I receive no com­pen­sa­tion to write about any spe­cific stock, sec­tor or theme. I have no positions in any stocks mentioned, and no plans to initiate any positions within the next 72 hours.