With unemployment abating and credit markets seemingly on the mend, many investors have capitulated on gold stocks. Many will not even consider buying a gold company for exposure to gold, having given preference to the Gold Trust ETF (NYSEARCA:GLD).
"Why should I ever buy a gold stock if they historically under-perform, and do not always correlate completely with the spot price of gold?"
Earnings Growth
None of the established companies in the gold mining industry are "ex-growth." The industry historically has been, and continues to be, focused on acquisitions and consolidation. There are new mining projects around the world in various stages of production, with many projects slated for completion in the next three years. Some of these projects were begun before the run-up in gold prices and will be earnings accretive even if gold prices modestly decline. As this gold comes out of the ground it will drive earnings growth and cash flow.
Dividend Growth
Most gold miners' dividend payout ratios are below 30%. Gold companies will continue to increase dividends as investors demand a higher return. Newmont Mining (NYSE:NEM) has increased its dividend from $0.40 to $1.00 in the last three years. If the price of gold stays above $1400, then earnings per share and dividends per share growth should continue. If the price of gold increases, the implied rate of growth would be significant.
Cheap
Gold miners are relatively cheap. Slower growth companies like Newmont trade at less than 10 times this year's earnings forecast. The larger Barrick Gold (NYSE:ABX) trades at less than eight times earnings. In addition, purchasing gold while it is still in the ground can be done at a significant discount to the spot price and gold stocks typically trade at a discount to their reserves. The shares represent this stored value and it will eventually reflect in the share price.
Non-correlated Asset Class
The long-term thesis for gold is simple. Gold will continue to act as the anti-establishment currency. It will continue to gain in value relative to the fiat currencies of over-leveraged nations, which must print money in order to maintain the living standards of their cash-strapped citizens. Total debts to GDP remains near record levels of 350%. According to a book by Reinhart and Rogoff in "This Time is Different: Eight Centuries of Financial Folly," excessive levels of debt to GDP over 90% have a dampening impact on economic growth. The conclusion; there is no pain-free solution to an excessive debt situation. How much longer can our country continue to print money to fund our debt without serious consequences to the dollar or interest rates?
Conclusion
Why would you ever want to own a gold stock? Gold stocks offer an opportunity to own a cheap company with earnings and dividend growth, while at the same time offering exposure to a non-correlated asset class. As such, gold mining stocks are an effective instrument to protect the purchasing power of your investment dollars.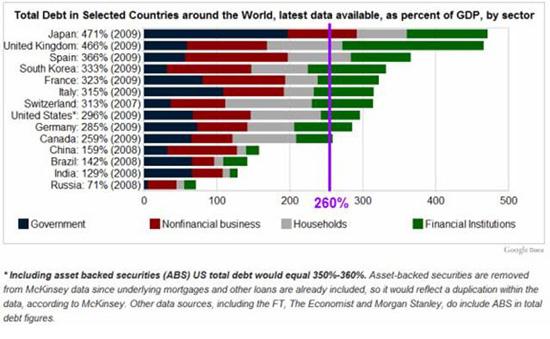 Disclosure:
I have no positions in any stocks mentioned, and no plans to initiate any positions within the next 72 hours.