With all the hits that solar companies have taken lately, an investor can get discouraged about the prospects of this renewable energy source. A fresh report from the U.S. Department of Energy (DOE), however, counters this gloomy outlook. The SunShot Vision Study details a robust solar future where 14% America's electricity is generated by solar by 2030, and more than a quarter, or 1,448 terawatts, comes from solar by 2050. They use a fairly conservative evaluation method, but even if these estimates are over-inflated, this still represents a substantial build-out for solar in the coming years.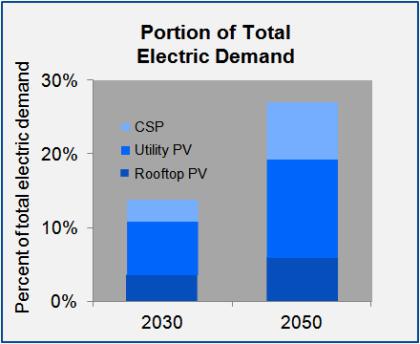 The principal reason for the massive expansion in solar is a continued price reduction in components and installation. In fact, the DOE estimates that the cost of solar technologies should decline about 75% by 2020. The chart below, taken from the report, shows that at the same time that the price of photovoltaic modules have dropped exponentially, global shipments have increased exponentially (note that the chart is on a logarithmic scale on both axes). As prices continue to drop, solar looks more and more attractive as an alternative to other electric generating sources such as coal, natural gas, nuclear and wind.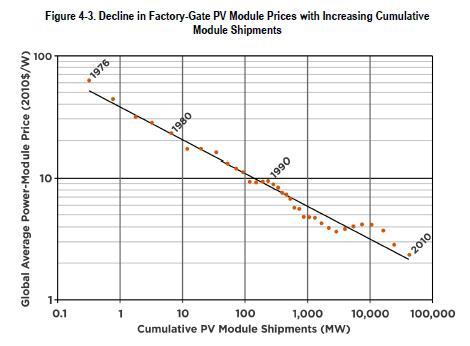 Source: SunShot Vision Study. February 2012. Page 75.
Which solar manufactures are positioning themselves to take advantage of this growing market? A good example is Panasonic Corp (PC). According to Bloomberg, Panasonic is planning some strategic acquisitions in Europe and the U.S. worth around $125 million. Although most people know Panasonic for its consumer electronic products, it is also Japan's largest solar panel maker. The goal of the acquisitions is to allow Panasonic to gain a foothold in retailing solar panels to the U.S. and Europe, possibly in shopping malls and supermarkets.
Panasonic as a stock is a risky call at this point. It has had four straight quarters of negative earnings, and sales are 17% lower than they were last year. Still, Panasonic's stock price has taken a huge dip, testing levels that have not been seen since 1986 (see blue line on chart below). It is worth keeping an eye on this stock for a buying opportunity if prices drop much further.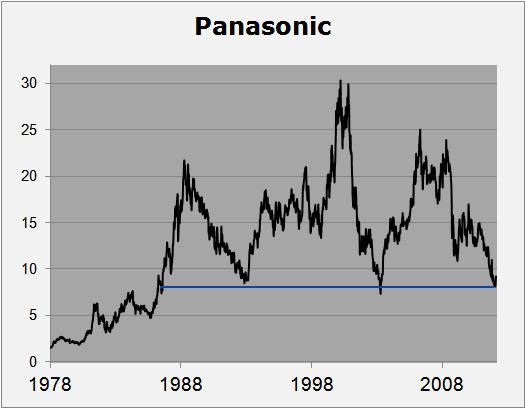 Click to enlarge
(Click to enlarge)
Disclosure: I have no positions in any stocks mentioned, and no plans to initiate any positions within the next 72 hours.