If you scan the Internet for a typical list of recommended dividend stocks you will likely discover that the same names keep coming up again and again such as Chevron (NYSE:CVX), McDonald's (NYSE:MCD), Procter & Gamble (NYSE:PG) and Coca Cola (NYSE:KO). While I am not knocking these companies, are there not other great little picks with decent dividends that don't get the spotlight?
Heska Corporation (NASDAQ:HSKA) - A dividend stock you say? Yes, this tiny company focused on animal health just announced a quarterly dividend of 10 cents per share. At the current share price of $10 we get a healthy 4% yield. But is now the right time to buy?
Looking at the trailing PE ratio of 25 you might think that a 4% yield is unsustainable as it will consume all of its earnings. But what is ahead for HSKA? As four new products are rolled out they expect earnings of $0.67 per share this year and up to $1.00 for next year.
Of course, when considering cash flows we expect even higher growth due to accumulated net operating losses provides a tax break. This will allow cash flow spigot flow to run much faster than earnings. As dividends are paid from cash flows that makes the payout that much more sustainable with an even better short-term valuation.
Buyout Potential
What's the big deal? Many big pharma companies already offer health products for your pets. The edge that HSKA has is in diagnostics.
In 2011 Pfizer (NYSE:PFE) finalized the acquisition of Synbiotics Corporation - which provides animal diagnostics. Shareholders received 30.6 cents per share on a stock that traded between 8 and 12 cents. Will other big pharma companies eye out HSKA with similar objectives to enhance their competitiveness?
With the high potential and tiny market cap of only $52 million this is a possibility with strong upside potential. Will Eli Lilly (NYSE:LLY) or Merck & Company (NYSE:MRK) be the firm to initiate a buyout? It's hard to say but you won't hear any complaints from investors getting a 4% yield with high growth prospects while they wait to find out.
Comparison to the Competition
How does HSKA stack up against the competition - namely IDXX? IDEXX (NASDAQ:IDXX) Laboratories has a forward PE of 25 while HSKA has a forward PE of less than 10 (using 2013 estimates). This alone suggests that HSKA has stronger upside potential over the next two years than does IDXX. But what about the earnings volatility risk that is evident by looking at HSKA over the past four or five years? By offering a substantial dividend equal to last year's earnings, it is my belief that management is explicitly expressing its confidence in future growth prospects.
True, if you are looking for long-term price stability then IDXX was the superior choice over the last five years as you can see on the chart below.
(Click chart to enlarge)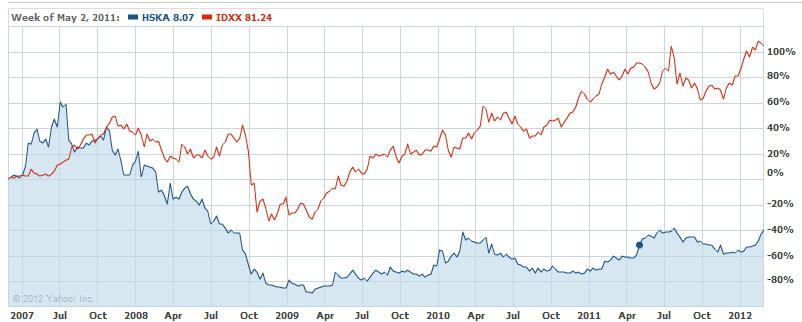 But unless you have a time machine we can't go back and invest in 2007. Looking forward I like the mulityear upward trend of HSKA with the most recent bounce off the $7.50 range. Any price between $8.50 and $10.50 is good value in my books. You might be able to get a slightly better entry based on the $10 resistance and recent run-up, but I wouldn't wait too long as once it clears $10 with enough investors taking notice I don't think you'll see single-digit prices again.
Disclosure: I have no positions in any stocks mentioned, but may initiate a long position in HSKA over the next 72 hours.