Anyone who follows Research In Motion (RIMM) has probably already heard the news stemming from the research of Jeffries & Co.'s (JEF) Peter Misek and the corresponding downgrade. This is mainly because "sales in Europe decreased significantly towards the end of the quarter" (Tech Trader).
Earlier this week I talked a little about the details provided by RIMM regarding its most recent revenues. They note that nearly 60% of revenues are coming from outside of the United States, United Kingdom, and Canada, Europe being the most significant of the international markets. With revenues in the U.S. likely still in decline, it is easy to see why a European sales decrease could be a significant event. It could easily give reason for shares to slide into the single digits, which are currently trading around $13.66, down over 4% on the Jefferies news.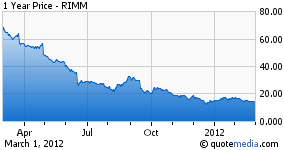 Moreover, and perhaps most importantly, as of the end of RIMM's 3rd (2012 fiscal) quarter, RIMM had just over $1 billion in cash. This is by no means a small buffer. It makes up a little less than 10% of their book value, and a little over 10% of their current market value.
However, if, for example, they had another debacle, such as the over $500 million PlayBook write-down of last year, coupled by decreasing sales in their strongest market, it could become an extinction event of sorts, possibly forcing a discount sale of the company or parts.
But this scenario is probably not reason to open a short position, as RIMM could surprise and perhaps have grown other significant international markets. It is not considered likely at this time, but certainly possible, and tech companies thrive on surprising investors.
For those looking for a value position in tech with high upside potential, investors should look towards Nokia (NYSE:NOK). Both RIMM and NOK have stumbled greatly and are still struggling to get back up, but NOK poses a much less immenent downside risk. Either way, RIMM's earnings release will be a moment for all stakeholders to pay keen attention to, whether it comes on March 28 as scheduled, or earlier, as suggested by Jefferies.
Disclosure: I am short RIMM.