Spain is the 12th-largest economy in the world by nominal GDP. It is a member of the European Union and is the fourth-largest economy of eurozone. Spain had a huge colonial past (Spanish is the second most widely spoken language after Mandarin/Chinese). This gave Spanish companies a huge market outside of their traditional home base. Additionally, the Spanish economy benefited from a real estate boom in the 1990s and 2000s. However, with the recent slump in global housing market as well as eurozone sovereign debt crisis that focus on construction has now become Spain's biggest headache.
Spain is the "S" in the PIIGS acronym for the weak countries of the eurozone. The unemployment rate is more than 20% and is even worse for the young (18-25 years). The budget deficit is alarming as well and touched approximately 10% of the GDP in the recent past. On top of this, the current labor laws favor the workers and unions making it extremely hard for companies to downsize at reasonable costs. Things are bad and investors see multiple risks. It is hard to advise an investor to double down on Spain. However, it may also be the time to be the contrarian and initiate small positions in solid companies that will survive the current environment.
Dividends
Spain has a vibrant liquid stock exchange in Madrid but there aren't too many stocks listed on the U.S. exchanges. Of these small number, most are on the OTC pink sheets and see little trading volume and/or limited financial information is available. I had trouble getting the U.S. dollar figures for some companies.
I firmly believe that dividends are real cash and hard to fake. They are paid out of positive cash flow and while accounting gimmicks (and fraud) can be used to window dress earnings per share, dividends are typically honest. I end up using current dividend yield combined with consistent history to short-list stocks for further investigation. In this article, I identify six strong Spanish stocks that are reasonably strong and support enticing dividend yields. Most of them get a large percent of their profits from outside the Spanish economy and are growing revenue in the emerging markets. An aggressive investor (like me) is likely to see high total returns in the next few years as and when the European sovereign debt crisis eases.
Spain will withhold 21% (recently increased from 19%) tax on dividends paid out. An investor can reclaim these taxes while filing income tax returns using Form 1116. The foreign taxes are however lost if the stock is held in a tax advantaged account like IRA because there are no income tax returns filed every year. Unlike American companies, most Spanish companies do not pay a quarterly dividend. This seems to be the norm outside the U.S., where the company waits till the end of the financial year to figure out annual profits and then shares a percentage of profits as dividend. Sometimes the company may pay an interim dividend in the middle of the year, which may be less or more than half the annual payment. One needs to be careful while computing yields and not fall into the trap of annualizing the last one or two payments.
Finally, Spanish companies also offer the option of receiving the dividends in stock (like a dividend reinvestment plan). If an investor chooses to receive the dividends in stock then there is no withholding taxes deducted. This option may work well for IRA accounts though I personally have not used it. I hold my Spanish positions in a regular brokerage for now.
Quick Summary
I quick summary of six strong Spanish stocks is given below. I have not focused on the financial numbers and ratios. I gave a high-level introduction to these stocks with dividend information.
Company

Ticker

Book Value

Debt to Equity

% Div Growth

1 Year

% Div Growth

3 Year

% Div Growth

5 Year

% TTM Yield (Euro)

% TTM Yield (US $)

Banco Santander

STD

11.16

0.36

7.20%

-5.10%

8.84%

9.57%

10.11%

Banco Bilbao Vizcaya

BBVA

11.18

2.39

0%

-11.89%

-7.82%

6.22%

6.82%

Enagas

ENGGY.PK

8.00%

11.12%

13.64%

4.82%

4.47%

Iberdrola

IBDRY.PK

27.95

n/a

0%

0.41%

4.88%

7.54%

n/a

Repsol

REPYY.PK

22.88

0.84

10%

3.11%

9.84%

5.60%

5.51%

Telefonica

TEF

5.1

3

16.92%

19.09%

22.55%

10.10%

12.34%
Banco Santander SA (STD)
Banco Santander is the largest bank in the eurozone and one of the largest banks in the world when ranked by market capitalization. Santander has grown over the years by merging with and acquiring other banks. Most recently it has acquired the Sovereign Bancorp in the U.S. and the Alliance & Leicester Bank in England. It also acquired parts of the Dutch-bank ABN Amro in 2007. Santander has huge operations in Latin America - Argentina, Brazil, Chile, Mexcio, Peru, Puerto Rico from where it gets close to half of its profits. Its operations in Asia and Australia are relatively small.
Santander pays a decent dividend but it does rely on wholesale funding sources which could lead to trouble if credit becomes tight since most of the borrowing is extremely short-duration. The book value appears solid but may include significant goodwill so tangible book is far less than the market cap. I bought STD in 2007 just when the economic crisis started unfolding. I continue to hold the stock though wouldn't buy more until some clarity emerges. I do feel that the bank is among the strongest in the world but still I don't plan to increase my holding in financial stocks for now.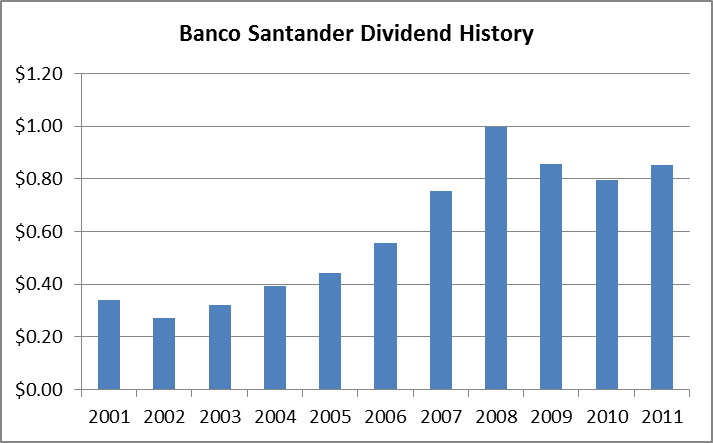 Banco Bilbao Vizcaya Argentaria (NYSE:BBVA)
Banco Bilbao Vizcaya Argentaria is the second-largest bank in Spain and seventh-largest financial institution in the Western world. It was formed in 1999 with the merger of Banco Bilbao Vizcaya and Argentaria. It has a strong presence is Spain, Portugal as well as in various Latin America countries. It has a U.S. presence as well - BBVA Compass which is a Southeastern and Southwestern financial company. BBVA has also focused on growing in Asia, especially China and Hong Kong recently. It has retail and corporate banking operations in Mexico and the South American operations include insurance and pension along with banking.
BBVA is a great bank but the dividend history is not so great. It has been affected by the financial crisis over the last few years now that would perhaps get worse before improving due to the European sovereign debt issues. Housing and mortgage market is particularly weak in Spain. I speculate that they might even cut the dividend to shore up their balance sheet and make provisions for non-performing assets on their books. I am watching BBVA for now looking for either a weak stock price or improvement in financial markets.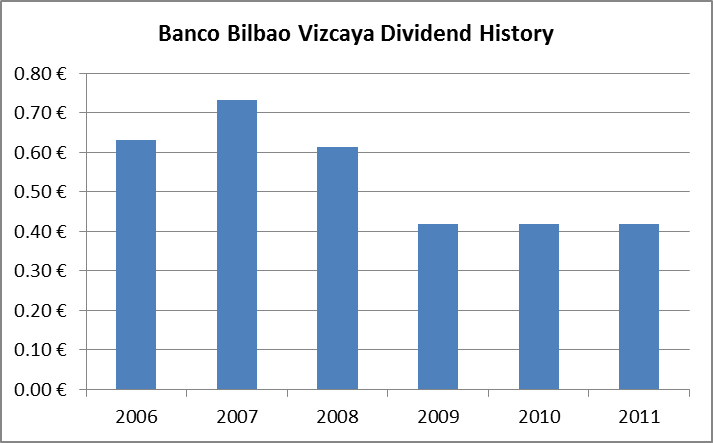 Enagas SA (OTCPK:ENGGY)
Enagas is natural gas utility based out of Madrid, Spain. It operates LNG gasification terminals and operates the gas distribution grid consisting of almost 10,000 km of high-pressure gas pipelines. It was originally a public utility and was privatized in 1994. Most of its market is regulated. Enagas has diversified into transportation and storage of C02, H2 and biogas. It has consistently increased the dividends in the last decade and has indicated that the payout ratio for the coming three years would remain high (up to 70%). I found this company only recently and have started watching it and will initiate a position in the near future.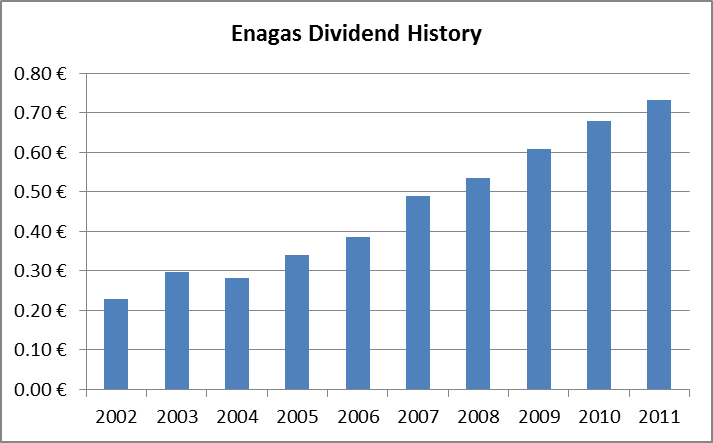 Iberdrola SA (OTCPK:IBDRY)
Iberdrola is a multi-national utility based in Bilbao with a presence in over 40 countries. It was formed in 1992 after the merger of Hidroelectrica Espanola and Iberduero. It claims a 150-year old history since the 1840-founded Energy East later because Iberdrola USA. It is now one of the world's largest utilities by market capitalization. Iberdrola gets about 51% of its revenue from Regulated Business, 31% percent from Liberalized Business and about 18% from Renewable Energy. About half of its total product is in Spain, more than a quarter in Latin America. It has significant presence in UK (Scottish Power is 4th largest there) and USA (2.5 million customers in New York and Maine). The dividend hasn't grown over the last few years but appears stable given that the last few years' financial results have been satisfactory.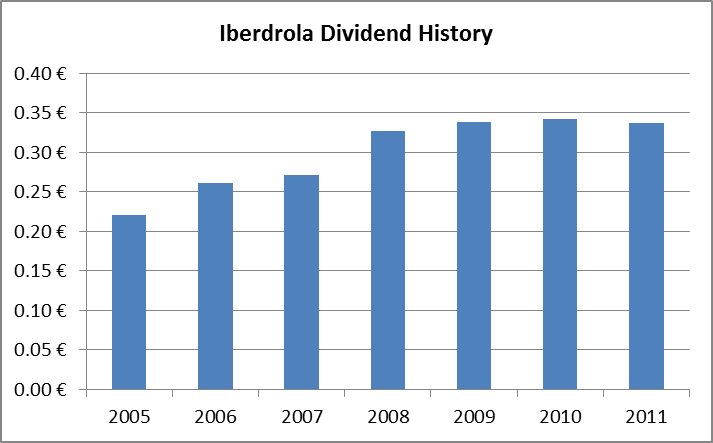 Repsol YPF SA (OTCQX:REPYY)
Repsol is a Spanish energy giant with operations in more than 30 countries. The bulk of its assets are in Spain and Argentina since it acquired the Argentine energy firm YPF in 1999. It is involved in exploration and production of crude oil and natural gas and also engages in transportation of oil products and LPG. Repsol also refines petroleum products and has a network of retail distribution.
The last year has been good for Repsol and it increased the net profit by 200% while reducing net debt by 65%. It had a long history of increasing dividends steadily until the economic crisis of 2008. The dividend was cut then but has since started growing again. A few dividend growth investors would (perhaps rightfully) consider this a red flag but I give them credit for conserving cash in 2009 and am not too bothered by the cut.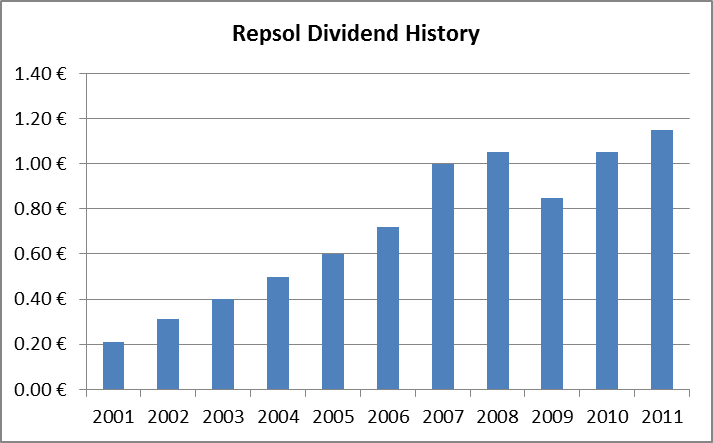 Telefónica SA (NYSE:TEF)
Telefónica is a telecom provider in Europe and Latin America. It is the fourth-largest operator in the world by number of subscribers after China Mobile (NYSE:CHL), Vodafone (NASDAQ:VOD) and America Movil. Its main brands include Movistar and O2. It provides fixed phone, Internet and ADSL services along with mobile phone in Spain. Telefónica acquired O2 in United Kingdom in 2005. Telefónica operates in almost all countries in South America and is the biggest operator in some countries. It is present in Chile, Venezuela, Brazil, Argentina, Colombia, and Peru, as well as Ecuador, Costa Rica, Puerto Rico, Guatemala, Panama, and Mexico. Interestingly, Telefónica holds a 10% stake in China Unicom.
Telefónica had a great dividend growth history until this year. It had steadily increased dividends but has run into some rough waters lately. It recently laid off employees at a huge cost due to Spanish labor laws. It further decided to cut the dividend for the 2012 financial year down to €1.30 from €1.50 distributed in 2011. This would imply that the dividend for the ADS will go down from $2.14 to approx $1.75 for 2012 (using current conversion rates). There is a plan to remunerate the shareholders via share buybacks and management has indicated that 2013 will be similar to 2012. Thus, dividend growth is best expected only beyond 2014. I still find the forward yield of approx 8% attractive and reasonably safe. I have sold my Verizon (NYSE:VZ) position in the US recently. Subsequently, I have bought Vodafone and Telefónica in small increments.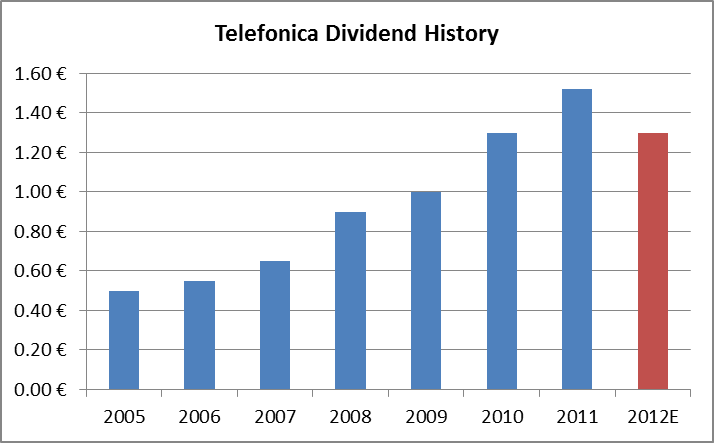 Other Spanish Stocks
I looked at a few other stocks but didn't find them interesting but I sure would like to hear if anyone has looked at other companies or these in detail and has opinions.
Concluding Remarks
The U.S. market is at a four-year high and there are few bargains in the dividend bucket. A lot of the dividend yield and/or dividend growth stocks are fairly valued and I dare say that some may even be over-valued. Even though I consider myself a long-term investor, I am slowly selling some of these stocks that I purchased from 2007 to 2009. I want to invest the sale proceeds and found that there are some solid European companies still available at value prices. The depressed prices are not without reason but I am willing to take a risk with these dividend paying companies from Switzerland, Germany, England, France, Sweden, and Spain.
Disclosure: I am long STD, TEF.