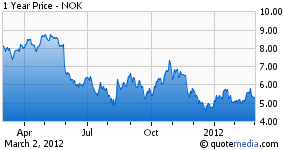 Now that the big Mobile World Congress trade show is done, we can look at the world of mobile with a 'here and now' perspective, and not have to worry about rumors on upcoming announcements. Overall, Nokia (NYSE:NOK) took a hit at the show due to inflated expectations on closer linkage with Microsoft (NASDAQ:MSFT), and hopes for minor miracles on execution on their Windows based Lumia handset portfolio. While Nokia is no Apple or even Samsung, here are five reasons to think that the worst is probably behind them, and that the forward looking view gives cause for optimism. While short-term investors will not find this statement exciting enough, my intention here is to provide longer-term investors some parameters to consider in terms of looking at an entry point for Nokia.
So on to five things that suggest that you go long on Nokia :
While life isn't a bed of roses for Nokia, long-term investors might want to take the above into consideration, and get paid an attractive dividend while they wait.
Disclosure: I have no positions in any stocks mentioned, and no plans to initiate any positions within the next 72 hours.