Sabra Health Care REIT, Inc. (NASDAQ:SBRA) just released its Fourth Quarter 2011 Results.
Key takeaways:
SBRA.PK increased its dividend from 0.32/share to 0.33/share. Commenting on the increased dividend, Mr. Matros, CEO and Chairman, also said, "We expect to be able to further increase our quarterly dividend in 2012, assuming we are able to achieve our previously announced 2012 guidance."
Revenues are up.
FFO (Funds From Operations), AFFO (Adjusted Funds From Operations), and Normalized AFFO are all up. The above mentioned are indicators of a REIT's performance.
Debt is stable.
Sabra Health Care is a member of my Laid-Back Portfolio (LBP), which is designed to be simple to manage, conserve capital (while possibly increasing it) and beat inflation with a starting dividend yield which is above inflation and a dividend growth rate above the inflation rate.
SBRA.PK is doing well, and it is poised to do even better. Notice that, in the few days it's been included in the LBP, its stock price went up but the annualized yield also went up, since it raised its quarterly dividend. The table below shows portfolio performance since inception and comparison with major indices.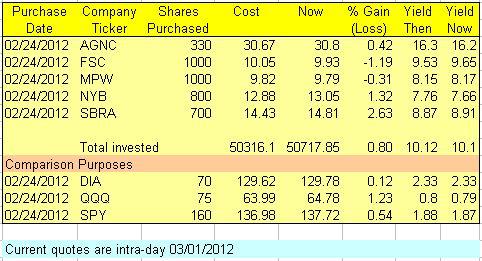 Cost is comprehensive of $20 commissions.
LBP Portfolio currently includes: American Capital Agency Corp. (NASDAQ:AGNC), Fifth Street Finance Corp. (NYSE:FSC), Medical Properties Trust, Inc. (NYSE:MPW), New York Community Bancorp Inc. (NYB), Sabra Health Care REIT, Inc.
Disclosure: I have no positions in any stocks mentioned, and no plans to initiate any positions within the next 72 hours.
Disclaimer: Material presented here is for teaching and entertaining purposes only. It is not intended to be taken as financial advice, a recommendation to buy or sell the stocks mentioned above. Investing includes risks, including loss of principal.