Highly Varied Segment Performance
Panasonic (PC) is a diversified manufacturer of technology products, consumer goods and industrial products headquartered in Japan, with operations around the world. Panasonic produces the majority of revenue in Japan at 52% of the total, while Asia ex. Japan represents 26%, the Americas generate 12% with the balance coming from Europe. The company is currently experiencing difficulties in a number of its operating segments, with three producing losses on an operating basis, as shown in the following waterfall: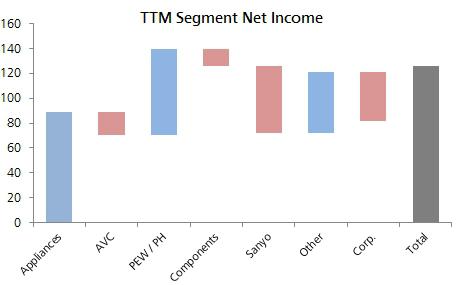 The Home Appliances segment has been one of the company's steadiest performers and currently produces a large portion of total operating profit. Products include a diverse number of devices such as refrigerators, air conditioners, washing machines, vacuums, cooking appliances and many other goods. The segment is very much a mature business with only incremental innovation; however, there are some small pockets where new products dominate such as in LED lighting.
The Digital AVC Networks segment is very important for the company in terms of revenue with a 33% share, although profit has been volatile since the onset of the recession and the business is currently losing money. Plasma and LCD TVs, digital cameras, mobile phones, notebook computers and professional audio / video equipment for businesses, homes and automobiles are all included in this segment. TVs are about 25% of the segment's sales with no other product representing more than about 5%.
The PEW / PanaHome segment is another important profit generator for Panasonic and represents a broad range of goods created for the home, such as light fixtures and kitchen systems as well as the company's home building and remodeling operations. PEW's focus in recent years has been on increasing volume of lower cost product sales into China and India.
The Components and Devices segment is another area of volatility for Panasonic with results having been generally weak since the onset of the recession. Products include semiconductors for use in TVs and Blu-ray players, a range of electronic componentry and rechargeable batteries, including for use in electric and hybrid automobiles.
Sanyo was purchased by Panasonic in stages over the past several years and is being carried in a separate segment for now. Sanyo produces photovoltaics, consumer electronics, rechargeable batteries, appliances and a number of other products. Panasonic's interest in Sanyo was largely driven by the solar and battery businesses.
The other segment includes industrial robotics, welding equipment and a range of niche legacy businesses such as bicycles. Increased production of smartphones and tablets has led to increased purchases of the types of capital equipment sold by Panasonic in this segment and the company is emphasizing the business.
In 2012, the company plans on integrating Sanyo into its core while simplifying the segmentation of its businesses and conducting a broad based restructuring. Three new segments will replace the current, as follows: Consumer, Components & Devices and Solutions, all with about equal sales. The company is also reducing its workforce by some 10%, although employees in Japan will see little impact.
Profit Drought Returns After Quiescent 2011
Panasonic is currently experiencing very challenging business results overall with declining revenue, weak operating profits and cash flow and losses on the net income line. The business was reasonably profitable prior to the recession, but since that time, the company has a hard time finding its footing due in part to currency, weak TV pricing, and the acquisition of Sanyo which itself was in a bad position. Revenue declines would have been much worse without the addition of Sanyo, a business that generates over JPY 1,200,000 million of revenue per year.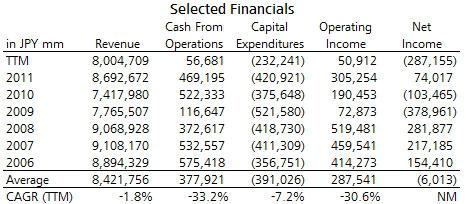 Panasonic has responded by dramatically decreasing capital expenditures, having the effect of somewhat stemming negative cash flows in the most recent period. The company is expected to improve profitability in 2012 by analysts with the consensus at about JPY 111,000 million. Revenue projections stand at JPY 8,060,000 million. Given the margin level in 2006-08, achieving the consensus profit will likely be challenging on that revenue figure.
As can be expected, returns on capital are low even under a scenario of about JPY 110,000 million of profit. In fact, returns on an IRR basis are nearly negative. Panasonic will need an extensive turnaround to drive returns near the cost of capital.
Too Steep a Hill
The main long-term determinant of value for Panasonic will the relative success of its restructuring efforts. Given the wide variety of markets the company serves, a portion will always be having difficulties while others thrive. In such a company, the most important factor is whether management can effectively foresee or at least very quickly react to changes in the marketplace and not chase businesses where it cannot be a significant player. It is hard to see Panasonic's management in such light.
Panasonic currently trades at 16.4x projected fiscal 2012 earnings before any adjustments for cash and other non-operating assets and associated earnings. Since Panasonic is currently experiencing negative cash flows and expects considerable one-time cash charges in its restructuring, the amount of non-operating cash is not easy to determine. A portion may be used to pay off short-term debt which is costing little in the way of interest, but making investors and rating agencies nervous. A full removal of non-operating assets would leave the company trading at 7.1x, while a removal of just its long-term securities portfolio would leave it at 12.8x. At best, I would feel comfortable with the latter multiple until the company gets on the right path. In any case, cash will be lower before a turnaround is complete.
Even after consideration of the projected valuation, the company is currently losing money, with the multiple highly reliant on a turnaround which has not even begun to materialize. In my view, the stock is still not cheap given the extremely low returns on capital and the haziness of the outlook. Finally, Panasonic's business mix just seems far too haphazard to get comfortable with before even considering the numbers. Does a manufacturer of TVs need to build houses? Or a semiconductor manufacturing company produce cooking appliances? It is difficult for management to be reactive and focused on so many disparate businesses at once. A turnaround in the business would make the stock quite attractive; therefore, keeping an eye on management's actions could prove advantageous at some future date.
Disclosure: I have no positions in any stocks mentioned, and no plans to initiate any positions within the next 72 hours.