If we can believe the stream of U.S. economic data, always the subject for debate in an election year, then the U.S. economic recovery is on track. We had a quarterly GDP report, better than expected at 3.0% annualized, and up tick from the 2.8% estimated. The initial jobless claims, reported yesterday, at 351,000 was another positive weekly number. Construction spending was down a bit and the ISM Manufacturing Index did drop to 52.4, but for the most part the data is better. Perhaps this is what Bernanke called mixed signals in his testimony.
Contrast this with the jump in European unemployment, expected to drop to 10.4% but actually going up to 10.7%. This, no doubt, the price being paid for the troika austerity plan in an ever increasing part of Europe.
The European numbers have caused the ECB to take some action and try to reverse the malaise. New ECB President Draghi reversed the foolish rate hikes by his predecessor. Then, in a three month period, introduced LTRO and injected $1,350T liquidity into the economy. By comparison this exceeds the amount of Bernanke's first QE stimulant.
In part because of the ECB's actions, some experts are advising investors this increased liquidity will cause demand for European equities, as well as metals and oil. I question this approach. It seems to me the newly minted euros are, in large part, going to pay for the overspending sins of the past.
Today Ambrose Evans-Pritchard had some interesting comments and quotes in the Telegraph.
Spanish banks used the first LTRO to boost holdings of sovereign debt by 29pc to €230bn, with a similar pattern in Italy. The weakest banks are buying the weakest government bonds, often in volumes that exceed their equity base. "It is a levered option on sovereign risk," said Alberto Gallo, a credit strategist at RBS.

Banks must provide the ECB with collateral at a stiff haircut, using up their balance sheets. Since the ECB has first claim on these assets, other creditors are pushed down the pecking order. "There is no such thing as a free lunch: liquidity today comes at the price of subordination tomorrow," he said.

Continuing: "Simon Ward from Henderson Global Investors said the latest data show that real M1 deposits in peripheral Europe are still in a downward spiral, with falls of 12.9pc in Greece, 9.2pc in Ireland, 9pc in Portugal, 8pc in Italy and 1.5pc in Spain over the past six months alone - implying double-digit falls at an annual rate.

"These are depression-scale declines," he said. There was no let-up in January. For all the talk of inflationary stimulus, the money supply in large part of Europe is still contracting more quickly than in 1931."
Somehow there is a disconnect. There are numerous recommendations to buy risk, and the commodity currencies. I note the open interest in the futures markets for the Australian dollar and Canadian dollar are climbing. If the European M1 numbers are correct perhaps we are headed for a Japanese style deflation, leaving the "risk buyers" with losses.
The Canadian dollar has appreciated against the U.S. dollar and is now trading at a premium. Today we get the Canadian GDP m/m number, which is expected to be a positive 0.3%. We would like to see a constructive number and a stronger Canadian dollar which we are inclined to fade. We think the Canadian dollar will move back to parity with the U.S. dollar. As always, manage your risk.
Click to enlarge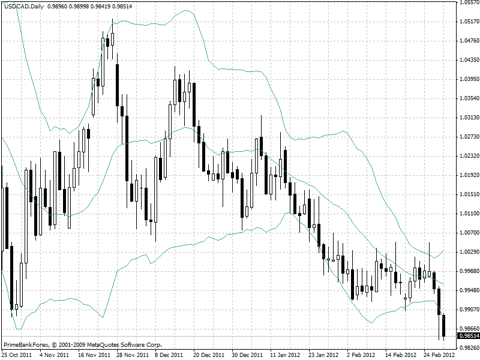 Disclosure: I have no positions in any stocks mentioned, and no plans to initiate any positions within the next 72 hours.