In my last article on the "Apple VIX," I made a prediction that it would fall well below 30.
Boy was I wrong. It went way over 30, at least as of Thursday's close. But I was following conventional wisdom that it should fall as the stock rises. Sure there's excitement (or maybe fear) brewing over Apple's next product announcement, but there's always some rumor or news pending on Apple. It's not like it's earnings season or anything.
Well, when you're wrong, you can just call yourself stupid (or worse by others in forums like these), but it's also an opportunity to figure out why you're wrong - and maybe even actually learn something.
Just to recap, the "Apple VIX" is actually the CBOE Apple VIX Index, which you can find under the symbol VXAPL. It's like the regular VIX, a weighted implied volatility index, except for one stock, Apple (NASDAQ:AAPL).
It's really only valid for at-the-money options expiring in a hypothetical one month, but it can clue you in on what's happening to the option series in general.
Here's a daily VXAPL chart from Bloomberg for the month of February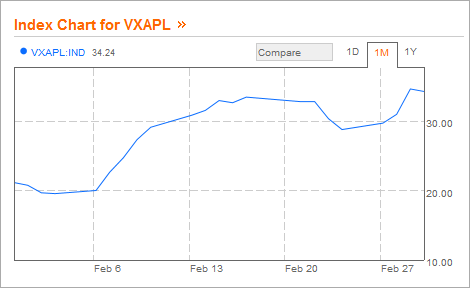 Now here's an intraday chart of the Apple VIX along with a chart of the stock itself as of Thursday's close.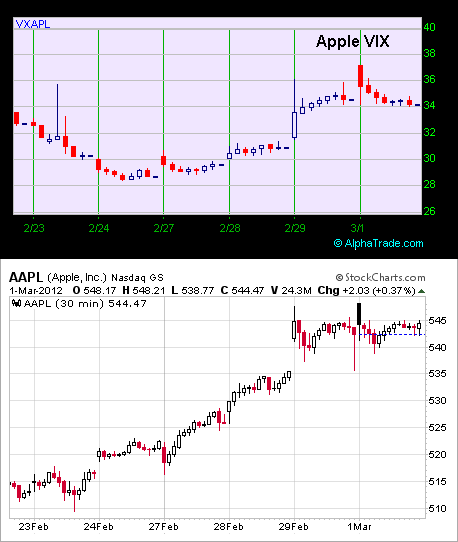 As a comparison, here's a view of the "regular" VIX vs. the S&P 500 index.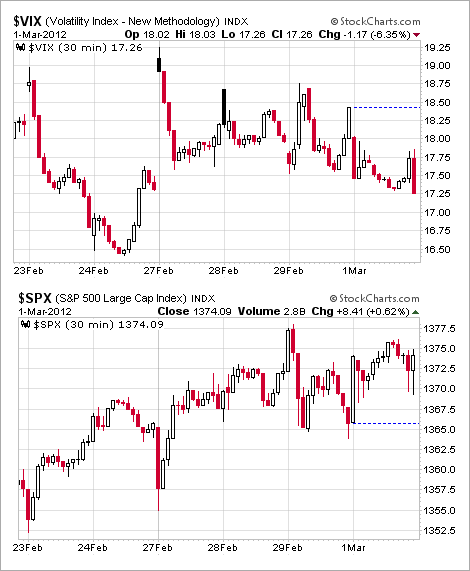 Won't be fooled again?
The VIX was fairly sedate, but not the Apple VIX - even as Apple hit new all-time highs.
Is this cause for concern? Should Apple options get really expensive because a new iPad could spook the market? That's possible. But another explanation is that call sellers probably learned a lesson over the last couple of weeks.
How many sold out-the-money calls at 510, 520, 530, etc. - only to see those calls deep in the money in just a few days? Wouldn't you demand more money if you were going to sell options under those circumstances?
So perhaps call sellers are taking that "won't be fooled twice" view as the stock has marched up to peak at $548.21 on March 1 from "only" $520 back on Monday.
Take a look at the closing bid value of an at-the-money call on Apple that expires on March 17 (I weighted the option strikes nearest the price at each close to come up with a mean at the money value).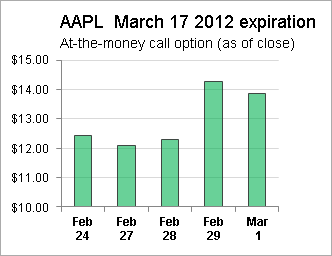 As it turned out, being net long Apple option volatility would have been a great strategy even though I would not have bet on it earlier in the week.
And look at this, a similar chart of the Apple weekly options that expire on March 2: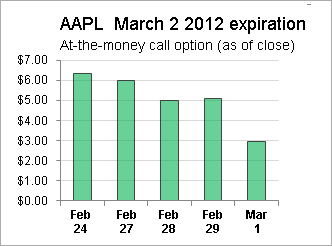 Of course the premium fell, but not nearly as quickly as if volatility had fallen. Remember, these options expire in just a few days (and may have already expired by the time you read this).
Anyway on the spike in the Apple VIX on March 1 around 9:30, you could have sold a March 9 weekly 580 call for $2.50 with the stock around $546. (At the close with the stock only about $1.50 less, you could have bought back that call for only $1.43 as the Apple VIX fell.)
Will those 580 calls be deep in the money next week? As a shareholder, I sure hope so.
So I guess with the Apple VIX, it will only start going down when the stock goes down. That's odd. Seems dumb. Makes me seem dumb too. But that's the way it went this week.
Disclosure: I am long AAPL.