Fears over Iran, the world's third largest exporter of oil, limiting the world's supply of crude after it cut off shipments to England and France, the embargo planned for July 1 and the weakness of the U.S. dollar are driving oil prices through the roof. Billionaire hedge fund manager T. Boone Pickens estimates that oil will hit an average between $110 and $120 a barrel this year, and it is well on its way there. Oil is over $109 a barrel and all signs point to it going even higher. When the market takes a turn like this, it catches our eye.
We see two opportunities stemming from the current market. On the one hand, oil prices are high and likely to climb higher. This means that there is some opportunity for investors to ride the rally by investing in oil companies that are heavily weighted toward crude. There is also opportunity in the range of oil companies that are re-orienting their operations and refocusing their investments toward oil from natural gas, which is depressed right now.
On the other hand, companies that are heavily entrenched in natural gas are going to rebound when the market corrects itself, so buying in now is a good way to "buy low" - but there is no need for these opportunities to be mutually exclusive. In fact, we think that hedging the two against each other is the best way to go.
When it comes to picking our favorite oil company and out favorite natural gas company, lots of names come up. Obviously, we first thought of Chevron (NYSE:CVX) or ConocoPhillips (NYSE:COP) for oil and Exxon Mobil (NYSE:XOM) for natural gas - but then we decided to dig a little deeper, past the marquis companies. We looked for companies that are priced low relative to their future earnings and that pay higher dividends.
MarkWest Energy Partners (NYSE:MWE) is one such company.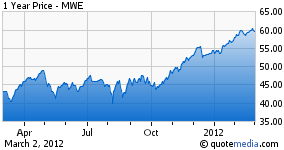 MarkWest is a $5.14 billion market cap oil and gas company based in Denver, Colorado. The company has been focusing on the development of its natural gas supplies in emerging resource plays since 2007, so it is in a strong position in that arena - MarkWest has the distinction of being the largest processor of natural gas in the Marcellus Shale and Appalachia - but it also is involved in the gathering and transportation of crude oil. The company reported its fourth quarter performance for the quarter ending December 31, 2011 on February 28. It had an EPS loss of 87 cents in the fourth quarter, versus analyst estimates of 49 cents, for a surprise loss of -$1.36.
That may not sound too encouraging but, its quarterly cash available for distribution, or distributable cash flow (DCF) is another story. It hit a record level, coming in at $88.4 million for the quarter and $332.8 million for the year. This is important because MarkWest is a Master Limited Partnership. This means that cash distributions are based on the DCF - the higher the DCF, the higher the distributions.
Recently, MarkWest traded at $60.56 a share with a mean one-year target estimate of $62.88. In addition to its upside, the company pays a $3.04 dividend (5.10% yield) and has consistently increased its dividend since October 2002, moving from a quarterly dividend of 25 cents to quarterly dividend of 76 cents paid February 2. The company's price has gone up 32.92% over the last 52 weeks, compared to just 4.69% for the S&P 500 - and it appears that the stock will continue its climb. Analysts are fiercely optimistic about MarkWest's earnings future, forecasting an earnings increase of 18.50% a year on average over the next five years, compared to estimate for its industry of 11.50%.
The company is also priced fairly low with a forward P/E of 22.02. This would be high for many companies, but in this case we think it is worth it. MarkWest competitor DCP Midstream Partners (NYSE:DPM), for instance, is priced much higher at 29.49 times its future earnings and doesn't have nearly the earnings growth estimate MarkWest does. Analysts estimate DCP Midstream's earnings will increase by just 7.61% per annum on average over the next five years.
MarkWest's sky high dividends and strong ratio of risk to reward make this a stock that we are whole-heartedly behind.
Disclosure: I have no positions in any stocks mentioned, and no plans to initiate any positions within the next 72 hours.