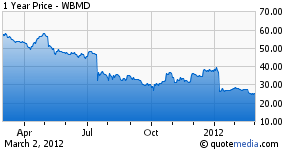 WebMD (NASDAQ:WBMD) has been bouncing around a 52-week low lately after an earnings miss announced February 23.
The problems really started in January when its CEO quit and the company stopped talking about selling itself. Goldman Sachs now rates the stock a sell.
With the company announcing a big share repurchase agreement, however, is now the time to buy?
When looking at any company near a low the question is always whether current problems are just current problems or signs the business model is crumbling. WebMD's business model is selling ads next to curated health content.
The main problem here is that drug companies aren't advertising as they once did. And you can see why in WebMD's own stories. Statins are risky, sleeping pills may kill you, and you're taking too many antibiotics.
We are entering a new era in medicine, one marked less by "cures" or even prevention that comes from the medicine chest, and more by efforts to maintain wellness through diet, exercise and balance. WebMD must find a way to adapt to this new era.
Carl Icahn thinks it can. He has taken an 11.6% stake in the company over the last several months, believing that ad spending will in time pick up.
Daily Finance disagrees. They see the stock repurchase as propping the stock up at a level below their buy target, note that the company is closely tied to just a few advertisers, like Johnson & Johnson (NYSE:JNJ) and Procter & Gamble (NYSE:PG), and suggesting if they couldn't find a buyer there must be something wrong.
WebMD is presently looking for a new visionary, and that search is headed by executive chairman (and business legend) Martin Wygod. So if you think a new vision is coming soon, you're betting on Wygod to find it.
There is a new vision out there, focused on helping consumers build relationships with institutions, with diet and exercise programs in their communities that work, which means doing more local stories, targeting ads more narrowly to geography, and looking for hospitals and clinics for ads instead of just a few drug companies.
I think you have a better than 50-50 chance of coming up good on WebMD right now. You have Marty Wygod and Carl Icahn both looking for the right path. That's a lot of "free" talent to be exploiting. And you have a business model which, while tattered, can be adjusted to the new era.
It may be worth a shot. Just don't be in a hurry.
Disclosure: I have no positions in any stocks mentioned, and no plans to initiate any positions within the next 72 hours.