Revenue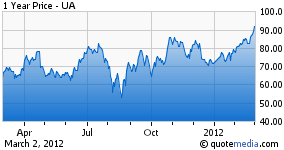 I've analyzed several sporting apparel names including Nike (NYSE:NKE), Adidas (NYSE:ADS), Under Armor (NYSE:UA), Columbia Sportswear Company (NASDAQ:COLM), and Crocs (NASDAQ:CROX). The hottest name in the industry is Under Armor. Its' stock price rose over 3% yesterday. And the name attracts awe with investors for good reason. Since 2009 their stock has nearly tripled while stalwart Nike has had basically had no return.
The top line revenue growth at Under Armor has been astounding. Over the last 10 year period they have multiplied revenue by ten times the size of their revenue ten years ago. That is impressive by any measure. While growth multiples are sure to level off, it easy to see that Under Armor has built up momentum.
Last year Under Armor's revenue was only one tenth of Nike's. Nikes revenue was almost $21 billion while Under Armor's sales were $1.5 billion. And it was only half of Adidas' revenue of $3.1 billion in the prior year. Under Armor continues to gain market share that gap will probably narrow gap between sales at Adidas and Nike. Under Armor can grow by developing new products and markets or by capturing market share. Given the size of Nike, it will be very difficult for Nike to grow its revenue. In the time it took Under Armor to grow revenue by 10 times, Nike was able to double its revenue.
Adidas is also a star performer having results similar to Under Armor. Their revenue quadrupled over the past ten years. With a lock on the football / soccer market and major football / soccer events coming up, Adidas can expect a strong showing. In contrast, Crocs revenue growth has been nothing short of spectacular since going public at a very early stage. As described below Crocs inability to manage earning stability is a major drawback. The weakest sales growth was shown by Columbia. Also foreshadowing the profitability section, Columbia is a cash cow.
Profitability
Obviously the worst earnings record of stocks being analyzed has been Crocs. Crocs have had extremely volatile earnings over its past 10 years swinging from bigger profits to bigger losses. CROX is not consistent. In comparison, Adidas has shown consistent profits and had its best year ever last year. It has been pretty consistently growing over the last ten years. Nike has doubled its bottom line over the last decade. Unfortunately, this earnings growth has not been rewarded in terms of stock price as multiples to earnings has contracted. There has been no trend in income with Columbia. Columbia's earnings have been a little volatile but profitable. It has been a consistent earner but hasn't increased earnings significantly. In most growth stocks it is mandatory that that the company grow its top line as well as its bottom line. Under Armor has had significant net income improvement. It has an impressive path upward.
When considering all of these companies together, it is notable that the Operating Margins and Profit margins of these companies have been rather similar throughout recent history. Adidas had the worst margin of the group several years ago yet has shown significant improvement. Now it margins are more in line with its competitors. Under Armor does exhibit quite good margins. They are second best behind Crocks. However given the unstable earnings of Crocs, Under Armor is considerably better in terms of profitability.
Leverage
Viewing the Debt-to-Asset ratio over these companies is appealing. All of the companies have maintained debt-to-asset ratios that have been significantly below one for their lifetimes / last ten years. None of the companies has significant debt. In the short run, all of the companies have a nice amount of working capital. They all have more short term assets than short term liabilities.
Conclusion
Each of these companies has different characteristics. Columbia has not been able to grow its bottom line or top line. Crocs have very volatile earnings even though it has had impressive top line growth. Adidas is a good performer, improving margins and improving revenues. It is a larger company and the rate of growth has been slower than Under Armor. Nike is a behemoth. Its picture has been improving slowly. Yet slow growth and improvement in its numbers has not been reflected in its stock price. Under Armor has the most hype and momentum. It is gaining market share. It products are generally well received and it is likely that they can keep the growth engine running for a few more years.
Disclosure: I have no positions in any stocks mentioned, and no plans to initiate any positions within the next 72 hours.