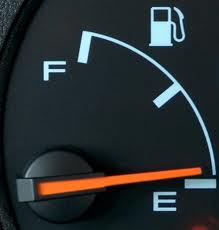 It goes without saying that when the cost of essential household items start to rise, it makes it a little be more challenging trying to justify getting that might be considered "discretionary." That's a term that a lot of people have a hard time with defining. Obviously anything that we have an interest in is going to be considered essential, but every now and then, we are forced to make the sort of sacrifices necessary to keep our household budgets in order. And to that end, nothing has shown to have the sort of budgetary impact than the cost of rising gas.
As of Wednesday afternoon, while exiting off Interstate-95 the price of gas was $3.81 on all four corners of the intersection. If you are like me and seeing this, you were both angry and frustrated at the same time. This immediately reminded me of the necessary evil of having to now drop $80 to fill up my Tahoe. This will now significantly impact my household discretionary spending index - something that I call my HDSI. When that comes up it usually leads to the engagement of another necessary evil - budgeting at the coffee table with my wife.
I can hear her already - "Honey, do you really need that satellite radio thingy?" Of course she's referring to my Sirius XM (NASDAQ:SIRI) subscription. She'll then remind me that the company just raised its rates. Then I'll fight back with, "how about your Netflix (NASDAQ:NFLX) subscription, how much can we save on that?" This can go as a back and forth for a couple of hours but it's interesting that she'll never consider canceling the pet grooming. But be that as it may, the reality is when consumers spend more at the pump, it takes away from other forms of discretionary spending as household budgets are forced to adjust. Gasoline prices are already at a national average of $3.60 per gallon - the highest level ever to start the year. Also, analysts say the average price could again flirt with $4 per gallon by the spring.
The rising costs is said to be due to concerns over shipments in the Persian Gulf. Since then mitigating risk within my investment portfolio has become an unrelenting mission of mine to the extent where I have started identifying stocks that can and likely will be impacted by consumer spending. Two of the stocks that I have sold recently have been Netflix and Sirius XM and upon doing so, I have turned my focus to those companies that stand to benefit from paying more at the pump.
Wal-Mart (WMT)
I like Wal-Mart here for several reasons. The retail giant reported Fourth quarter earnings last week for the period ending January 31. The company's numbers came in line with analysts' expectations on revenues. However it missed on the all important earnings per share. On a quarter-over-quarter basis, revenue increased and GAAP earnings per share dropped. Wal-Mart booked revenue of $122.29 billion. The 16 analysts polled by S&P Capital IQ predicted sales of $123.66 billion on the same basis. GAAP reported sales were 5.9% higher than the prior-year quarter's $116.36 billion.
For the quarter, gross margin was 24.8%, - 30 basis points lower on sequential basis. Operating margin was 6.8%, a decrease of 10 basis points sequentially while net margin arrive at 4.2%, 100 basis points worse than the prior-year quarter. Overall, it was a decent quarter I would say with all things considered. However, with the news that gas prices are on the rise, I suspect that the company will soon see more foot traffic in its stores to make up for the EPS miss in the following quarter.
Any time discretionary spending becomes a concern, it often bodes well for retailers that focus on consumer staples, such as Wal-Mart. The company stands to benefit even more so by being a one-stop-shop of sorts for consumers who want to shop for groceries, get their car serviced and possibly buy some well needed hardware or home furnishings. With any potential increase in gas prices, consumers will want to limit their driving and visit Wal-Mart for all of the services it is able to provide in one visit.
Halliburton (HAL)
One of the first companies that should come to mind whenever investors look to benefit from higher oil prices has to be Halliburton. The company continues to have several catalysts in its favor. The possibility of this recent increase in oil prices notwithstanding, the reality is, world population will continue to grow. It stands to reason that demand for oil and gasoline will also rise - something that is certain to bode well for the company as well as its shareholders.
Aside from the benefits it stands to gain as demand increases for more drilling, the company has also been doing pretty well as it relates to its earnings. From that standpoint, there aren't many companies that have fared better and have proven to be more consistent than Halliburton. It has steadily demonstrated an ability to beat expectations and deliver on its bottom line. It goes without saying that its management will want to continue this trend, and will be doing just about everything under its power to make certain that these types of performances continue.
Exxon Mobil (XOM)
It is hard to do much better than Exxon Mobil when it comes to oil and gas. As with Halliburton there is a lot to like with Exxon Mobil. Yet the company often gets overlooked for what appears to be routine success. It often gets taken for granted. It has huge reserves and plenty of capital which often is an appealing quality to conservative investors. Not to mention that it has a well earned reputation - something that many of its competitors are working hard to rebuild.
Investors should keep in mind that Exxon Mobil is still a dominant player even among the big oil companies. It has nearly three times the market cap of even the other oil giants, but it is hardly a lumbering, stumbling giant. The company is still in the mix of all phases of upstream and downstream operations, and its portfolio of exploration and production projects should make it able to continue to weather these lean times.
Schlumberger (SLB)
It is hard to value a company like Schlumberger. The company ranks either number one or number two in terms of market share in an assortment of oil service sub segments. These range from services needed during exploration to those critical for drilling and completion. The company is committed to this market dominance and has made several acquisitions when needed to keep pace in oil services.
The company also laid out a multi-step execution plan over the next five years. These steps include growing market share in various oil service lines, growing earnings per share faster than revenue, establishing the highest margins in the business in North America and continuing its strong share buyback and dividend policy. Schlumberger is optimistic about future growth in oil and gas spending and seeing as oil and gas are set to rise this year, it is well positioned to capitalize early on its plans.
The company also believes that its market dominance and technology advantages will make it a prime beneficiary of this spending. For this reason, it should not be overlooked. The company has beaten Wall Street expectations over the last several quarters, and can be another great play on future demand for oil and gas in 2012.