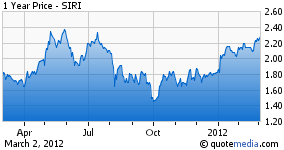 Many investors cannot wait for next Tuesday, March 6, when Liberty Media (NASDAQ:LMCA) can legally make a move to get control of Sirius XM (NASDAQ:SIRI). There are many analysts who believe Liberty may buy Sirius shares on the open market, or become a silent partner with another investor(s) to bring Liberty's current ownership from 40% of Sirius to over 50%. According to a Wall Street Journal article out this morning:
A possible work around recently mentioned by Liberty Chief Executive Greg Maffei would entail Sirius buying back enough shares to effectively increase Liberty's stake. Given Mr Karmazin's desire to stay in control, that could prove attractive, especially if done in conjunction with a spinoff.
I discussed the possibility of a buyback in a recent article "Sirius XM: Buyback versus Dividend." In my opinion a carefully structured buyback would be good for Sirius. And this may be the least expensive way for Liberty to take control. They would not have to put any additional money on the table to take over the company. The WSJ article goes on to say that the buybacks required to give Liberty control would cost billions.
There are many who believe that John Malone, chairman of Liberty, will take control of Sirius and then spin it into Liberty stock so that he can use the valuable NOLs ($7.8 billion) that Sirius has to offset taxes on Liberty's assets. However the WSJ article disputes that. According to tax analyst Robert Willens:
Mr. Willens adds, though, that for technical reasons Liberty could be limited to using the benefits to offset income only from Sirius, not other Liberty entities.
Sirius stock has been rising over the last few months and is up 38% from three months ago. That means if you bought $10,000 worth of Sirius three months ago, you would now have $13,800. Approximately $1,300 a month in profit. And if you bought in October of last year when the stock was at a low of $1.27 your profits would be 84%.
A lot of this is due to spectacular subscriber numbers for the last quarter, the new release of 2.0 portable radios such as the Lynx, the Howard Stern announcement, the used car announcement, the new Apple App, an increase in auto sales, and the possibility that shareholders will get some type of return on their investment either from dividends or share buybacks.


This rise in price may be a deterrent to Liberty trying to buy up another 40% of Sirius on the open market. Why 40%? Most analysts feel 80% would be the amount needed to take advantage of the NOLs. And one analyst said that this will happen:
Citigroup has added more fuel to the Liberty Media and Sirius XM speculation today by issuing a report citing possibilities that Liberty could increase their stake in Sirius XM from about 40% to 80%.
Consider that Sirius will have 1.5 billion in cash at the end of the year, then add that to 7.8 billion in NOLs and you have almost $10 billion which would be valuable to anyone, not just Liberty. To assume that Liberty is the only player in this game would be naive. There are a lot of investors that want to be in on this. I am one of them.
Whatever the outcome it will surely make the price of Sirius go up, and as I said in an article yesterday the Big Money is already buying Sirius. What will happen? If I was in Liberty's shoes I would buy enough shares to get over 51% and have control of Sirius. I would not depend on a "silent partner" to get over that hump. Then I would structure a buyback that would give me the company with no additional money spent.
And if the Wall Street Journal is right, then to own Liberty stock might not guarantee that it will still include Sirius in the future. Rather Sirius may have to be kept separate to take advantage of the NOLs. This is huge. Right now Sirius is soaring at $2.34 up 11 cents, and nearing its high for the year of $2.44. How much is the stock worth right now? How much is a "cash cow" worth? Priceless.
Disclosure: I am long SIRI.