Last week on an episode of Mad Money, Cramer told readers why he prefers Apple (NASDAQ:AAPL) to Berkshire Hathaway (NYSE:BRK.B). While I disagree with this thesis, I do want to complete some homework on this subject.
Here is my reasoning behind being more bullish on Berkshire than Apple despite Apple's cheaper valuation at 10.5X forward earnings versus Berkshire's 16X trailing earnings multiple. Apple's higher growth rate is another factor which needs to be considered - could I be wrong? Of course, but I feel that Berkshire is a safer way to invest in the stock market than Apple, and not necessarily a better long term investment.
In my view, the rear view mirror is much less important to investors than the future and I believe Berkshire is more diversified and therefore a lower risk investment than Apple.
While I'm not suggesting investors rush out and sell Apple to buy Berkshire, I do think that new money would be better served in shares of BRK-A than APPL, and that investors may want to trim shares of Apple and wait for Berkshire Hathaway to pull back a bit before buying a position.
Apple - Apple has been one of the best investments of all time for shareholders. Luckily for me, I have frequently gotten behind Apple common myself and written about AAPL in several articles, including this one and others. At this point, however, I feel that Berkshire is a better buy than Apple because Berkshire's management team has more experience and because Berkshire has a deeper margin of safety in the form of free cash flow, net asset value, diversification and business moat.
Apple, while it is arguably the greatest success story in American business history, has a new CEO and operates in an extremely competitive market. Companies like Google, Samsung, etc. will be catching up to Apple in the mobile and the PC market. The PC business, while still representing a huge growth market for Apple, may slow down a bit as consumers make due with their recently purchased computers versus replacing them with slightly faster models.
That said, Moore's Law is hugely bullish for Apple as they sell a high value good at a large price that constantly needs replacement thanks to ever advancing technological improvements. Berkshire Hathaway, on the other hand, is a company that is fully diversified in every asset vertical imaginable and is in my view a less risky long term investment because of this diversification. In one sense, investing in Berkshire is like investing in a bond with a 7% coupon. Buffett should be able to deliver a 10% return on equity over time, and the stock is trading for 1.2X book value. Investing in Apple is more like a call option on future growth and new management.
Although Apple at 10X forward earnings is the cheaper stock, I don't view this company as an early stage growth business like Cramer does. I see it as a growth company in a cyclical industry. Sure, the upside could be phenomenal but Berkshire's safety and long term track record makes it a better risk adjusted play in my view at current levels. Buffett has been around for almost a century while Tim Cook is, well, a greenhorn as far as being the CEO of one of the largest companies in the world.
Click to enlarge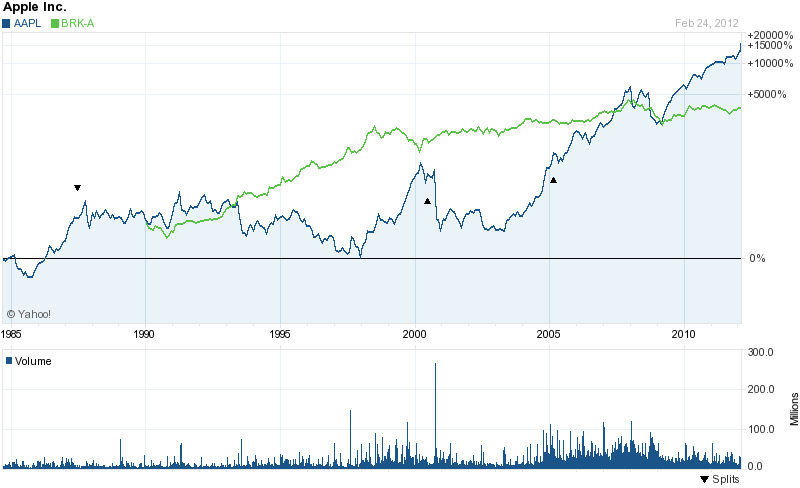 If Apple sells off to the $450 level, I would consider it to be a great buy again. I also believe the stock will be much higher than current levels 10 years from now. Just take a look at the long term chart of both of these companies. Buy and hold worked pretty well for investors in both of these stocks. I expect the future to be more of the same, but I still lean with Berkshire management's unmatched long term results.
Berkshire Hathaway - My reasoning behind suggesting Berkshire over Apple is pretty simple. Berkshire is much more diversified and has a more reliable source of cash flow than Apple. True, Berkshire's earnings were down 11% YOY, but investors have to follow the cash flow at Berkshire as well as the net book value. On a cash flow basis, Berkshire looks cheap with $12 billion in "owner earnings" which Buffett views as a more reliable metric than net income. If Buffett can keep up his historical investing performance, the law of compounding interest will help investors in the stock prosper over the very long run.
Disclosure: I have no positions in any stocks mentioned, and no plans to initiate any positions within the next 72 hours.