After a slow January, when only 4 deals priced, US IPO market activity picked up in February. The 18 pricings during the month were the most since May 2011 and 2 more than February 2011. Excluding last year's $2.9 billion Kinder Morgan (NYSE:KMI) deal, proceeds raised were up 32% to $1.7 billion, despite substantial discounts. Perhaps mindful of weak performance last year (when the average US IPO fell 10%), investors remained discerning and highly sensitive to valuations. On average, offer prices were 14% below the midpoint, and 45% of deals priced below the range. As seen in the chart below, price discounts are at a historic high in 2012.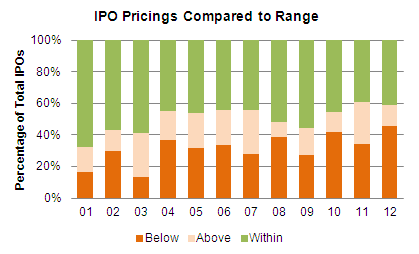 In addition, the leap day proved difficult, as mortgage REIT Provident Mortgage (PMCA) and fabless chip supplier GCT Semiconductor (GCTS) postponed and biotech Argos Therapeutics (ARGS) delayed its deal. Two others, Platinum Energy (FRAC) and Erickson Air-Crane (NASDAQ:EAC), postponed in early February.
The good news is that the price discounting translated into attractive returns. At the end of the month, only three deals were trading below their IPO price, and the overall average return was 20%. Early investors realized most of these gains: The average first day return was 18%, leaving only a 2% aftermarket return. Nevertheless, maintaining positive aftermarket performance is critical to sustaining an active and healthy IPO market.
Possibly buoyed by the excitement around the Facebook (NASDAQ:FB) filing on February 1, high growth technology companies continued to be a strong draw. Six deals were technology related and half produced returns over 35%.
The best performer overall was prototype manufacturer Proto Labs (NYSE:PRLB), which priced above its range at the end of February and gained 92% by month's end. The worst performer was online security company AVG Technologies (NYSE:AVG), which traded down 18%. Concerns over slowing growth and a recent decline in margins contributed to AVG's poor reception, which could portend difficulty for Avast Software (Private:AVST). The competing online security company filed for a $200 million IPO in December 2011.
February's strong returns were reflected in a strong month for the FTSE Renaissance US IPO Index, which is up 16% year-to-date. Internationally, activity was slower, as only 3 non-US deals began trading, but things may be picking up soon. Dutch cable firm Ziggo launched a billion dollar IPO yesterday, and the largest South American investment bank, Brazil-based BTG Pactual, filed for its own billion dollar deal today. Korea Development Bank is rumored to be seeking an IPO in the second quarter for $1.5 billion to $2.0 billion.
Lastly, there were 13 initial filings for US IPOs, one fewer than last February. Two, Facebook and Empire State Realty (ESB), proposed deals worth at least $1 billion, and five were energy companies, including Enerkem (NRKM), which converts municipal waste into biofuels.