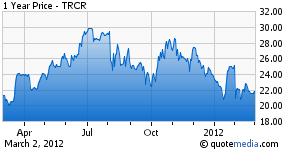 It may surprise those outside the medical community that transcription is still a huge market, but doctors are stubborn creatures of habit and dictation and transcription has thus far withstood most attempts to move to electronic records. As the No. 3 player in a fragmented market plagued with inconsistent service, it would seem that Transcend Services (TRCR) should have a strong multi-year growth story ahead of it.
Troubles Show Themselves In Q4
Although Transcend generally has a strong record regarding customer retention and service quality, translating that into revenue growth has been a little more challenging lately. Nevertheless, the company did deliver about 10% organic revenue growth in the last quarter, with overall reported revenue growth of nearly 22%.
Profitability was more challenging, however. Gross margin was flat (and below sell-side expectations) and adjusted operating income was down about 6%. Reported operating margin fell over 10 full points and though the comparison was better on an adjusted basis, it was hardly good.
Transcend not only had to absorb some higher medical costs (they self-insure for employee healthcare), but there were ongoing costs and disruptions tied to restructuring their Indian outsourcing operations.
A Cogent Plan For 2012
Management knows that current margin levels won't cut it, and the plan to improve margins in 2012 makes sense. Transcend is going to look to convert more customers to its proprietary platform (which reduces costs), increase speech recognition usage, offshore more work, and increase the productivity of its offshore operations.
OK, that's a good plan. But how realistic is it?
Offshoring to India is commonplace in transcription, and Transcend, Medquist (PINK:MEDQ.PK) and Nuance (NASDAQ:NUAN) all do it. It's not just a simple case of "let's do more of that," though. For starters, scandals and problems with past offshoring have led some hospitals to either demand a lower rate for offshored work or contractually forbid it altogether. What's more, wage inflation in India is an issue as the cost advantage (15-20%) isn't quite as large as some believe.
Likewise, increased use of the company's proprietary speech recognition platform (Beyond TXT) may be a little harder to leverage. Like offshoring, some clients don't like automated speech recognition systems and will either demand a lower fee or will not allow its use at all.
Opportunities And Challenges For The Long Haul
While the healthcare transcription market is arguably at least $12 billion a year in revenue, Transcend focuses on a narrower niche (community hospitals) that includes about one-quarter of that. Luckily, that's more of a marketing decision than a platform issue. If Transcend wanted to expand into other practices, the leverage opportunity would be relatively straightforward.
Transcend also has ample organic and acquired growth potential. Somewhere between half and two-thirds of hospitals reportedly in-house their transcription and could be targeted by Transcend, Nuance and Medquist in the future. What's more, while Medquist and Nuance are considerably larger in terms of share (more than double Transcend's share), they together account for less than 20% of the market and a lot of the remainder are mom-and-pop operations that lack the scale to compete effectively.
That said, transcription is still regarded by many as antiquated and a practice that needs to be phased out in favor of e-records. Doctors are going to fight this battle tooth-and-nail, but eventually the turnover in the physician community (older docs retiring and younger, more tech-comfortable docs replacing them) and the sales efforts of healthcare IT firms like Allscripts (NASDAQ:MDRX), Cerner (NASDAQ:CERN), McKesson (NYSE:MCK) and Quality Systems (NASDAQ:QSII) are going to move the market away from traditional transcription.
I also question if Transcend can really drive a lot of leverage out of its proprietary speech recognition platform over the long term. Given that is Nuance's core business and also an area of focus for companies like Microsoft (NASDAQ:MSFT) and IBM (NYSE:IBM) (which also provides a lot of IT services to the healthcare/hospital community), I just wonder if the company is vulnerable to a better proprietary mousetrap.
The Bottom Line
Those concerns aside, Transcend does have excellent service scores, good retention and a clean balance sheet that should facilitate further transactions. What the company lacks, though is a consistent record of improving free cash flow conversion. Though the returns on capital look good, the declining cash flow efficiency concerns me at present.
I'm actually comfortable projecting a low-teens rate of compound free cash flow growth over the next decade. Unfortunately, that's only good for a price target basically in line with today's price. If Transcend can improve those margins and get free cash flow conversion back into the mid-to-high teens, there's definitely upside into the high $20s, but I'd want to see better evidence of that progress before fully committing to a position in these shares.
Disclosure: I have no positions in any stocks mentioned, and no plans to initiate any positions within the next 72 hours.