With interest rates near zero the focus of investors shifts to high-dividend yield stocks. This is especially true for the elderly, who are saving for retirement. In the following article I will run through 5 stable utility companies, each paying a 5% yield to investors. These could form a base for each retirement portfolio.
Diversified utility basket
An investor searching for yield in stable large utility companies could invest in the following names: American Electric Power (AEP), Entergy (ETR), Exelon (EXC), FirstEnergy (FE) and PPL (PPL).
Each of these companies pay a dividend yield of 5% or more and have a market capitalization exceeding $10 billion.
The basket comprised out of an even share in each of the five names would provide a 5.1% yield. Shares are valued at an average of 1.5 times book value, 12 times earnings and have shown an average earnings per share growth of 3.8% over the last 5 years.
(Click charts to enlarge)

Long-term returns
Investors who invested in this basket a decade ago would have seen a 90% price appreciation. This excludes the fat annual dividend yield, which currently runs at 5.1%
This compares with the SP500 (SPY), which returned about 25% over this time period and pays a lower dividend yield.
On top of the superior returns, utility companies do tend to show less volatility in their returns. However in 2008, the basket showed a dramatic return as the entire market fell of a cliff. On top of that, oil prices fell from a record $147 to lows of $30 in just months.
Over the long term and the entire decade, utilities provide investors with excellent risk-reward ratios as utilities are essential goods for consumers and state laws allow utilities to automatically raise retail prices in order to guarantee returns on capital.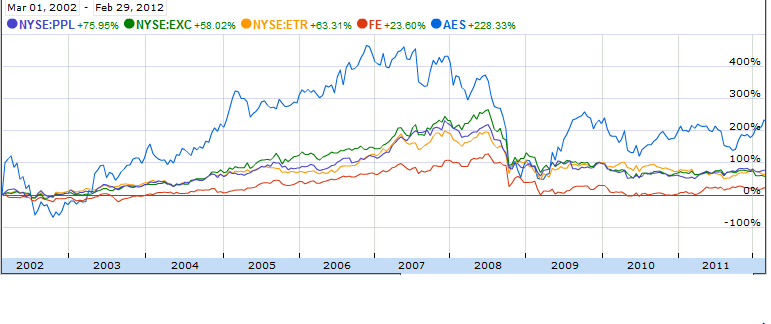 Margin of safety for retirement
Traditionally, many investors had a sizable bond portfolio in order to comfortably retire. With bond yields being completely insufficient to generate comfortable returns, many investors have fled to equities. Utility companies with their stable long-term demand and favorable state laws provide the best of both worlds. They pay a yield, which bonds fail to provide at the moment, while having the same upside as the general equity market.
Disclosure: I have no positions in any stocks mentioned, and no plans to initiate any positions within the next 72 hours.