Cedar Fair LP (NYSE:FUN), an operator of amusement parks and water parks, held an investor day back in January to discuss the firm with sell side analysts and institutional investors. Lots of positive news came out at the meeting, with the company indicating that they hit the top end of their guidance for both revenue and EBITDA. Since then, the stock has moved up sharply to around the $28.25 level, and while it is probably overbought right now, this is still a solid name to own. Since the company has vowed to pay in excess of $2/unit in dividends next year, I think the stock can easily approach a price of $30 per unit.
Basics:
Company: Cedar Fair Entertainment Corp
Ticker: FUN
Units: 55.4mm
Price/Unit: $28
Market Cap: $1.55BB
Debt, net of cash: $1.62BB (includes $50mm in swap pre-payments to be made in February)
TEV: $3.17BB
2011 Revenue: $1.0BB
2011 EBITDA: $375MM
Dividend Guidance 2012:$1.60
2012 Yield: 5.7%
Dividend 2013: In excess of $2.00
2013 Yield: 7.1% assuming $2.00
Company:
Cedar Fair owns and operates 11 amusement parks, 7 water parks, and 5 hotels. Its biggest revenue generator is the Cedar Point amusement park in Ohio, the biggest in the country by number of rides and the third oldest too. They also own well known parks such as Knott's Berry Farm, King's Island and Carowinds. Given that it costs at least $300mm to build a new park, the replacement cost alone is well north of $4BB, which is attractive given that you are buying the company for a $3.17BB price tag (i.e. total enterprise value).
The business model is straightforward. They make all of their money from Memorial Day to Labor Day, collecting on average $40 per guest per visit to a theme park. In 2011, roughly 23.4mm tourists visited their amusement parks.
Attendance at theme parks is relatively stable, and even after the crisis in 2008, attendance fell only 7%, with EBITDA falling by 11%. Looking longer term however, through the cycle, the company grew EBITDA by 3.9% per year on average from 2006 to 2011. Driving this was a 1.5% annual increase in attendance on average coupled with 2%/year increases in guest spending. Revenue grew 4.4% per year overall over this time.
On the expense side, Cedar Fair generally has a high fixed cost structure. The company spends around $650mm per year, give or take a few million bucks. While that can mean tough times in a downturn, the opposite is true too. In good times, any growth in yield or number of visitors almost entirely flows to the bottom line.
As for 2011, management reported revenue and EBITDA at the high end of their prior guidance ranges. Revenue was approximately $1.03BB for 2011, generating $375mm of EBITDA.
Looking Forward
Taking a page out of the Six Flags playbook, recently hired CEO Matt Ouimet provided a multiyear plan for EBITDA growth for Cedar Fair. By 2016, the company is targeting $450mm in EBITDA, which equates to 4% growth per year. Given that the company grew EBITDA by 3.9% over the past five years, this seems quite achievable.
Perhaps most important to the upside in the stock is the reduction that the company will achieve in interest costs from 2011 to 2012. While EBITDA will probably increase by $15mm from 2011 to 2012, interest costs will decrease by a whopping $50mm this year.
Brian Witherow, their CFO, said at their analyst day:
Our 2010 refinancing provides us with efficiently staggered debt maturities, the earliest maturities is our $260 million revolving credit facility which matures in 2015. After that our term debt matures in 2017 and the bonds in 2018. One key point I'd like to leave you with on this slide is that we expect our cost of debt to decrease by more than 300 basis points in 2012, down from roughly 9.5% in 2011 to approximately 6.3% this coming year. This is primarily due to the expiration of several interest rate swaps.
While they will pay $50mm to terminate these swaps, they will reduce interest expense from $150mm per year, to $100mm per year. They will also have 80% in fixed rate debt, 20% in variable, meaning if rates rise, it will not impact the company's interest costs too much.
Given their NOLs and high Depreciation & Amortization expenses (which are much greater than capex), they pay a paltry $10mm or so in taxes per year. To the unitholders of FUN, that $50mm in interest savings plus $15mm in EBITDA growth therefore will fall almost entirely to the bottom line. This equates to an increase of $1.17 in free cash flow per share in 2012 (vs 2011). By my math, total FCF should approach $3.40 per unit in 2012. In fact, here is my 5 year projection, assuming a more conservative 3.5% EBITDA growth in over the next 4 years. (Management guided to 4% growth). By 2016, EBITDA should be in the $450mm neighborhood.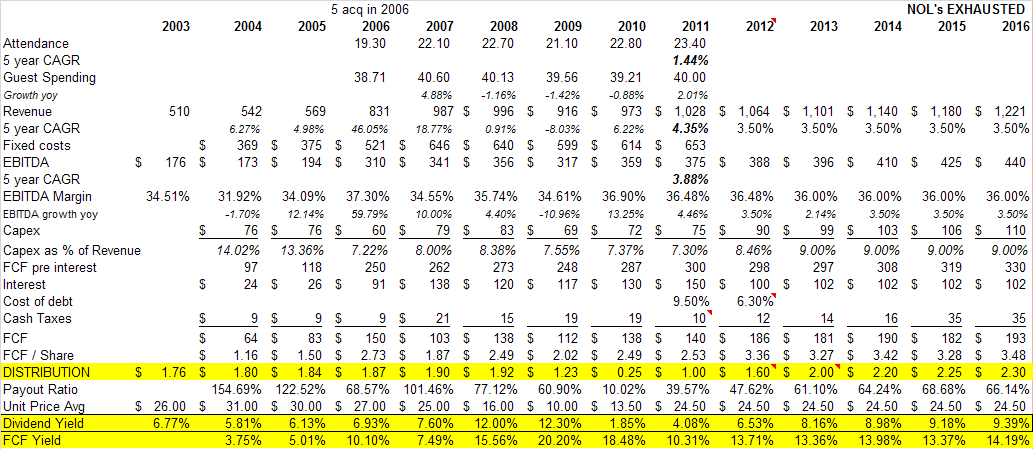 Historical Distributions and Credit Facility
In 2009, when Cedar Fair's EBITDA declined by 10%, the company had compliance issues with their banks, and was forced to cut off their distribution to unitholders. It was disastrous for the stock, crushing it from over $35 at the peak to under $10 per share.
Therefore, the biggest risk to Cedar Fair equity is that the company is forced to cut off distributions again, either in 2012 or 2013. Or perhaps reduce them to a lower level if another recession came along. To me, recession risk seems quite real these days.
So, to break that risk down, one needs to look at the formula dictating how much Cedar Fair is allowed to pay out in the form of distributions. The so-called restricted payments test in their Credit Agreement is a little complicated, but basically means that management is only allowed to pay distributions (i.e. dividends) by up to a certain dollar amount.
More specifically, the max distribution allowed is equal to EBITDA, less 175% of interest expense, plus sales of assets or equity (e.g. land I assume or perhaps a park), plus some other items that in essence equate to equity contributions.
The math is below, and illustrates that even if EBITDA falls by 10% as it did in 2009, the company would still be able to pay their guided $2.00 per unit next year in distributions. In fact, EBITDA could fall as low as $341mm in 2013, and still make their dividend payments. Therefore, I think the $2.00 plus in expected dividends next year is extremely likely, even in a downturn.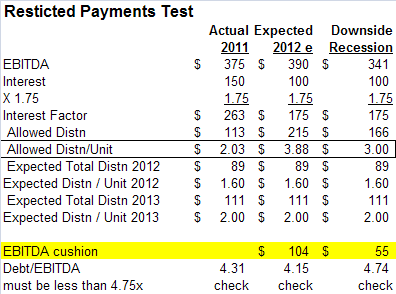 See their 8K dated July 29, 2010 for the Credit Agreement, pages 55-56.
Conclusion
Looking back to Cedar Fair's days (2004 to 2007) when it was paying a consistent distribution, ranging between $1.80 to $1.90 per share, the stock held its ground in the $30 range. Today, the share count is unchanged, the company has survived a brutal recession intact, and its distribution next year will be "in excess of $2.00" per share according to management.
Based on my math above, they should easily remain in compliance with their bank group. That means that Cedar Fair should be able to pay out perhaps $2.10 next year per unit (in 2013), driving the stock back up to the $30-$35 range in my base case.
Given that the stock has run up quite a bit over the past couple of months, it likely makes sense to wait for a pullback, or buy a small amount today, and be prepared for the inevitable market selloff that seems to happen every summer. Buy the dips in FUN and be patient. I worry somewhat that this is a hedge fund heavy name, often meaning panic in, and panic out. That said, below $25 this is a "table pounder."
Below are a few of the outcomes that I expect, with the 4 year win case that would likely equate to 64% upside in the units (including payments of dividends in between). Downside could be to $20 I expect, at which point I would add meaningfully to my current position. Upside of 64%, downside of about 23% over the next two to three years still seems like a very good risk reward.

Final Thoughts on FCF
During the years 2004 through 2007, FUN was trading at 5% to 7% FCF yields, as well as 5% to 7% dividend yields. In effect, all of the company's FCF was being distributed to unitholders, i.e. a 100% payout ratio.
Based on FCF per share of at least $3.30 and up to $3.60 next year, the current FCF yield is an appealing 12%, give or take. This is far higher than it used to be. If the stock traded to a 7% FCF yield today, that would drive the equity up to $50 a share, nearly a double. I am not counting on this happening, but it is well within the realm of possibilities. Six Flags by the way trades at a 7.25% free cash flow yield today.
The market has clearly begun to digest the expected dividends in 2012 and 2013, and now execution will be key. The stability of the theme park business though and the ease of compliance with bank covenants through 2015 likely means that the dividend is even more attractive today than it was in prior years. 2013's higher dividends still only equate to a 61% payout ratio.
There is a bit of leverage here, but at 4.3x EBITDA, it's lower than it was back in 2008 and 2009, when distributions were cut off by the banks. Offline management has indicated that they wish to reduce leverage to below 4.0x, and assuming FCF is used to pay down debt, should be attainable by next year.
Finally, I am not sure why someone like Warren Buffett hasn't bid for either Six Flags or Cedar Fair. There has only been one regional theme park built in the last 30 years, a Hard Rock Park in Myrtle Beach, and it closed before the end of its first season. The land, zoning, and build costs are far too high to get a new amusement park off the ground. These are irreplaceable businesses, ones not likely to face direct competition -- regional monopolies if you will.
Even if the capital markets were willing to finance an amusement park, it would take at least 2 to 3 years to get done, and require $300mm plus. While Apollo bid for Cedar Fair back in 2009, the price was far too low to elicit investor approval. Barriers to entry, consistently high margins, and attractive dividend yields seem to make this a good short term and long term buy.
Disclosure: I am long FUN.