FBR Capital came out with opinion that Endeavour International (NYSE:END) was a buy on any pullback as a result of news of a slight delay in production on its Bacchus assets. It reiterated its buy rating and $18 price target. It also expects the company's production to more than quadruple between FY2011 and FY2013. I had never heard of this company before, so I did some research. I believe after looking into this company, the stock should see explosive growth if it achieves even 75% of analysts' projections and easily could be a two or three bagger if its hits FY2013's estimates.
6 reasons END is a great speculative buy at $11 a share:
Insiders have added over 400,000 new shares over the last few months.
Explosive EPS growth in expected. The company lost $1.41 a share in FY2011. However, analysts expect $1.65 in earnings in FY2012 and over $3 in FY2013.
Consensus earnings estimates for FY2012 and FY2013 have almost tripled over the past two months.
The median analysts' price target for the 10 analysts that cover the stock is $15 a share. If the company executes again plan and hit analysts' EPS targets for FY2013 ($3.10 a share), it should go much higher. Slapping a 10 PE on fiscal 2013's target gets you to a $31 stock.
Although the stock has doubled off its recent bottom, the price appreciation has not kept up with the increasing estimates for FY2012 and FY2013. It also just crossed over its 200 day moving average (See Chart).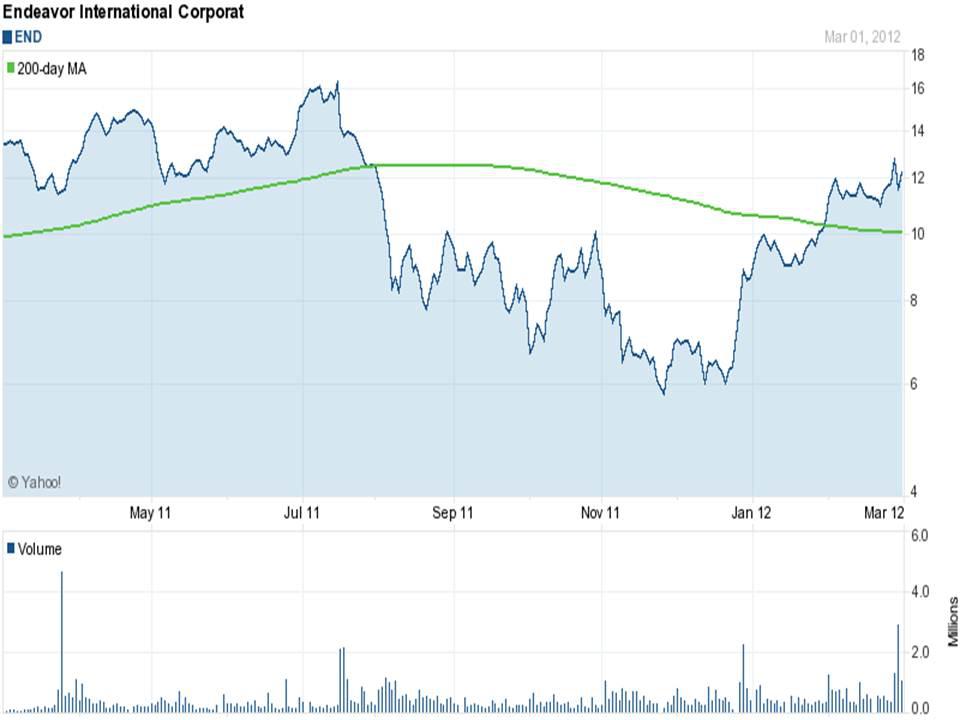 Click to enlarge
(Click to enlarge)
The company's balance sheet is more than adequate to ramp up production and achieve significant cash flow generation in FY2012 and FY2013.
Disclosure: I am long END.