The largest exchange traded fund for "junk" bonds is on an eight-day winning streak, suggesting investors remain in a risk-on mindset.
High-yield bond ETFs continue to rise despite growing calls the stock market needs to pull back or consolidate to digest some of the strong gains so far in 2012.
Some technical analysts watch junk bond ETFs such as iShares iBoxx High Yield Corporate Bond (NYSEArca: HYG) and SPDR Barclays High Yield Bond (NYSEArca: JNK) as a sentiment indicator for how comfortable investors are with taking on risk.
The ETFs offer yields of about 7%. From a performance standpoint, they are up more than 7% over the past three months.
Both funds have over $10 billion in assets, and they are among the top ETF sellers this year.
Investors are using the junk bond ETFs to boost income with U.S. Treasury bonds offering puny yields.
While ETFs represent 2% of the $1 trillion in U.S. corporate speculative-grade debt outstanding, they comprised over a third of the total $14.8 billion of inflows this year to mutual funds and ETFs that invest junk bonds, Bloomberg reported.
Defaults are low and in the last few months credit spreads have tightened as the economy appears to be improving, says Morningstar analyst Timothy Strauts.
"If you're considering high-yield as a replacement for another fixed-income sector, exercise caution with new investments right now. The current economic situation is improving, but high-yield is trading at its long-term average credit spread. It is no longer the value it was six months ago," he wrote in an analyst report on iShares iBoxx High Yield Corporate Bond.
iShares iBoxx High Yield Corporate Bond
(Click to expand)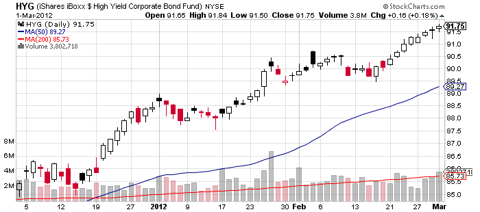 Click to enlarge
Disclosure: None