Marketwatch editor-in-chief David Callaway on February 29, 2012, in "Asia Bull Market, It's Not About Apple" identified the Asia bull market as:
one of the strongest two-month rallies in these Asian indexes in years … [pushing] into bull-market territory and underscored a global sentiment shift into equities that goes beyond the influence of the U.S. tech giant [Apple (NASDAQ:AAPL)].
Corroboration of China Bull Market
In the last few days, crucial information has been reported that corroborates a sustainable China bull market and provides a foundation for economic stability and growth in China. The first is the $11.7 billion of expanded American Business Investment, the second is the 20% wage increase now being complied with because of "Apple's China audit" by the Fair Labor Association.
1. American Business Expansion Investment
According to a survey published in China Daily, February 29, 2012, "Members of the American Chamber of Commerce in southern China plan to invest more in China in the coming years despite a sluggish global economy." The survey interviewed 461 companies and according to Harley Seyedin, chairman of the chamber, they estimate that the nearly 2,000 members will spend about $11.7 billion (a 21.4% increase) in the next three years. Those plans were an about-face from the budget figures reported in the survey for last year. In that report, the chamber's members said their budgets called for their investments in China to decrease by about 8 percent over the course of three years.
About 88 percent of the companies surveyed say they are already profitable or expect to make a profit in two years, and about 70 percent of the already profitable companies said they expect to meet or exceed their profit targets.
Companies' plans to spend more indicate their expectations for the coming few years, said Zuo Liancun, a professor with the Institute of International Economy and Trade at Guangdong University of Foreign Studies:
I think the eurozone debt crisis is easing although it is not over yet. With the measures taken by countries around the world, the global economy will take a turn for the better in the coming three to five years. I am rather confident that there is little chance of a second dip.
2. Apple's (AAPL) China Audit Will Increase Worker's Wages 20%
The report on Apple's China audit is due out later this month. Sanford Bernstein analyst Alberto Moel in Hong Kong, who last autumn visited a Shenzhen factory where Chinese workers assemble some Apple gadgets, says the independent Fair Labor Association's (FLA) current audit of Apple suppliers will very likely urge workplace improvements.
Of particular focus is Foxconn Technology Group, a Taiwan-based company with separately listed units in Hong Kong and Taipei that make handsets and computer devices for many of world's leading tech brands. This company became the focus of international attention after an outbreak of worker suicides at one of its mainland Chinese plants over a 10-month period in 2010. In mid-February, a 30-member team of inspectors from FLA, a Washington-based monitoring organization, began conducting checks and employee interviews at Foxconn's factory in the southern city of Shenzhen.
Analyst Nomura is currently forecasting an earnings drop of 40% in Foxconn's 2012 fiscal year, with Foxconn International already set to hike wages at its China factories by 20% on average this year, effective by the end of the first quarter, in compliance with previous guidance on wage increases by the Fair Labor Association.
This highly publicized "Apple China Audit" and improvement in wages and working conditions will most likely evolve into country-wide mandated improvements of wages and working conditions as China's middle class seeks to improve their standard of living and work environment.
China Economic Bear Sentiment
The bull rally idea directly contrasts with the prevalent "China Economic Bear Sentiment" that strongly arose last summer and continued to pound down the share prices and investment perception toward all China ADRs for the rest of 2011 (see China Shanghai Composite Chart below).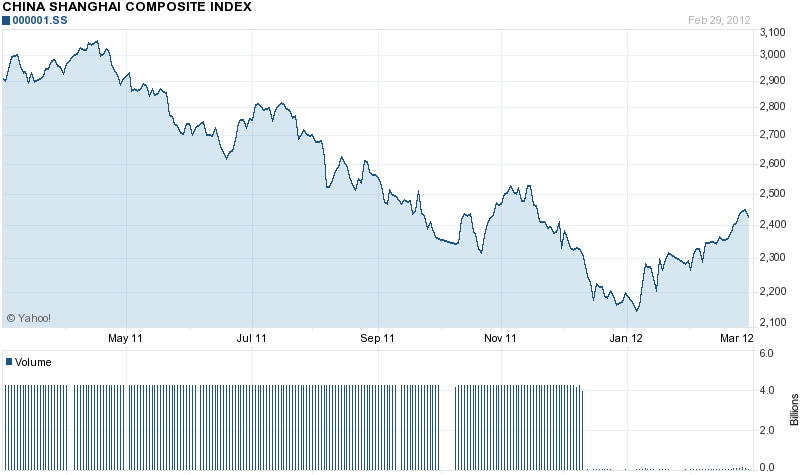 Click to enlarge
Share Price Lag in Major China ADRs
The China bear sentiment continues to suppress share prices of major China ADRs causing a lag in price-per-share recovery for the following stocks that have an average overweight or buy rating. In the last days this negative sentiment looks to be shifting. Below is a selection of seven China stocks where the gap between the current price and the average analyst price reveals that investors have large gain potential as the China Economy Recovery becomes reality and markets continue to recover.
Potential Gains from a China Market Recovery
Stock
Current
Price
Number of
Marketwatch
Analysts
Average of
Analysts Price
Targets
Potential
Gain
Baidu, Inc. (NASDAQ:BIDU)
$139.12
35
$185.36
33.2%
Sina Corp. (NASDAQ:SINA)
$70.10
30
$87.73
25.1%
Sohu.com Inc. (NASDAQ:SOHU)
$50.00
30
$66.24
32.5%
New Oriental Ed. & Tech (NYSE:EDU)
$26.36
18
$32.80
24.4%
China Petro & Chem (NYSE:SNP)
$114.01
36
$126.47
10.9%
Sinopec Shanghai Petrochem. (NYSE:SHI)
$37.80
8
$45.73
21.0%
China Telecom (NYSE:CHA)
$60.76
27
$68.06
12.0%
BIDU is the leader of the seven stocks with 33.2% potential gain. My recent article "Baidu: The Google, Netflix, iPhone, Priceline And Facebook Of China" details the dominant monopoly position of Baidu with over 75% of the China internet search market. Also, 80% of mobile phones have BIDU as the default search and this month China will reach one billion mobile phone subscribers. Mobile phone revenue opportunities was a main highlight in BIDU's February Q4 financial conference call.
China's middle class ascendancy through increased job opportunities and significantly higher wages will secure and improve BIDU's continued internet and phone advertising revenue growth and profitability.
Summary
Asia bull market activity is a reality based on recent reports of successful business profits by American companies and of extensive budgeted capital investment for the next three years. This substantial capital investment trend provides a win-win situation since it will allow China to continue providing important cooperation and participation in stabilizing the macro environment challenges of Europe and the USA.
The 20% wage increase by "Apple's China audit" and the establishment of nationwide wage improvements by the Chinese government will be of great benefit to China economically. Wage increases for the middle class directly translates into increased consumer purchasing power and increased economic multiplier effect in China. China internet penetration (currently 513 million--38% penetration--out of a population of 1.33 billion people) will increase allowing greater ability for USA and other international companies to advertise to China consumers. China's e-commerce continued to rapidly expand in 2011 as online sales turnover surpassed $124 billion USD, resulting in a year-on-year increase of 66 percent.
The first two months of 2012 have established a market resilience to the macro environment issues involving debt levels in Europe and the USA. As an investor I find it ironic that the USA markets are optimistic about overcoming the macro overhang and the ability to contain Europe's Debt issues, and for success China must continue to play a crucial role in the function of all the world markets, and yet pessimism continues regarding China's Economy and China companies. The entire matter is quite simple: If the USA is stable and Europe is stable then China will also be stable.
Disclosure: I am long BIDU.