Joy Global (NYSE:JOY) doubled in the last five years even with the recession as an obstacle. I think it will double again in the next five years due to its above average consistent earnings growth.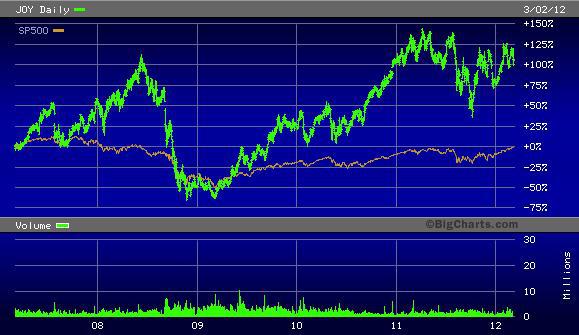 Joy Global is a worldwide leading manufacturer of mining equipment used to extract coal, copper, iron ore, oil sands, gold, and other resources. The company sells two types of mining equipment: underground and surface. It operates under two businesses: P&H Mining Equipment and Joy Mining Machinery.
This $9.2 billion mid cap company has just reported its earnings for fiscal Q1 2012. JOY reported that earnings per share grew 38.5% to $1.33 which actually missed estimates by only 2 cents. The company attributed the low price of natural gas and the warmer than average winter season to the lowered demand for coal for the quarter. However, JOY is raising its earnings estimates for the year from $7.00 - $7.40 per share to $7.40 - $7.80 per share.
Joy Global derives 50% of its revenue from international sales. International sales increased 36.7%, while domestic sales increased 23.7% in Q1.
The company achieved a 40% increase in surface equipment bookings for the quarter, while underground bookings were flat. Net sales increased 29%. Its backlog increased from $3.3 billion to $3.6 billion from the beginning to the end of the quarter. Operating profit was $204 million which was $50 million higher than the previous year.
The major mining customers have raised their capital budgets by 20%. This is one of the reasons that JOY is revising its full year earnings estimates. Backlogs are expected to continue to increase for its surface and underground businesses.
Acquisitions are a key strategy that JOY uses to grow the business. JOY's recently acquired IMM and LeTourneau. IMM is expected to add $300 million in revenue to the remaining three quarters of fiscal 2012. This adds 50 cents to the earnings per share over the same period.
The company did have some product quality issues with LeTourneau initially; however, those issues have been addressed. JOY now expects LeTourneau to achieve future results that are similar to those of its surface mining equipment business.
Joy Global currently looks undervalued with a forward PE ratio of 9.86 and a PEG ratio of 0.59. The stock is trading at 4.71 times book value per share.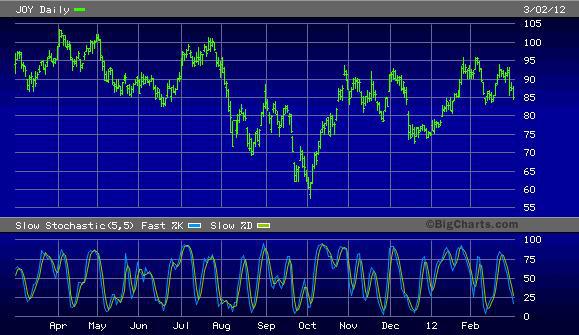 I think that one of the beauties of Joy Global is its consistency in growing earnings. This consistency allows the company's stock to grow in relation to its earnings growth. In the past five years, JOY grew earnings annually at 19.97% and its stock grew approximately in proportion to that increase from $40 to its current price of $87. The company is expected to grow earnings annually at 19.47% for the next five years. This is significantly higher than the S&P 500's expected growth of 10.6% annually; therefore, JOY should continue to outperform the market. This earnings growth should allow its current stock price to double again in the next five years to approximately $170 to $200.
If you're not interested in owning a mining company, Joy Global can be an alternative investment. JOY can be considered a common denominator in the world of mining as it supplies the equipment necessary for extracting the various natural resources of the world.
Disclosure: I have no positions in any stocks mentioned, and no plans to initiate any positions within the next 72 hours.