Corelogic and RealtyTrac are really raining on the parade that is the U.S. economic recovery (and Secret Commerce Department Report Shows the Economy May be Faltering at the CEPR isn't helping either) as both real estate data firms provided a sobering new look at the U.S. housing market that many analysts think is poised to rebound this year.
RealtyTrac released its final report on foreclosure activity in 2011 noting that distressed sales accounted for 24 percent of all sales in the fourth quarter, up from 20 percent in the third quarter, and that the average price of a foreclosure-related sale was 29 percent below non-foreclosure sales. Corelogic reported the latest data on negative equity below, a situation that is not likely to get any better with ongoing home price declines.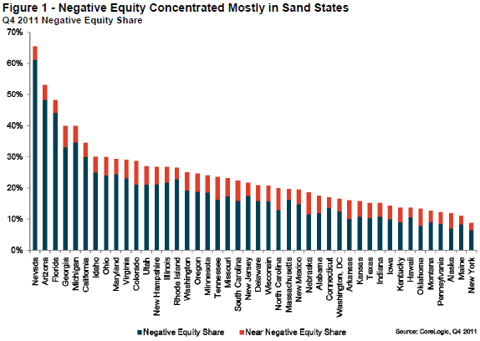 With nearly a third of all borrowers either in or near negative equity, we'll be hearing a lot more on this subject during this election year as the banks' foreclosure mills crank up again along with talk of (and a little action on) principal writedowns.