Ever since the Van Eck ETF Market Vectors Vietnam (NYSEARCA:VNM) went public on 14 August 2009, the stock price fell 23% to date due to slowing global economic conditions. There are two big reasons why this happened.
Click images to enlarge.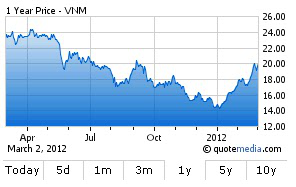 Market Vectors Vietnam ETF
The first reason is because of their high trade deficits of around $1 billion (see chart 1). We can see improvement over the last 2 years though. On the contrary, it has to be noted that their debt to GDP is only 50% as compared to 100% for the United States.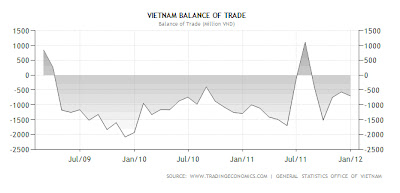 Chart 1: Vietnam Balance of Trade (million USD)
The second reason is the high inflation rate in Vietnam which accelerated to about 20% in the last few years (see chart 2). This high inflation was exacerbated by the government who devalued the dong by 9% on 11 February 2011. That's why we had a spike in inflation throughout 2011. Investors shunned this government action and sold out of Vietnam with the stock price declining around 40% during 2011. Because of inflation, government was forced to keep the interest rates at a high level (9%).
But there is also good news. Marc Faber has been bullish on Vietnam since March 2010, citing that half of Vietnam's population is under 30 years old as seen on chart 3. So the prospects of growth are high as more young people are coming into the work force going forward.
Another fact of the Vietnamese economy is that there are very few banks there. There are people who are even still trading in gold in exchange for goods. So there is potential for a growing credit market in Vietnam.
Moreover, Vietnam doesn't have a fully developed investment/trading exchange base yet. They only recently started trading in year 2000 with the Ho Chi Minh Exchange (HOSE). So in the future, further expansion in this area could mean high growth in investment in Vietnamese companies.
Another plus is that Vietnam's unemployment rate is only 2.3%, one of the lowest in the world - even lower than China's 4%.
One of the ways to safely invest in Vietnam is to buy the Vietnam ETF, which consists of the following companies (mainly banks, real estate developers, fertilizer and oil companies):
It's notable that all of these companies pay pretty high dividends. Of course this is all attributed to high inflation rates. The Vietnamese dong depreciated 30% from 2008 to 2012 (see chart 4). USD/VND is now at 20800.
Nevertheless, it takes time for an emerging country to flourish. I'm sure one day Vietnam will be one of the Asian tigers to join Hong Kong, Singapore, South Korea and Taiwan.
Disclosure: I have no positions in any stocks mentioned, but may initiate a long position in VNM over the next 72 hours.