The Financial sector has been one of the most watched sectors in 2011 and thus far in 2012. In 2011 the Financial sector was hit hard with awful news and rumors, especially in the third quarter. Over the course of 2011, the S&P 500 (NYSEARCA:IVV) outperformed the SPDR Financial Sector Fund (NYSEARCA:XLF) and the SPDR S&P 500 Bank ETF (NYSEARCA:KBE) by 18.5% and 23.5% respectively. This is well known, so why is it important? This is important because this indicates that financial stocks ended 2011 well below where they should have been - hence big gains in 2012.
For instance, several major financial institutions have recovered fairly well in 2012. And, likewise, many firms have and are lagging the broader bank ETFs and stock indexes. Investors and traders can use this to their advantage by understanding which major firms have the most potential during the final eight months of 2012 and beyond.
Before analyzing the stocks that will perform well it is important to discuss, very briefly, how the two bank ETFs have reversed the 2011 trend in 2012. The Financial Sector Fund lagged the S&P 500 by 18% in 2011, but in 2012 the same fund has outperformed the S&P 500 by about 5%. Similarly the S&P 500 Bank ETF underperformed the S&P 500 index by more than 23% in 2011 but thus far in 2012 the Bank ETF has outperformed the S&P 500 by about 3.5% (click to enlarge images):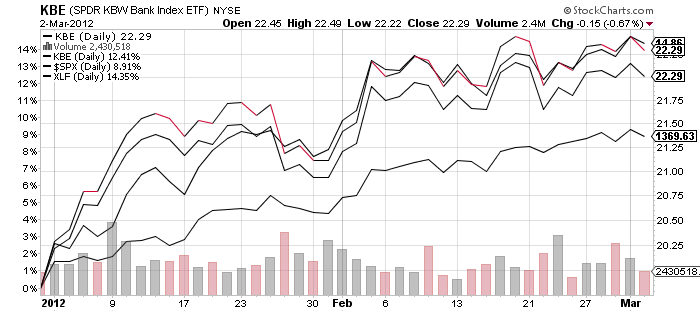 This trend will likely continue throughout 2012. However, it must be noted that there are several macroeconomic issues and local (U.S.) economic issues that persist. If these issues become worse we may see the public equities market stagnate or reverse course. And, more importantly, if this happens the Financial sector will be on the front lines and will lose substantial value.
Now, with that said, we can take a look at financial stocks that will outperform in 2012. We will discuss the reasons as to why these stocks will outperform in due time, but for now one similarity these stocks have is a slower start in 2012 - thus a greater upside potential exists compared to other stocks that have performed extraordinarily well thus far in 2012.
The first bank that will offer investors with substantial 2012 gains is Regions Financial (NYSE:RF). Regions underperformed all three of our benchmarks in 2011. However, since the October bottom Regions has outperformed all three benchmarks by over 300%. Similarly, thus far in 2012 Regions share price has outperformed the three benchmarks threefold. This indicates the stock is overbought in the near term, but Regions still has plenty of room to run in 2012.
One issue with Regions is consistently decreasing revenue. Fortunately as Regions Financial's revenue has decreased, so have costs. Revenue and costs have declined sequentially over the past three years and over the past four quarters. In fact, costs of revenue only accounted for roughly 7.4% of total revenue in 2011, whereas in 2009 costs were about 16% of total revenue. This is important because it indicates Regions is improving operations.
As mentioned above, Regions share price will likely stagnate in the near term because the stock has moved too quickly over the past five months and it will need some time to recover before moving higher. Regions momentum leads to another reason the stock will perform well in 2012. This reason relates to the stock's nonexistent P/E ratio that gives off a false sense that the positive momentum is acting upon an unprofitable company.
We say "false sense" in this situation because after looking into the balance sheets we see that Regions suffered a 2011 net loss on account of a discontinued operations charge of $408 million including tax expenses. Now, had Regions not had this write off the firm's $189 million in net income would have equaled about $0.15 per share. This would have then correlated into a P/E ratio of 39.73. Please note this net income calculation is based upon non-GAAP methods. Nevertheless, in this case we can use non-GAAP data because discontinued operations are supposed to be one time occurrences on the balance sheet.
Furthermore the high P/E ratio is important because it indicates that Regions trades at a high multiple, thus making Regions a volatile stock. This is confirmed by the 60% drop within 2011 followed by a 93% surge and the stock's 2.19 beta. This is good news for momentum investors because once the stock gets moving it will head substantially higher. This is the scenario we are expecting to see in 2012. On the other hand, however, this same momentum will affect the stock price during a weak period. Therefore if economic conditions arise that cause substantial weakness in equities, Regions will not be the best investment decision. This warning should not be taken lightly.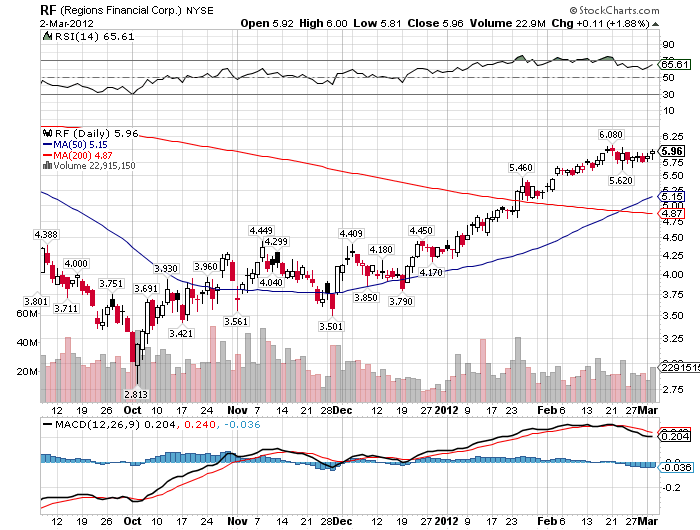 The next Financial laggard is Morgan Stanley (NYSE:MS). Morgan Stanley investors watched the share price decline roughly 44% in 2011. The share price has recovered some of this as the stock is up 17.4% in 2012. This is marginally above the three benchmarks, but substantially lower than its peers that suffered similar losses in 2011. One of the reasons for this is the possible Moody's downgrade.
While the news of the downgrade may not seem to have any effect on Morgan Stanley's share price; it is in fact affecting the share price. On February 15th Moody's announced the agency is reviewing the credit strength of 17 firms with global capital markets operations and 114 financial institutions in Europe. Morgan Stanley responded to this in the firm's 2011 10-K filed with the SEC on February 27th. Relevant information regarding the downgrade can be found on pages 20-21 and page 92. However, to sum it up, Morgan Stanley stated the firm will have to set aside $1.04 billion, $5.17 billion, and $6.52 billion if an one notch, two notch, or three notch downgrade is given, respectively.
This is important because increasing the firm's required reserves by any amount will take away from Morgan Stanley's ability to loan and leverage - both of which will have a negative impact on revenue. This is one of the reasons why Morgan Stanley's share price has lagged in 2012. The potential downgrade offers investors several scenarios. The first is that Moody's does not downgrade Morgan Stanley's credit rating at all. In this scenario the share price will run higher as investors will take this as an indication that Morgan Stanley's operations are healthy.
The second option is Moody's downgrades the firm by one notch. This will not have any effect on the share price because investors will have already priced a downgrade into the stock. On the other hand, a one notch downgrade will not be a reason for investors to send the share price higher. This same scenario will happen with a two notch downgrade. A three notch downgrade may cause the share price to dip 1.5%-2.5% as investors fear the firm will struggle increasing revenue in the future.
A final option is investors will ignore the downgrade altogether. We have seen this occur recently after the downgrades of several European countries. Nevertheless this digression is important because this is a potential reason Morgan Stanley's share price has struggled in 2012 thus far. Therefore once the Moody's worry is behind us, the share price will have the fuel to move higher.
Another reason the share price has struggled is due to terrible fourth quarter earnings results. To put it in perspective Morgan Stanley beat weak expectations. Nevertheless, quarter over quarter revenue declined over 40% and the fourth quarter was not profitable because the firm had a net loss of $252 million, excluding a one time discontinued operations charge of $23 million.
This down quarter is one of the reasons Morgan Stanley's share price will improve substantially during the final three quarters of 2012. Since investors rejoiced over a down quarter, if Morgan Stanley improves operations back to normal levels we will see the share price rise significantly. And since the share price has lagged thus far, there is greater room for the stock to run. One factor that will help revenue increase is a bull market. If a bull market can form and sustain, investors will move into publicly traded equities and use Morgan Stanley's investment services. In doing so Morgan Stanley's investment and securities unit will improve exponentially after investment banking revenue declined 40% year over year in the fourth quarter of 2011.
The positives outweigh the negatives when it comes to Morgan Stanley. The firm may be facing serious issues in the present, but these will be resolved shortly and the lagging share price will turn into a leader. Even though we are expecting Morgan Stanley to perform very well for the rest of 2012, it is important to note a couple of warnings. If Moody's downgrades the firm it will be difficult for Morgan Stanley to take as many investment risks because a substantial amount of capital will be tied up in reserves as collateral. This will put a drag on revenue, which will drag on the share price. Also, if the world markets slump Morgan Stanley's investment revenues will continue to shrink as investors pull money from their accounts, which, again, will subsequently drag down revenue and the share price.
Because of these two reasons investors should be hesitant investing in Morgan Stanley. However, the truth still stands that Morgan Stanley has the potential for a greater upside than other financial stocks that have already moved higher in 2012.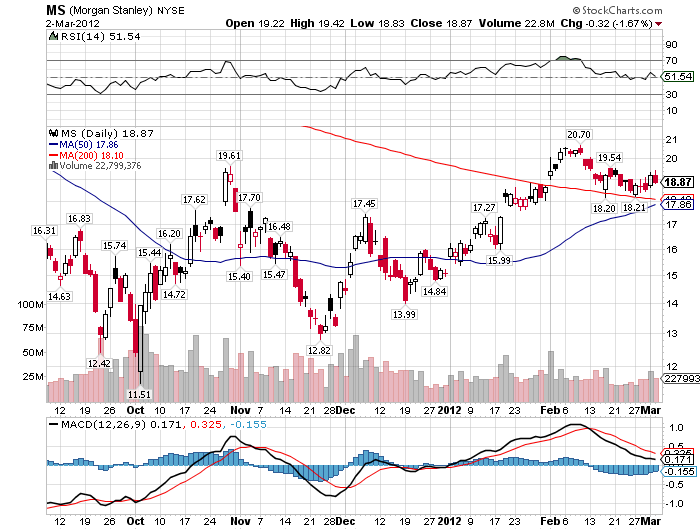 A third major financial institution that has the potential for a substantial upside in 2012 is Goldman Sachs (NYSE:GS). Goldman Sachs is similar to Morgan Stanley. Both firms have been put on a negative credit watch by Moody's and both firms experienced a 40% year over year decline for their investment banking units. There are however a few noteworthy differences on the income statements and balance sheets.
The first is Goldman's revenue declined on a year over year basis by 26%, while Morgan Stanley's increased by 3%. Another major difference between the two firms is that Goldman's quarter over quarter revenue increased 69%. However it is important to note the primary reason for this was a $2.479 billion loss in Goldman's investing and lending unit during the third quarter, which was primarily due to a $2 billion dollar loss for ICBC and equity securities. These third quarter losses were also a primary reason Goldman missed year over year revenue by such a large margin.
Nevertheless, Goldman's share price has performed fairly well since the down third quarter. The share price has increased roughly 36.5% since the December bottom, and it vastly underperforms many of the firm's peers that had a 2011 bottom in December. This is one of the reasons Goldman's stock is attractive. Since the firm has been a laggard recently, we may see a substantial upside throughout 2012. Also, Goldman's share price is only up about 25% in 2012, also lagging its peers.
Therefore if economic issues do not weigh down equities we will see Goldman's share price move significantly higher throughout 2012. One factor that will help any kind of momentum is the firm's 26.6 P/E ratio. This P/E ratio doubles the S&P 500's 13. Therefore once the stock gets moving in a bull market we will see the momentum carry the share price to new highs. However, this same momentum applies to the downside. Therefore if serious economic risks become prevalent it is imperative to begin setting up a defensive hedge or collect profits.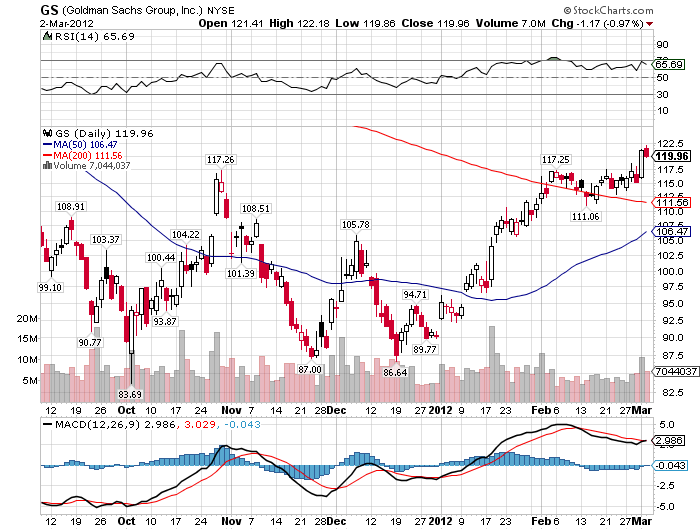 A fourth financial stock that closely resembles Goldman Sachs is SunTrust Banks (NYSE:STI). SunTrust's chart is very similar to Goldman Sachs but SunTrust is more of a bank than an investment firm. However, with that said, SunTrust's Wealth and Investment Management revenue increased 12% year over year in 2011. Also, revenue climbed 8% year over year in SunTrust's Corporate and Investment Banking unit.
This indicates that while some of the major investment banks are struggling, the smaller investment institutions are improving. The combination of a lack of exposure in Europe, improving investment banking, and a possibly improving housing market will propel SunTrust's stock higher in 2012. SunTrust is a terrific play for investors attempting to avoid the large banks and investment firms.
However, on the other hand, all is not perfect for SunTrust. The firm currently has about 76% of its securities for sale tied up in mortgage backed securities (MBS). Therefore until the housing market improves it will be difficult for SunTrust to make a significant amount of money on these securities. On the other hand this may in fact turn out to be a positive for SunTrust.
If the housing market begins to improve, the bank will begin to loan more, which is a strong indicator on its own. But this is important because while the bank is loaning more and receiving loan repayments, the bank will also be able to sell MBS which will bring in more revenue and give the stock another reason to move higher. Keep in mind though, this should not be a reason to take a new position in SunTrust because the risk is still high regarding the housing market.
Nevertheless, as mentioned above, SunTrust's chart is similar to Goldman's. Therefore we should expect to see SunTrust move higher in the same manner as Goldman Sachs. This will in fact happen during 2012. The big lift SunTrust has over Goldman is that SunTrust is not on any type of downgrade watch, which means investors do not have to worry about any negative surprises in the future. With that said, similar warnings apply to SunTrust as the other global firms. If the U.S. housing market deteriorates we may see SunTrust's share price suffer considerable weakness.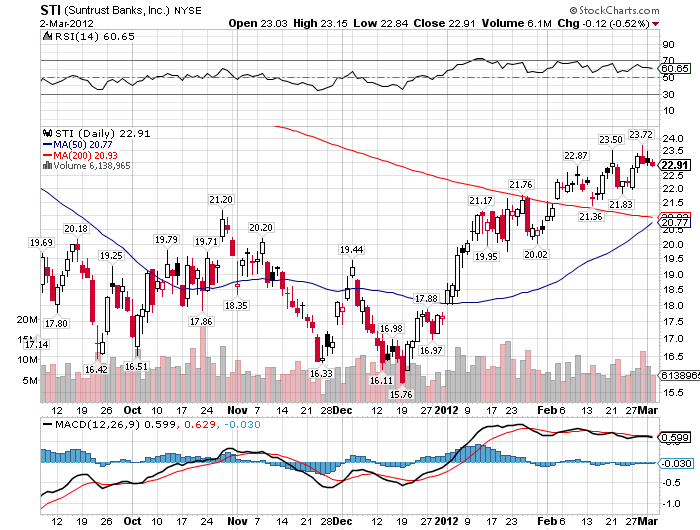 One final major bank that could easily be considered a 2012 growth prospect is Bank of America (NYSE:BAC). Bank of America's share price has the potential for a substantial upside move during 2012 after 2011's 58% depreciation. However the biggest issue is Bank of America's 40% run over the past two months. This may indicate that Bank of America's stock is ready to soar in 2012 but the near term upside is likely capped around the 8.50-9 range, meaning a 4.5%-10.7% increase from Friday's closing price.
Please note this is not to mean that Bank of America will digress the rest of 2012. In fact, Bank of America's share price will continue to grow throughout 2012, but compared to the firms listed above it will be difficult for Bank of America to outperform those stocks the rest of the year.
Due to the incredible early 2012 surge, Bank of America's stock has the most inherent risk. For instance, if economic conditions deteriorate investors will see Bank of America's share price give back all of the past two month's gains fairly quickly.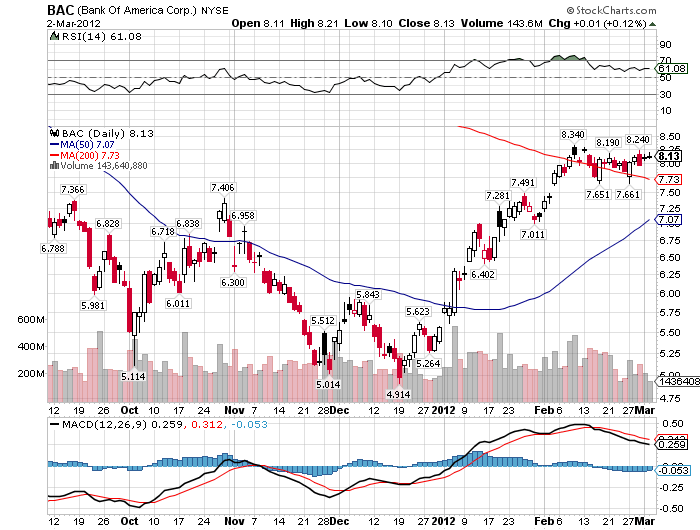 With these risky financial stocks deemed as potential 2012 growth winners, it is important to note three possible financial hedges. These three hedges are stable bank stocks with low P/E ratios. These three are JP Morgan (NYSE:JPM), Wells Fargo (NYSE:WFC), and U.S. Bancorp (NYSE:USB). JP Morgan has the lowest P/E ratio of the three at 9. Wells Fargo and U.S. Bancorp's P/Es sit at 11. This indicates that all three have the potential to perform well in 2012 because they trade at low multiples. In other words, it will take an unbelievable rally for these stocks to be overvalued.
All three are lagging their peers in 2012 but they outperformed our broader benchmarks in 2011. JP Morgan outperformed the S&P 500 Bank ETF by 199 basis points (NYSE:BP); Wells Fargo outperformed both Financial benchmarks but lagged the S&P 500 index by 10%; and U.S. Bancorp outperformed all three by returning 0.3% to investors in 2011. In fact, U.S. Bancorp set a new 52 week high on Friday, March 2nd. This also happens to be U.S. Bancorp's highest level since November 2008.
The biggest difference between these three stocks and the potential high gainers listed previously is simple: JP Morgan, Wells Fargo, and U.S. Bancorp are not high growth stocks. These three are stable equities that will produce strong returns as well as serve as defensive positions during a weak period. This is why these three stocks are great choices to hedge against the high growth stocks. By using these investments as hedges investors will receive the gains from the high beta stocks listed above as well as the security of a low beta stock such as U.S. Bancorp in a weak environment; hence U.S. Bancorp is hedging the high beta option.
Before going out and buying these stocks in hope of high gains in 2012, it is very important to realize the financial sector has risks that make any investment twice as dangerous. This warning should not be ignored, but at this point it appears the macroeconomic environment is marginally more clear than it was a month ago. And with U.S. economic data avoiding digression, U.S. equities will continue to test higher highs. And until any serious economic weakness presents itself there is no reason for the market to move significantly lower.
Disclosure: I am long MS.