Philip Morris (PM) is one of our favorite stocks. In an earlier article, we recommended buying PM over the other famous tobacco names. While the long term story still remains intact, this "short" article focuses on the "short" term. There are two reasons, one technical and one fundamental as to why PM is overbought at the moment.
RSI: RSI stands for Relative Strength Index over a period of time. It's one of the most important technical indicators about a stock being overbought or oversold . RSI is calculated as 100 - 100/(1+RS), where RS represents the average gain over the period/ the average loss over the period. A RSI of 70 indicates the stock is entering the overbought region. PM has closed the last 18 consecutive trading days with a RSI (over 14 day period) of 70+, with 9 of them being 90+. That suggests the stock is extremely overbought at these levels. While one cannot deny the overall market has been going up since the beginning of the year, Altria (MO), Lorillard (LO) and British American Tobacco (BTI) are not so overbought by this metric. The upper half of the snapshot below is the price chart, while the lower half shows how the RSI has crept up as well.
click to enlarge image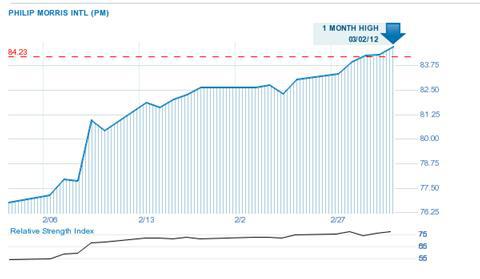 Historical and current PE: Since 2008, PM's highest PE ratio till the recent run up was 17.09 and that was right after the first month of trading in March 2008. When the market closed on March 2nd 2012, the PE was 17.43. We can hear many long term investors shrug their shoulders and say "That really doesn't matter to me as I am going to hold it for a long time." But its undeniable that even long term investors would be served well when a stock like this is bought at the lower end of its PE range. Also, the yield from PM at the moment has dropped well below 4%. While there is little doubt the stock will increase its dividend this year as well, the recent run up in price has made the stock not so attractive for people looking for high current yield.
Conclusion: As stated earlier, the long term story remains good. But those looking at building a strong position in the stock will probably do well waiting for a pullback before jumping in. You may also want to open just a small position at the moment and keep adding on pullbacks.