Renren (NYSE:RENN) will report 4Q11 results on March 8th. The Street expects the company to earn $0.02 per share on $32 million in revenue, and guide $31 million for 1Q12. Heading into Q4, investors can expect continued momentum in topline growth and strong monthly unique log-in user growth as Renren strengthens its leadership in China's SNS space. However, Renren's group-buy unit, Nuomi, could once again be a drag to the company's profitability, as it invests heavily in sales and marketing to maintain its standing in China's competitive group-buy industry.
In Q3, Renren reported
Net revenue: $34.2 million, +57% y/y
Online advertising revenue: $19.6 million, +92% y/y
Gross margin: 80.4%, down 50bps from 2Q11
GAAP income: $1.2 million net loss, compared to net profit of $7.3 million in 2Q10
Non-GAAP income: $0.3 million, compared to $6.3 million a year ago
Activated users: 137 million, +37% y/y
Monthly unique log-in users: 38 million, +58% y/y
During the quarter we saw Renren continues to focus on improving user stickiness and expanding its product offering with Renren HTC Daren, the first Android-based smart phone that features Renren's applications. Priced at RMB 2,000, the handset could improve Renren's user stickiness and expand its mobile initiative. HTC Daren is also an ideal platform for Nuomi to advertise and promote local deals using the phone's LBS feature. Renren's introduction of HTC Daren came well before Facebook's introduction of its own mobile handset, codenamed "Buffy". I view this as a validation of Renren's strategy. For a closer look at HTC Daren, please see my December 29th article "Renren's HTC Daren: Setting The Bar For Mobile Social Networking".
Renren also introduced "Renren Shopping", a new vertical that focuses on fashion social networking and idea sharing. Please see "Renren Shopping: Expanding Monetization Verticals And Delivering Superior Advertising Platform". The addition of Renren Shopping greatly expands the platform's appeal to a wide range of users and enhances its monetization prospect.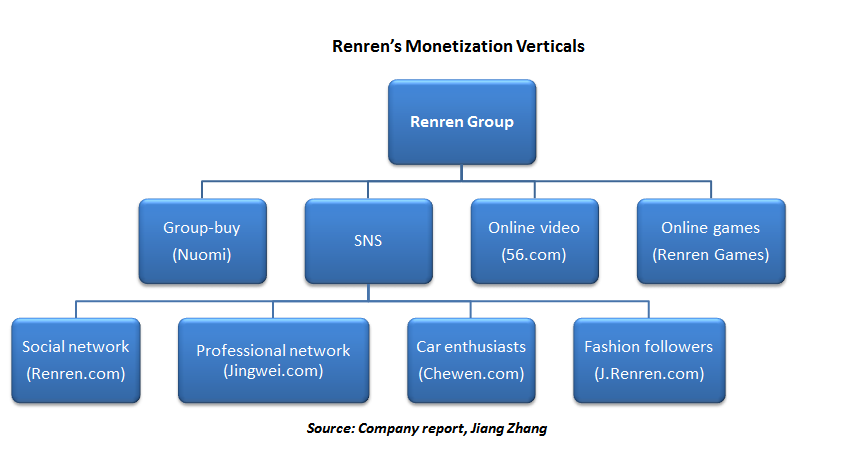 The investment that Renren places on improving its user experience should bode well for monthly unique log-in user growth. I note that Renren's monthly unique log-in user has grown at a faster rate than Facebook in the U.S. over the past three quarters. This implies significantly more valuation upside for Renren than Facebook, in my view.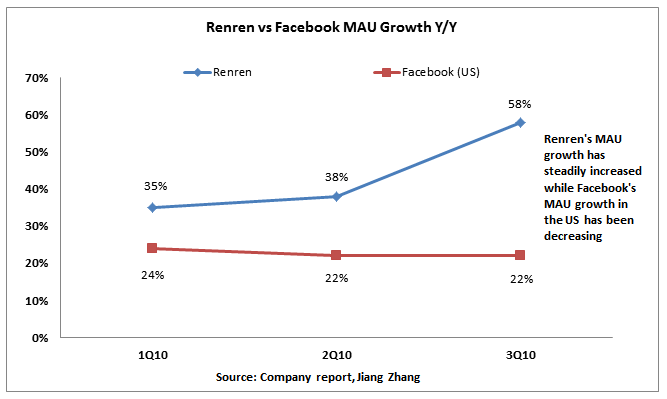 Lastly, Nuomi could continue to put pressure on the company's margins and profitability as Renren invests heavily to maintain leadership in China's competitive group-buy industry.
Disclosure: I have no positions in any stocks mentioned, and no plans to initiate any positions within the next 72 hours.