Trading biotech stocks based on events such as FDA Advisory Committees is a popular strategy as the potential impact of the event upon their prices can be significant. As previously illustrated, historically a panel recommendation gives a very strong indication of how the FDA will rule on a drug. The market recognizes this and recommendations have a corresponding impact on a stock's price.
A stark example is the recent impact of a positive committee recommendation upon the stock price of Vivus (NASDAQ:VVUS). An equally dramatic example, though in the opposite direction, can be seen in the effect of a negative recommendation on the stock price of Columbia Laboratories (CBRX). Other recent Ad. Comm. moves are seen in Astex (NASDAQ:ASTX), Chelsea Therapeutics (NASDAQ:CHTP), and NeurogesX (NASDAQ:NGSX).
Aria Pharmaceuticals (NASDAQ:ARIA) and Talon Therapeutics (OTC:TLON) both have Ad. Comm. meetings scheduled for later this month. Ahead of these meetings I was interested in looking at the usefulness of these meetings as trading catalysts.
I recently wrote a piece looking at the correlation between FDA Advisory Committee meeting recommendations and eventual FDA approval decisions. As I had already collected some data on meetings for this article I decided to assess the success of a simple strategy aimed at leveraging these binary events.
The Strategy
Trying to predict the outcome of these meetings is difficult. Given that I decided my strategy would initiate a position a set time ahead of the meeting and would exit ahead of the briefing document release before the meeting.
The position was terminated based on one of three signals:
A predetermined profit target being met,
A predetermined loss target being met,
3 days until the meeting without having met the profit or loss targets (documents are usually released within 3 days of the scheduled meeting).
To simplify the analysis I only considered prices at closing. Thus some slippage might be expected in the results.
The data set
I looked at Ad. Comm. meetings for the last two years - including those that have occurred in 2012. I decided to focus on smaller companies whose stock price would potentially be meaningfully impacted by a meeting. There were 20 meetings that met my criteria.
The results
Based on my strategy, the results are as follows: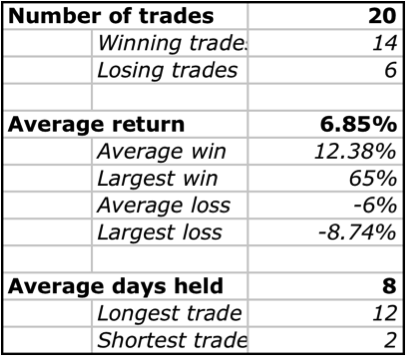 Note that the largest winning trade is 65%. This is for CTIC, one of the earliest events in the series. It seems like an outlier so I removed it. The modified results are as follows: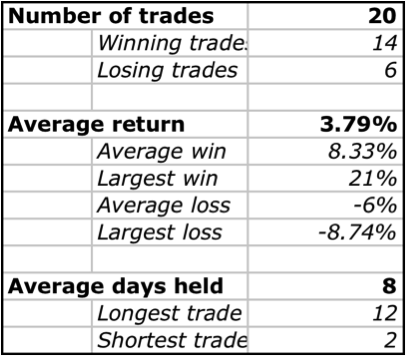 These results illustrate that this would have been a very successful strategy for the last two years. Indeed, if results are compounded and allowing 100% margin when trades overlap, this strategy would have produced a return of 215% over the two-year time frame.
Implications
To me this validates the potential value of FDA Advisory Committee meetings as binary events that can be traded in a high probability manner. ARIA and TLON both have Ad. Comm. meetings scheduled this year (March 20th and 21st respectively). Other companies will more than likely have meetings scheduled. Based on these analyses it will be worth looking at ARIA and TLON as prospective trades as their Ad. Comm's approach.
Disclosure: I have no positions in any stocks mentioned, and no plans to initiate any positions within the next 72 hours.