Silver fought valiantly to hold critical support to close out the week. Friday marked the sixth trading day that Silver closed effectively at or above its 200-day moving average. The longer it can manage to hold support, the more Silver can look ahead to its next fight. The next battle line is drawn at $38, and this will prove a mighty hurdle to climb.
Click to enlarge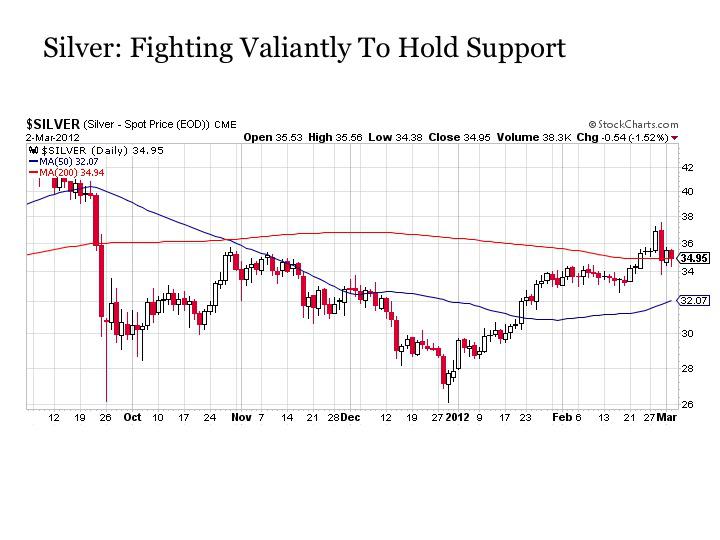 For the purposes of this analysis, I will focus on the iShares Silver Trust (NYSEARCA:SLV). However, the same price principles apply to the ETFS Physical Silver Shares (NYSEARCA:SIVR), the PowerShares DB Silver ETF (NYSEARCA:DBS) and the UBS E-TRACS CMCI Silver Total Return (NYSEARCA:USV).
Silver continues to provide a variety of reasons to remain positive on its outlook. First, Silver provides hard asset protection against aggressive monetary stimulus, competitive currency devaluations and the resulting asset inflation. Moreover, if the global economy actually resumes a sustained growth phase, it also offers appeal for its industrial uses. Thus, the fundamental case for owning Silver remains attractive, including a potential move higher from its latest support level at the 200-day moving average.
This, of course, raises the logical next question. What would be the next stop for Silver on any move higher? The answer is roughly $38.
Click to enlarge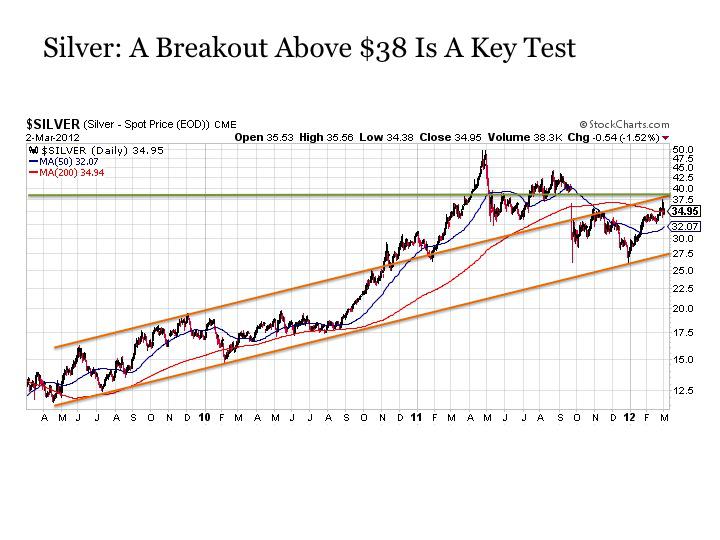 Drawing back the zoom and viewing from a long-term perspective demonstrates the significant amount of work that lies ahead for Silver at the $38 level. Since the stock market bottom three years ago, Silver has been moving higher in a sustained upward sloping channel (orange lines on chart). It oscillated in this channel from April 2009 to October 2010 before breaking out decisively to the upside. This, of course, marked the QE2 fueled rise in Silver that culminated in the parabolic rise and peak by the end of April 2011. After correcting sharply and subsequently pulling back through the summer months, Silver returned to its previously upward sloping long-term trading channel by September 2011. And it has returned to oscillating within this band in the months since.
Currently, the top end of the current long-term trading channel for Silver resides at $38. It is at this price point that another resistance level resides (green line on chart). For $38 per share has been a regular pivot point for Silver over the last year. Going back to March 2011, $38 was the last stopping point for the white metal before it launched into its parabolic move higher into April. By May 2011, $38 was the level that Silver began to stabilize on its post peak retreat. And through the early summer, Silver met firm resistance at the $38 level on several occasions before retreating. By mid July 2011, it finally broke decisively above $38 and held support at this level on several instances through late September 2011. It was from this very price that Silver gapped lower in the early fall to return to its previous upward sloping trading channel.
In short, Silver faces a major challenge at the $38 price level. And while a decisive break above this price level on any advance higher would be demonstrably bullish, it is more probable that Silver will be forced to test the $38 price level on several occasions, perhaps over the course of a few months, before continuing any further move higher. But as long as the long-term upward sloping trading channel remains intact, Silver should eventually overcome this resistance to move higher. Conversely, from the same long-term perspective, any pullbacks in Silver below $30 and particularly toward $27.50 should be evaluated as a potentially very attractive entry point.
Disclosure: I am long SLV.
Disclaimer: This post is for information purposes only. There are risks involved with investing including loss of principal. Gerring Wealth Management makes no explicit or implicit guarantee with respect to performance or the outcome of any investment or projections made by GWM. There is no guarantee that the goals of the strategies discussed by GWM will be met.