There are 103 U.S. large-cap stocks within the ETFs for the Russell 1000 index universe (NYSEARCA:IWB), that are identified by Russell as consistent with both a growth with income (NYSEARCA:EQIN), and a growth at a reasonable price investment discipline (NYSEARCA:GRPC). Some are particularly interesting in terms of potential cost recovery from dividends during a long-term holding period.
Using January 31, 2012 data, we have projected the 10-year cumulative dividends that might possibly be received by each of those 103 companies. Of those, 10 may generate dividends over 10 years amounting to 50% or more of the January 31st cost of purchasing those shares.
Those ten are:
They are not equally good or bad choices, but by the singular dimension of projected dividends over 10-years, based purely on historical dividend payments, some are potentially interesting.
ValueLine, for example, has some negative ratings on DRI, INTC and PG that you might want to check out further.
Within the 103 large-cap Russell 1000 stocks that are common to their equity income and growth at a reasonable price sub-indexes, only 94 paid dividends for long enough to have a 5-year growth history.
Of those 94, there were 37 that had a yield of at least 2% and a 10-year projected sum of dividends of at least 20% of the price on January 31st.
From that 37 came the 10 with a projected potential for a 50% cost recovery from dividends over a 10-year holding period.
The table image below presents the cumulative dividend projections for those 37 stocks based on blended 1-yr, 3-yr and 5-yr average dividend growth rates; and based on the minimum dividend growth rate among the 1-yr, 3-yr and 5-yr growth rates. In each case, we attempted to reduce the risk of relying on those projections by capping the maximum growth rates used.
The table also presents several dimensions of the opinions of ValueLine about those particular stocks. We think ValueLine does a pretty good job, but have not done an independent review to determine whether we agree with any or all of those ratings.
click image to enlarge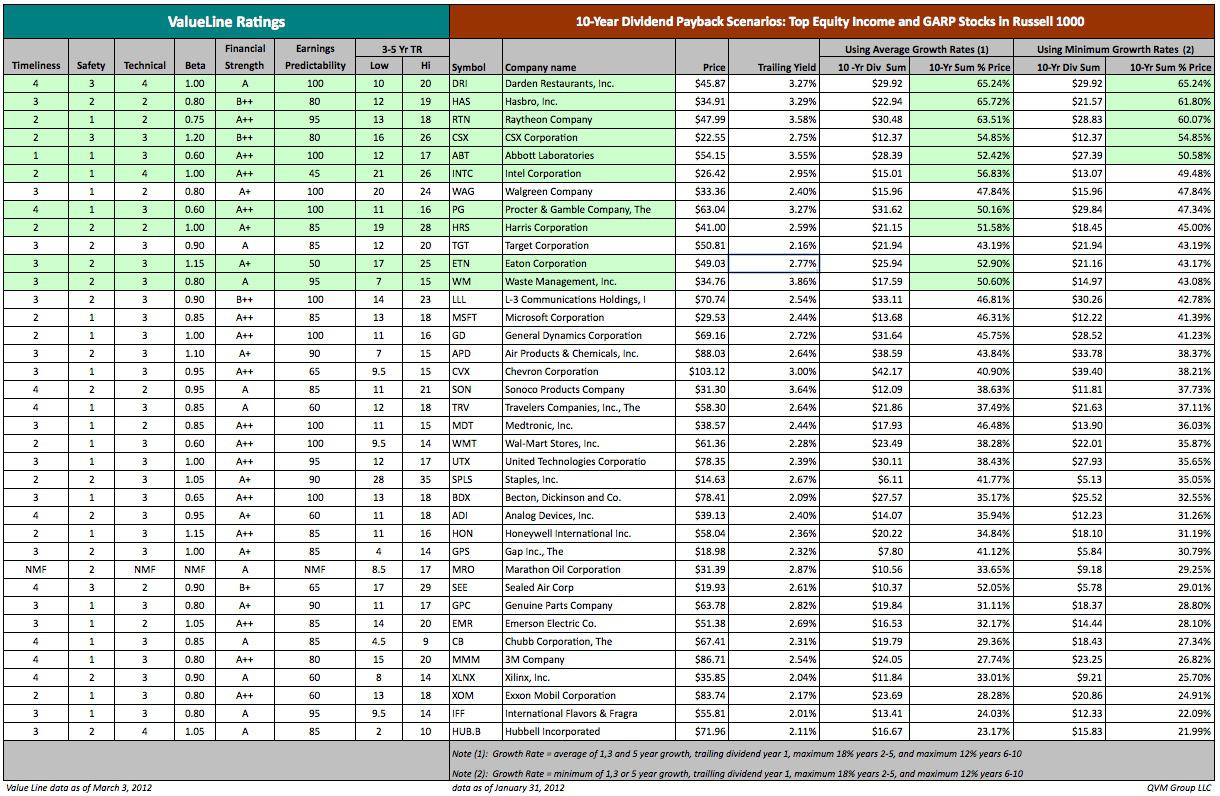 The projections use the 12-month trailing dividend as the 1st year dividend to be extra conservative, and set the maximum allowable dividend growth rates for years 2-5 at 18%; and set the maximum allowable dividend growth rate for years 6-10 at 12%.
Those assumptions were intended to represent general sustainability limits and to minimize disappointment risk.

The projections are purely history based, with no attempt to evaluate changes in future circumstances. Some or all of those companies may not be able to replicate their past growth, even with caps.

Certainly some companies, may be able to outperform the maximum allowable growth rates, but for a bulk filter analysis of large numbers of companies, we believe caps are appropriate.
In our last article, we identified top dividend payback prospects within the S&P 500. In the immediately prior article, we identified the top dividend payback prospects within the S&P 500 Dividend Aristocrats.
Disclosure: QVM has positions in RTN, ABT, INTC, ETN, EQIN and GRPC in some accounts as of the creation date of this article (March 3, 2012).
Disclaimer: This article provides opinions and information, but does not contain recommendations or personal investment advice to any specific person for any particular purpose. Do your own research or obtain suitable personal advice. You are responsible for your own investment decisions. This article is presented subject to our full disclaimer found on the QVM site available here.