The positive analyst gap is the difference between a stock trading price and a higher analyst target price. It is an indication of undervaluation and a signaling of a buy opportunity. Bloomberg and Yahoo Finance are popularizing the term.
An analyst target is the price that an analyst estimates a stock will be worth four quarters into the future. Factors in this analysis are fundamentals, technical analysis, industry performance and outlook, and macroeconomic influences. Many other factors considered in individual cases might include leadership or governance issues, pending labor actions, government regulations, environmental concerns, country risk and competitive factors. Bloomberg recently published a list of S&P 500 stocks with significant analyst gaps.
Yahoo Finance rolled out a major update to its portfolio software last week that adds a new portfolio to your own list of portfolios. It is named Analyst Positive. This is really a screen that lists S&P 500 stocks with the largest Analyst Positive Gaps. See Table "A" below. A new tab on the View heading allows you to select an Analyst Positive Gap view of any of your own portfolios. Shown below is my Miners portfolio, Table "B", in the Analyst Positive Gap view. The data is as of market close 3/2/2012. You may also view an Analyst Negative portfolio, or a view of an Yahoo Finance Portfolio of your own on Yahoo Finance.
click to enlarge images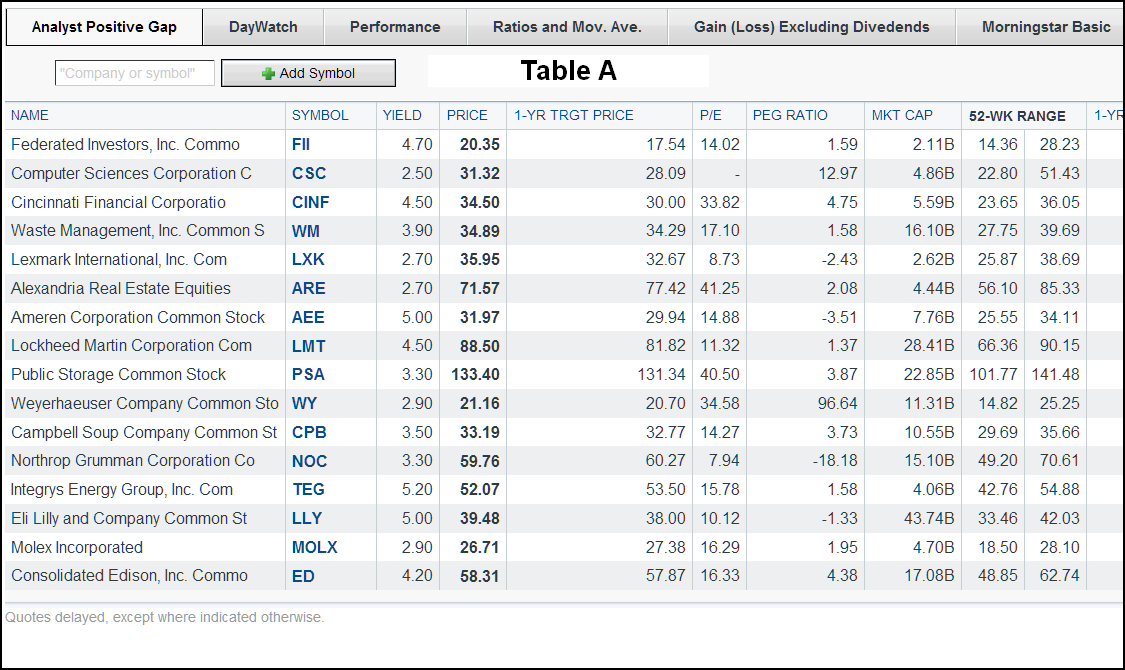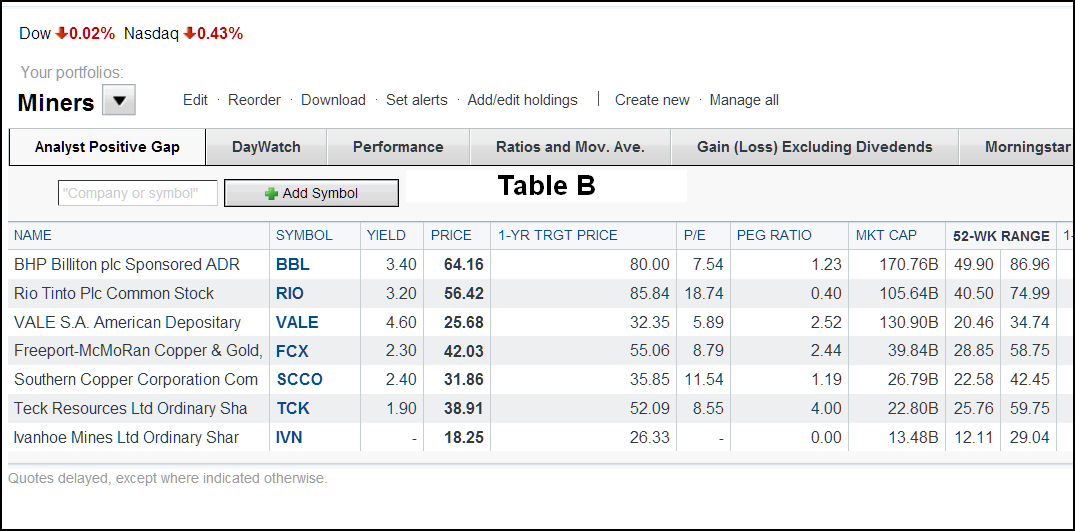 The selected stocks in Table 1 are selling at least 15% below the analyst targets. All analyst consensus figures are the average of at least 5 analysts. Valuation data is included. Each firm shown has a market capitalization of $2.0 B or greater, is a member of the S&P 500 with a yield of 2.20% or above.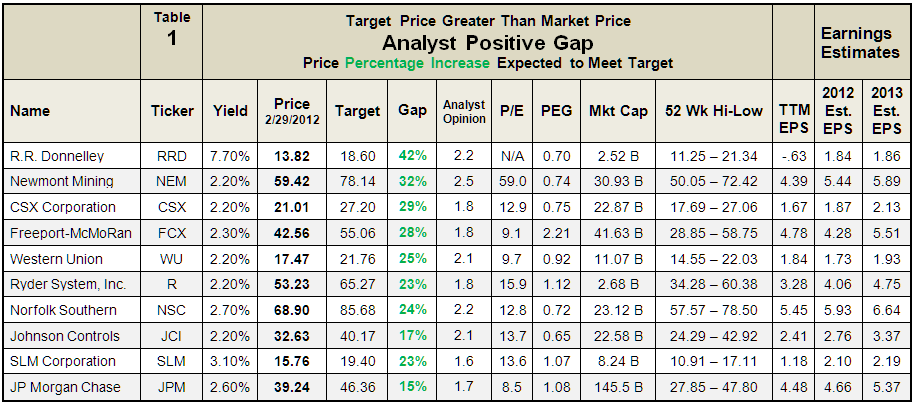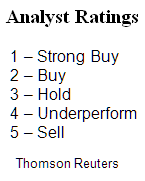 An analyst opinion is a shorter-term rating, which indicates how the analyst believes an investor should position the stock in their portfolio now. Thompson Reuters First Call gathers analyst ratings on a weekly basis and the consensus figures are calculated.
An Investopedia article offers an opinion concerning the value of targets, compared to analyst opinion ratings.
Because ratings are generic comments that do not apply to every investor, investors can make better investment decisions by focusing instead on target prices. Ratings are good sound bites that convey quickly an analyst's point of view, but this is also their fatal flaw. What may be a 'buy' from the analyst's point of view may be a 'sell' to you. Your investment goals and risk tolerance are not the same as the person who wrote the research report. Target prices provide the additional information needed to make good investment decisions.
The Companies
R.R. Donnelley & Sons (NASDAQ:RRD) provides integrated communication solutions to private and public sectors worldwide. This includes packaging and printing. Losses and slow growth are important issues. Donnelley last increased its dividend in 2003 when the stock price was $25. The $1.04 dividend created a 4% yield at the time. It is still paying the same $1.04, now a 7.70% yield, after a nearly 50% stock decline. The market and the analysts have a wide difference on this stock. A Phoenix soon to rise from its ashes, or a yield traps?
Newmont Mining (NYSE:NEM) is a miner of gold and copper with assets and operations in United States, Australia, Peru, Indonesia, Ghana, Canada and other countries. I am not sure why the target is set as high as it is, as I see today's price as fair valuation. Obviously, the analysts know something I do not know. This stock would be a good candidate to investigate further. This company is number 2 in the industry, after number 1 Barrick (NYSE:ABX).
CSX Corporation (NYSE:CSX) is a major railroad with 21,000 miles of track in the US and Canada. It is essential to the movement of many commodities and in addition transports containerized goods of many types for intermodal carriage. Note their low PEG.
Ryder System, Inc. (NYSE:R) rents trucks, tractors, and trailers in the US, Canada and UK. Services include Fleet Management Solutions, Supply Chain Solutions, and Dedicated Contract Carriage. Note the rising earnings and strong analyst opinion. Considering the size of the analyst positive gap of 23% and the analyst consensus opinion of 1.8, this looks like a buy.
Freeport-McMoRan (NYSE:FCX) is one of the world's largest copper miners with headquarters in Arizona and major operations in Indonesia. This company sometimes pays special dividends in addition to regular quarterly dividends. Freeport has continuing labor issues in Indonesia after settling a 2011 strike. The stock price fluctuates with copper prices, which are flat going out over two years on the futures exchanges at about $8550/tonne.
Western Union (NYSE:WU) provides money transfer and payment services worldwide through a network of 455,000 agents.This company has steady slow growth of revenue, and has the lion's share of the money transfer business worldwide. While it has not performed well over a multi- year period, it has raised its dividend markedly in the past two years. It is a highly levered company, but has a healthy and well-managed cash flow. I believe a case could be made for an even higher target, and feel this is undervalued and a buy; it is my pick of the group. It has a 36-month beta of 1.43, so you might be in for a bumpy ride.
Norfolk Southern (NYSE:NSC) engages in the rail transportation of raw materials, intermediate products, and finished goods primarily in the United States. Bulk commodities such as coal, coke, and iron ore are an important part of their business mix. Note the attractive PEG ratio.
Johnson Controls, Inc. (NYSE:JCI) engages in building efficiency and power solutions worldwide. JCI has good prospects in an expanding economy and a low PEG.
SLM Corporation (NYSE:SLM)provides education finance in the United States. It originates, services, and collects student loans. It is fairly- valued in my opinion.
JP Morgan Chase (NYSE:JPM) the second largest bank in the United States is involved in all aspects of banking. The numbers look good but better opportunities are available in banks in Canada if dividend income is your goal.
The Negative Analyst Gap
Firms, which sell for more than the analysts estimate they are worth, have a negative analyst gap. These stocks are more likely to fall than rise. Three stocks in Table 2 have unusually high yields and these companies may be in trouble. These yields may be because of fallen stock prices. Consider a stock with a $100 price that pays a $4 dividend, a 4% yield. The company then has a serious problems and the stock falls to $50. It now yields 8% on that same $4 dividend. It is a yield trap.

A company selling at a price higher than its analysts estimate triggers yellow flag in my mind. It could be a good firm, which has run up too much in price due to the pressure of exuberant market bidding in a rally. Lockheed Martin (NYSE:LMT), the world's largest defense contractor, could be an example of that. However, I wonder about the detrimental effect of the shrinking defense industry on Lockheed, with massive federal budget cuts looming ahead.
I believe an increased understanding of analyst targets and analyst opinions may equip you to make those difficult buy-sell decisions a little more easily. I wish you good luck!