Honda Motor Co (HMC) currently pays a dividend of 2%. This dividend does not make HMC a high yielder. However, HMC's dividend is higher than its peers. This is important for investors who are attracted to yield but also need diversification. HMC is also well-positioned to maintain its dividend advantage over competitors.
Peer Dividend Yields
General Motors Co (GM): 0%
While GM just reported record earnings for 2011, GM is unlikely to pay a dividend until the U.S. Government divest its shares in GM.
Ford Motor Co (F): 1.57%
F pays a solid dividend, but F's debt level makes the long-term stability of the dividend questionable. F has just under $100 billion in debt. If the economy were to weaken, F would likely be forced to cut the dividend.
Tata Motors Ltd (TTM): 1.6%
TTM has strong growth prospects because it does most of its business in India. For this reason, TTM is likely to use profits to invest into growth opportunities instead of increasing the dividend.
Toyota Motor Corp (TM): 1.54%
TM is still recovering from brand issues caused by its pedal malfunction in 2010. Interbrand, a London-based market research firm, estimated this month that the cumulative impact of the recalls cut the value of Toyota's brand image by 16 percent in 2010 to $25.7 billion.
Honda Motor Co (HMC) : 2%
HMC currently pays the highest dividend in the industry, and has a strong dividend paying history. HMC was able to pay shareholders dividends in 2008 and 2009, two of the toughest years on record for automakers. HMC has also showed a willingness to increase the dividend if business improves. I believe HMC will increase the dividend in the future as the global economy continues to improve.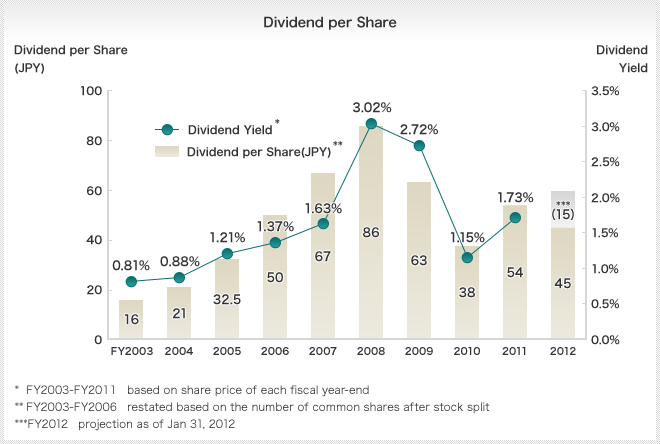 (Honda Investor Relations)
Conclusion
Dividend investors who are looking for exposure to an automotive company should consider HMC. HMC's dividend is higher than its peers, and the company has shown a willingness to reward shareholders as profits increase.