Real Estate Investment Trusts [REITs] are a type of business structure designed to hold an interest in real estate. These REITs must distribute at least 90 percent of their taxable income in order to eliminate the need to pay income tax at the corporate level.
Under the current tax laws, most REIT dividends are taxed as ordinary income, and not at the lower corporate dividend rate. There are exceptions to this rule, such as timber REITs (whose dividends are treated as long-term capital gains).
REITs have had a volatile last few years. REITs are considered part of the financial sector, which has been depressed since 2008. Additionally, since 2007, the underlying real estate market suffered well-known problems. Moreover, many REITs hold commercial properties such as malls, office buildings and medical centers, and these industries also suffer their own fluctuations.
Below, I have listed recent performance rates for ten of the largest REITs: Annaly Capital Management (NYSE:NLY), AvalonBay Communities (NYSE:AVB), Boston Properties (NYSE:BXP), Equity Residential (NYSE:EQR), General Growth Properties (NYSE:GGP), Public Storage (NYSE:PSA), HCP (NYSE:HCP), Simon Property Group (NYSE:SPG), Ventas (NYSE:VTR) and Vornado Realty Trust (NYSE:VNO). I have provided their 1-week, 1-month and 2012-to-date performance rates, as well as their present yields.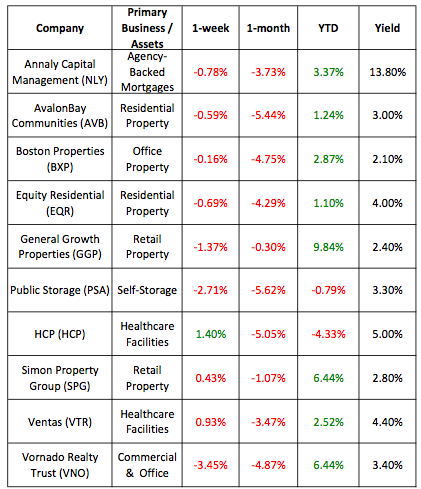 Since the financial crisis began, REITs have become more heavily correlated to the broader equity market than they traditionally were. This trend could eventually come to an end. Publicly traded REITs were conventionally considered a convenient method to allocate into real estate as an alternative asset class to other equities, and which also provided both liquidity and often an above average yield.
In the last few years, a large number of investors have become reluctant to allocate into real estate, reducing the liquidity and increasing their volatility. Eventually, more investors are likely to re-familiarize themselves to the asset class. Nonetheless, these large-cap REITs still offer reasonably high liquidity, each having an average daily trading volume between one million and seventeen million shares, and broad geographic exposure across the nation.
These REITs offer many real and understandable property-related benefits and risks. Exposure to REITs should be limited to a reasonable percentage of a portfolio, based upon factors including age, income, risk-tolerance, objectives and other investments.
Disclosure: I am long (NLY).
Disclaimer: This article is intended to be informative and should not be construed as personalized advice as it does not take into account your specific situation or objectives.