CEF Weekly Review: On average, the 13 closed-end fund (CEF) types registered a share price increase of 0.4% for the week ending 3/2/12. The high-low spread (average percentage price change difference between the highest and lowest fund types) registered this week was a +1.4% versus +1.2% the previous week. Both weekly high-low spreads were narrow. This may possibly reflect the lack of discernible investment trends. On an aggregate unweighted basis, the weekly average price change for the approximately 600 CEFs in the GrowthIncome database was up 0.7%.
The PowerShares CEF Income Composite (NYSEARCA:PCEF), an ETF that invests in taxable income CEFs, increased 0.4% for the week. PCEF is up 7.7% YTD on price appreciation alone. Currently, PCEF's trailing twelve months' yield is 8.3%. The S&P 500 advanced 0.3% during the week. The S&P 500 is up an impressive 8.9% YTD.
CEF Weekly Fund Type Performance: The equity markets continued to hit glass ceilings as the DJIA crossed over the cosmetic barrier of 13,000 to settle slightly below it at week's end. Both the S&P 500 and NASDAQ crossed over but retreated below technical resistance levels of 1,370 and 3,000, respectively. The NASDAQ is at a height not seen since the tech wreck in 2000.
The equity markets appear to have temporarily run out of fuel to "power higher". The general consensus among the "propeller heads" (technicians) is that the stock market is setting up for a pull back. This is in contrast to economic analyses that see the economy powering ahead with good economic news-particularly on employment. Of course there are the usual political uncertainties regarding oil prices and the non-proliferation of nuclear weaponry-and let us not forget the European debt crisis which appears to have been temporarily placed on the "back burner".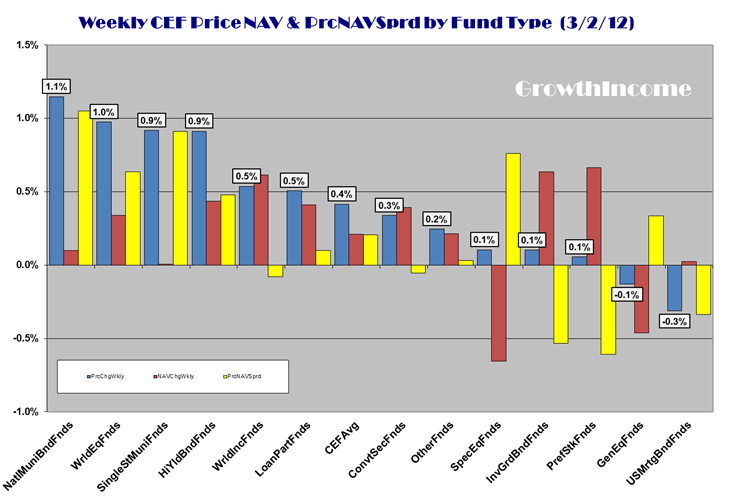 Given the non-participation of retail investors in this recent market advance and the valuations being determined more by institutional investors, a temporary pullback may be in the offing as the latter group is more swayed by technical analysis.
CEF Quick Read: CEF investors became slightly more conservative this week with fixed-income funds advancing and equity funds receding. NatlMuniBndFnds continued its leadership position for the second week in a row advancing 1.1% on top of the 1.6% advance last week. Fixed-income oriented CEFs generally advanced for the week with the exception of WrldEqFnds which gained 1.0%.
While most of the equity-oriented CEFs performed below the fund type average, both InvGrdBndFnds and USMrtgBndFnds put in punk performances of 0.1% and -0.3%, respectively.
The only fund types to experience a decline in their weekly NAVs were GenEqFnds and SpecEqFnds, -0.5% and -0.7%, respectively.
Weekly CEF Winners and Losers: The CEFs with the greatest positive PrcNAVSprd* for the week was BlackRock EcoSolutions Investment Fund . BQR's share price advanced 7.3% while its NAV per share declined 0.6% generating a positive PrcNAVSprd of 8.0%.
BQR, as its name implies, invests in companies participating in green energy, water resources and agriculture through applying an option strategy. It currently trades at an annualized quarterly yield of 9.4% and at a slight premium of 3%. Approximately half of its weekly gain was on slightly elevated volume (81,600 shares) on Friday. The average 3 month daily volume is 67,480.
Its total net assets are $121.5 million and it employs no leverage. BQR just recently announced its regular quarterly distribution of $0.235 per share, payable March 30th with an ex-dividend date of March 13th.
Clean Energy? Despite the clean energy debacle (Solyndra), BQR's YTD performance is up 27.5%. BQR owns positions in a large number of small companies mostly in the water utilities area. Its biggest position (1.0%) is in BlackRock's temporary liquidity fund. There hasn't been any recent insider activity this calendar year and there are no 5% holders of the shares.
Since the positions in portfolio are small, the odds that there is a huge winner propelling performance are low. One would have to speculate that investors may be purchasing the shares to capture its distribution. However, we didn't find evidence of that using the same pattern for the last distribution in December.
Given this set of facts-including that over 80% of the distribution is deemed a return-of-capital (typical for option/arbitrage CEFs), its discount has evaporated and it previously cut its distribution last March-we would question the wisdom of purchasing the stock at this point.
The CEF(s) with the greatest negative PrcNAVSprd for the week was Nuveen Mortgage Opportunity Term Trust . JLS's share price was down 3.2% while its NAV was up 0.1% generating a negative PrcNAVSprd of 3.1%.
JLS invests in high yield mortgage back bonds. Its total net assets are approximately $500 million and it employs no leverage. There has been no insider trading this calendar year and no apparent changes in institutional interest.
Much of JLS's discount has evaporated. Its peer group, by comparison, is still trading at a slight discount of 2.3%. YTD, the stock's performance is the best in our USMrtgBndFnds group, up 14.3%. We believe we might be witnessing some random profit taking. (We recommended JLS in our article on October 9, 2011, entitled: "Impact of Operation Twist on Mortgage CEFs: Comparison BKT & JLS").
Insider Trading: There was a convergence of insider trading activities at the end of February and the very beginning of March.
The biggest insider transactions occurred in the three BlackRock Funds, BlackRock MuniYield Quality Fund (NYSE:MQY), BlackRock Municipal Income Investment Trust (NYSE:BBF) and BlackRock Municipal Bond Investment Trust (BIE). In the case of MQY and BBF, it appeared that a wholly-owned subsidiary of Morgan Stanley purchased and remarketed $26 million and $7.2 million of their Variable Rate Demand Preferred Shares (VRDPS), respectively.
That subsidiary also purchased $6.7 million (67 shares) of BIE, presumably for the same purpose. Karpus Investments holds 38.6% of BIE as of April of last year and has lighted their position.
The most interesting transaction occurred at Western Asset/Claymore Inflation-Linked Securities & Income Fund (NYSE:WIA). Stephen A. Walsh, CIO of the sub-advisor, sold out of his position disposing of 4,300 shares at $12.90 per share. A director, Ronald E. Touplin, Jr., initialed a position of 100 shares.
Michael J. Castellano, a director of several of the BlackRock CEFs, initialed small positions in six of the funds (BNA, DSU, BLW, HYT, BHK and BKT) amounting to around $10,000 each.
(Click here for a hyperlink to the Joe Eqcome's CEF Weekly Insider Report - see "Research" Menu; "CEF Weekly Information" tab.)
CEF Distribution Announcements This Week: The following is a link to a table of CEF distribution announcements this week as well as the previous week's with yet expired ex-dividend dates. The list is not intended to be inclusive. Additionally, mid-month is a time when many CEFs go ex-dividend and the beginning of the month is typically the time distributions are announced. (Click Here for Joe Eqcome's Weekly CEF Distribution Announcements- see "Research" Menu; "CEF Weekly Information" tab.)
CEF Focus Stock(s) for the Week: This week's focus stock is BlackRock Debt Strategies Fund . DSU is a high-yield, leveraged CEF. It currently trades at an 8.0% annualized monthly distribution yield and trading at a slight discount. Its total net assets are $580 million and it's about 25% leveraged.
On a relative basis, DSU is trading at par while other high-yield, leveraged CEFs are trading at an average premium of 7.5%. This advantage is somewhat offset by its yield being slightly lower than the 8.5% average of its peer group. Its leverage is comparable and its expense ratio is slightly lower than its peers.
DSU is trading in the single digits around $4.00 per share. It has good liquidity with average daily volume (3 month average) of 382,179 shares. Our thinking is that if the stock market continues its advance, investors will be looking for low priced stocks in hopes of playing catch up (the rising boat theory).
In the event that the equity markets' stay range bound, investors will be paid to wait for an improvement in the economy that is likely to be constructive on the underlying credits. DSU recently declared their regular monthly distribution of $0.027 that goes ex-dividend March 13th and is payable the end of March.
Additionally, we are seeing some insider buying of the stock in the opening days of March. Michael J. Castellano, a director, purchased 2,500 shares and James Keenan, a portfolio manager, purchased 3,500 shares. Morgan Stanley is a 5% owner of DSU.
Last Week's Focus Stock(s): Our focus stock last week was BlackRock Diversified Income Strategies Fund . DVF focuses on below investment grade floating rate debt securities. The stock trades at an annualized monthly yield of 6.9% and a 4.5% discount to its NAV.
The reasons we found the stock interesting were:
Two of BlackRock portfolio managers have been accumulating the stock over the past couple of months. We typically find portfolio managers to be more informed than the directors as insider buyers.
The concept of floating rate debt securities may be a good hedge for the potential of rising interest rates as a result of an improving economy, rising oil prices and less liquidity in the U.S. treasury markets if China continues to diversify its investment away from the U.S. dollar.
Potential mispricing as DVF. DVF is classified as OtherFnds as a result of its hybrid combination of high-yield and floating rate. Yet, this category is mostly populated with Option/Arbitrage type CEFs. While DVF's 4.5% discount is comparable to the 4.3% average discount for this group, HiYldBndFnds are on average trading at a premium and LoanPartFnds are trading around par.
DVF was up 0.3% for the week-the same as the S&P 500. It was up as much as 0.9% intra-week versus 0.6% for the S&P 500. We continue to like this stock's longer-term prospects.
[*] All things being equal, price and NAV should move in tandem. A price movement greater than the NAV generates a positive PrcNAVSprd and may be interpreted as negative on a near-term basis and indicate that the stock is overvalued relative to its NAV which in theory is the stock's intrinsic value. The opposite would be true for a negative PrcNAVSprd.
Disclosure: I am long PCEF, DVF, DSU, JLS, MQY, BBF, BIE. I own a diversified portfolio of CEFs and ETFs and am long stocks in the CEFBig10™ and CEFMuni10™. The first is a balanced equity-income portfolio (CEFBig10™) and the second a tax-exempt income portfolio (CEFMuni10™).