Although the Nasdaq Composite declined 0.43% Friday, to close at 2,976.19, more than twice as many Nasdaq names made new highs compared to the number making new lows. There were 37 new 52-week highs on Friday, compared to only 16 new 52-week lows. Sorting the list of new highs by share price, the first name was Priceline.com (NASDAQ:PCLN). Priceline was the subject of an interesting comparison by the FT's Lex Column recently, one which helps explain why the stock has been making new highs:
Company A and company B are internet companies. Both had net income of $1 billion last year, 65% growth for A and 100% for B (B also converted much more of that accounting profit into cash). A is expected to go public at 75 to 100 times 2011 earnings, where B can be had for a comparatively frugal 30 times. One more thing: A runs a site that helps members simulate a social life. B has customers, not members. They use its site to buy things.
"Company A" in that comparison was, of course, Facebook (NASDAQ:FB). "Company B" was Priceline.com, one of the survivors and biggest success stories from the first Internet boom. The table below shows the current costs of hedging Priceline and nine of the other optionable, higher-priced stocks that made new highs on Friday, against greater-than-22% declines over the next several months, using optimal puts.
A Comparison
For comparison purposes, I've added the PowerShares QQQ Trust ETF (NASDAQ:QQQ) to the table. First, a reminder about what optimal puts are, and an explanation for why I'm using a 22% decline threshold here. Then, a screen capture showing the optimal puts to hedge one of the stocks that made new highs Friday, O'Reilly Automotive (NASDAQ:ORLY).
About Optimal Puts
Optimal puts are the ones that will give you the level of protection you want at the lowest possible cost. Portfolio Armor uses an algorithm developed by a finance Ph.D. to sort through and analyze all of the available puts for your position, scanning for the optimal ones.
Decline Thresholds
In this context, "threshold" refers to the maximum decline you are willing to risk in the value of your position in a security. You can enter any percentage you like for a decline threshold when scanning for optimal puts (the higher the percentage though, the greater the chance you will find optimal puts for your position). I often use 20% decline thresholds when hedging equities, but one of these stocks, Jive Software, Inc. (NASDAQ:JIVE), was too expensive to hedge using a 20% threshold (i.e., the cost of hedging JIVE against a greater-than-20% drop was itself greater than 20% of position value, so the app indicated no optimal contracts were found for it). It was possible to hedge JIVE using a 22% threshold, so that's the threshold I've used for all of the names here.
The Optimal Puts for ORLY
Below is a screen capture showing the optimal put option contract to buy to hedge 100 shares of O'Reilly Automotive against a greater-than-22% drop between now and August 17th. A note about these optimal put options and their cost: To be conservative, we calculated the cost based on the ask price of the optimal puts. In practice, an investor can often purchase puts for a lower price, i.e., some price between the bid and the ask (the same is true of the other names in the table below).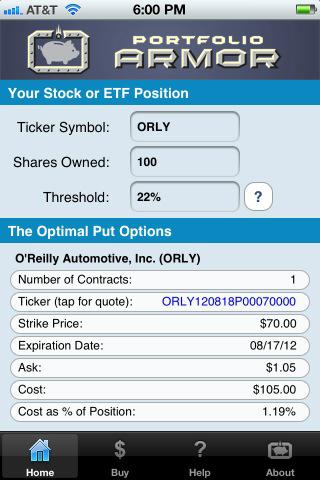 Click to enlarge
Hedging Costs as of Friday's Close
The hedging costs below are as of Friday's close, and are presented as percentages of position values. The stocks are listed in order of their share prices as of Friday's close.
| | | |
| --- | --- | --- |
| Symbol | Name | Hedging Cost |
| PCLN | Priceline.com, Inc. | 4.75%*** |
| ORLY | O'Reilly Automotive, Inc. | 1.19%* |
| WFM | Whole Foods Market, Inc. | 2.60%* |
| MNST | Monster Beverage Corp. | 4.35%** |
| FAST | Fastenal Company | 2.82%* |
| DISCA | Discovery Communications | 3.48%*** |
| ASNA | Ascena Retail Group, Inc. | 5.48%** |
| ACAT | Arctic Cat, Inc. | 11.8%** |
| AGNC | American Capital Agency | 3.30%** |
| JIVE | Jive Software, Inc. | 15.9%*** |
| QQQ | PowerShares QQQ Trust | 1.68%** |
*Based on optimal puts expiring in August
**Based on optimal puts expiring in September
***Based on optimal puts expiring in October
Disclosure: I have no positions in any stocks mentioned, and no plans to initiate any positions within the next 72 hours.