General Electric is one of those dependable companies investors use for long-term investments and dividends. GE can provide additional income through short-term trades using options when the opportunity rises. We see one of them in 2012 that one might take advantage of.
General Electric Company (GE) is one of those multinational conglomerates spanning the financial services, energy, industrial manufacturing, and healthcare industries. This diversification is one of its strengths because it provides a degree of protection against a poor year of performance in any of the individual industries. As of 2010, the company was planning to focus upon healthcare, engine, energy and manufacturing instead of services. Much of this is due to the 2008 financial crisis. GE Capital generated a third of the companies overall business.
Healthcare and Energy
Since the second quarter of 2010 this is the main area that GE has focused on growth through acquisition. There were six acquisitions in these two divisions.
Dresser- an energy infrastructure provider.

Converteam- a French company that specializes in wind turbines.

John-Wood Group PLC- an international energy service company that provides products and services to the oil and gas and power industries.

Clarient- provides medical diagnostic services focusing on cancer.

Wellstream- an oil field equipment maker.

Calnetix Power Solutions- makes machines that capture heat from turbines and engines and turn it into electricity.
Emerging Markets
Focusing on "emerging markets" as one area of expansion, the company has been the "cable and television" programming. In India alone, GE has forecast revenues of $6 billion a year.
So overall, we can see how GE is focused on international expansion as well as its industrial manufacturing segments; a solid company all around. In the year 2011, the company moved sideways in a trading zone and did not plunge like many companies. This can be attributed to its diversification.
This sideways trading zone gives us an opportunity to make money with GE on a short-term option strategy while we also may own the stock long-term. Trading at $18.97, its upper level resistance is at about $20.5. It has been slightly bullish since the beginning of the year. But we also see a negative divergence taking place since mid-January. This usually signifies a weakening of the move. Since the bullish move was very mild to begin with, we anticipate a correction and a downward movement in its overall trade zone to start very shortly.
The Option Trade
Since the lower support line is at about $14.5, it could trend down significantly. GE's moves are slow and steady. This is a long term process and if we are going to put together a Bear Put Spread, we must give it ample time to protect ourselves against time decay.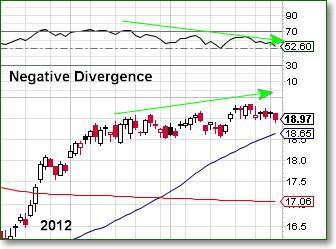 Buy December 2012 '18' put option (priced at $1.50)

Sell December 2012 '17' put option (priced at $1.12)

Net Debit to start: $0.38

Max Profit: $0.62
Reasoning behind this Trade
GE is trading toward the upper end of its long term trade zone as can be seen on a weekly chart. A daily chart points out to us that the mild bullish trend has been weakening since mid-January and this could very well signal a bearish reversal. GE is a steady slow moving stock. With a reversal, it could easily take 6 months before it moves toward the lower end of the trading zone again. Buying in December will give us that protection we need against time decay.