One of the hottest M&A topics in the financial world today is what will happen on or around March 6th, 2012? Will Liberty (NASDAQ:LMCA) make a play for some or all of Sirius (NASDAQ:SIRI) radio, of which it already has a 40% stake in? What will happen to the share prices of both companies? As always there is quite a bit of speculation in how Liberty will (if they choose to do so) acquire the satellite radio giant. Rumors have floated that a deal for the shares to bring Liberty's stake to 51% is already in place. Some say nothing will happen, that Liberty will proceed, business as usual and keep the stake at 40% and continue to ride the coattails.
Today's article will not be discussing these topics because frankly I am not sure what will happen. I can only speculate (as all of us can) and honestly there has been enough of that already. Only Mr. Malone knows what the plan is, and until the 6th (or beyond) we will never know for sure.
The only real question that remains for us, the bullish shareholders, is how can we maximize profits with the March 6th date looming?
A few weeks ago, I wrote a few articles regarding Sirius on how to proceed with the potential pending buyout, one of which focused on buying Liberty stock if you didn't own Sirius, and also how to use options if you did.
Today, I want to offer an option I briefly discussed on regarding maximizing your shares (if you own Sirius currently) with the potential continued runup of the price as March 6th rapidly approaches.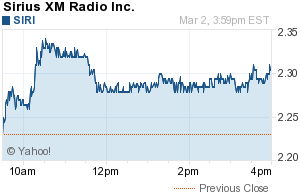 Cover your Butt: As you can see from Friday's chart, Sirius closed at $2.31, up another penny in after hours trading. When I say to cover your butt, I am assuming you already own the shares, and have a cost basis less than the $2.31. Unless you entered a position sometime this week, you should be ahead of the game as the stock definitely popped (didn't look that way early in the week) when the stock was as low as $2.19, but made a steady climb to the $2.26-$2.32 range toward the end. If you are ahead of the game at this point, you can take the safe route and write covered calls against your position. This provides "cover" just in case the stock spirals downward between now in and the next 2 weeks.
Let's assume you have 10,000 shares and your cost basis is $2.10. If you write 100 options for March 2.50 calls, you can get at a minimum of $400 for your options (though that may increase as well). If the stock hits $2.50 and closes there on 3/17 (possible) you pocket the $400 minimum premium, and make a 18% ROI. If it does not, or falls back below $2.50, you keep your shares and make $400. Remember, 75% of calls out of the money do expire worthless. And the stock has to close (not just hit) at $2.50 or higher for your options to be called.
Take a look at last 8 months of Sirius through February 2012:
| | | | |
| --- | --- | --- | --- |
| MONTH | LOW | HIGH | MONTH CLOSE |
| JULY | 2.11 | 2.33 | 2.11 |
| AUGUST | 1.65 | 2.11 | 1.80 |
| SEPTEMBER | 1.51 | 1.80 | 1.51 |
| OCTOBER | 1.45 | 1.84 | 1.79 |
| NOVEMBER | 1.75 | 1.88 | 1.88 |
| DECEMBER | 1.75 | 1.88 | 1.82 |
| JANUARY (12) | 1.86 | 2.16 | 2.08 |
| FEBRUARY (12) | 2.10 | 2.26 | 2.26 |
As you can see, never over the course of one month, has the stock reached a level over 20% higher than its price at the start of a month AND maintained it! It came close in October, the stock went from $1.51 at close at end of September, and climbed to $1.79 a 19% increase. What this shows is that even with good news, Sirius traditionally on its own does not make big leaps without giving something back short-term (as many stocks are today). And remember, the timeframe here is
only 2 weeks,
not 1 month (half the time). Why is the 20% important?
If the stock does skyrocket and does not give back (has not happened on gains of 20% or more) at least some of its gains, you could lose out on some serious upside for having the calls called. Assuming the stock jumps 20% and holds, that would put the price at $2.78. You would be losing $2,800 (less the $400 premium for writing the calls) for a loss of gains of $2,400. Not the end of the world, but still money you could have had if you just held the stock and sold at its peak- which though not impossible is very difficult to time that way.
Based on the data above, this scenario does not seem to be likely to happen by 3/16, and none of us really know for sure how this potential buyout will pan out, or if it even will. We also do not know where the top is and very rarely do we sell at the high point of a climb. The question is, how can you prepare yourself if it becomes a frenzy and the price DOES jump 20% more in the next 2 weeks (when March options expire or are called?)
If you are a believer that Liberty will make a play on or about March 6th, or just are of firm belief that the stock will rise in the next few weeks, then you can do one of two things. You can sit tight, and watch your stock hopefully rise and exit (or not) when you see fit. However if you want to protect against downside or a stagnant price, or maybe you aren't 100% sure this potential buyout will happen on the magic date (or at all) then you can follow the option below. The main thing is, you may have doubts but still WANT IT ALL, meaning the whole upside if it happens and to make money if it doesn't!
And play for the home run: Let's assume you decide to write the calls on your position of 10,000 shares but are having nightmares about them being called off for $2.50 and the stock DOES jump 20% (or more). You love the stock and the potential but aren't sure (as many of us aren't) what is going to happen. You don't want to be the kid (shareholder) without a chair (the stock) when the music stops. Take a look at April $2.00 options. You can pick them up for $33.00 an option (though this may rise). Let's say you pick up 100 of them for a cost of $3,300. That now gives you an the option to buy 10,000 shares at $2. At .33 a share premium, you are almost breaking even at this point anyhow!
Now into the Home Stretch: Now let's look at some different examples of what can happen over the next 2 weeks based on you holding 10,000 shares today with a cost basis of $2.10. Of course you can tweak this to your own personal situation, and these numbers do not include fees:
Total cost basis = $21,000

Value present= $23,100

Sell 100 March 2.50 covered calls for $400 (2% return for 2 weeks)

Buy 100 April 2.00 calls for $3,300

Adjusted Cost basis after transactions: $23,900
IF the stock closes where it is today on March 16th:
Covered calls expire worthless ($400)

April calls decrease (probably to about .31 a share)

You gain about $200 BUT the April calls still have more than a month (expire 4/20) to come to fruition and you still own the shares and can follow this strategy again!
If stock closes at $2.50 on March 16:
Covered calls are called (18% profit on shares + $400 premium)

April calls increase in value to around .55 a share (67% increase)

(You can sell the April calls and make an extra $2,200 or hold and see if it rises any further.)

You gain $4,000 profit on shares, $400 premium, and $2,200 profit if you sell the April calls for $6,600 profit on a $23,900 investment (about 31%)
If stock jumps 20% from today's close and hits $2.78 on 3/16:
You make 18% on the covered calls + $400 premium

April calls jump to probably around .85 a share (155% increase) you can sell for a $5,200 profit or hold.

+ $4,000 shares, + $400 Calls, + $5,200 April calls =

$9,600 profit on $23,900 investment (about 40% ROI) which is still higher than if you just held and timed it correctly and sold at $2.78 (only a $6,800 profit)
Simple solutions to making some money if you are bullish on the stock. Should be interesting to see if March comes in like a lion or a lamb.
Disclosure: I am long SIRI.
Additional disclosure: I have written various covered calls against my Sirius position, and also own options over various timeframes. I own AAPL Puts