True to my writings, in sensing danger in the degenerating actions of the precious metals, I have exited the sector generally. However, I still monitor the situation for a possible re-entry. This past week I noticed movement upwards by some smaller silver stocks, even as Bernanke smacks the inflation theme and drives the overall precious metals sector lower.
Gains in 2012 YTD
Though I have been cautious about the precious metals topping in 2011, both silver and gold have gained significantly in the first two months or 60 days of 2012. Following is a chart comparison of the gains using the GLD ETF as a proxy for the gold price, the SLV ETF as a proxy for the silver price and the SIL ETF of silver miners since January 3 of this year:
(Click to enlarge)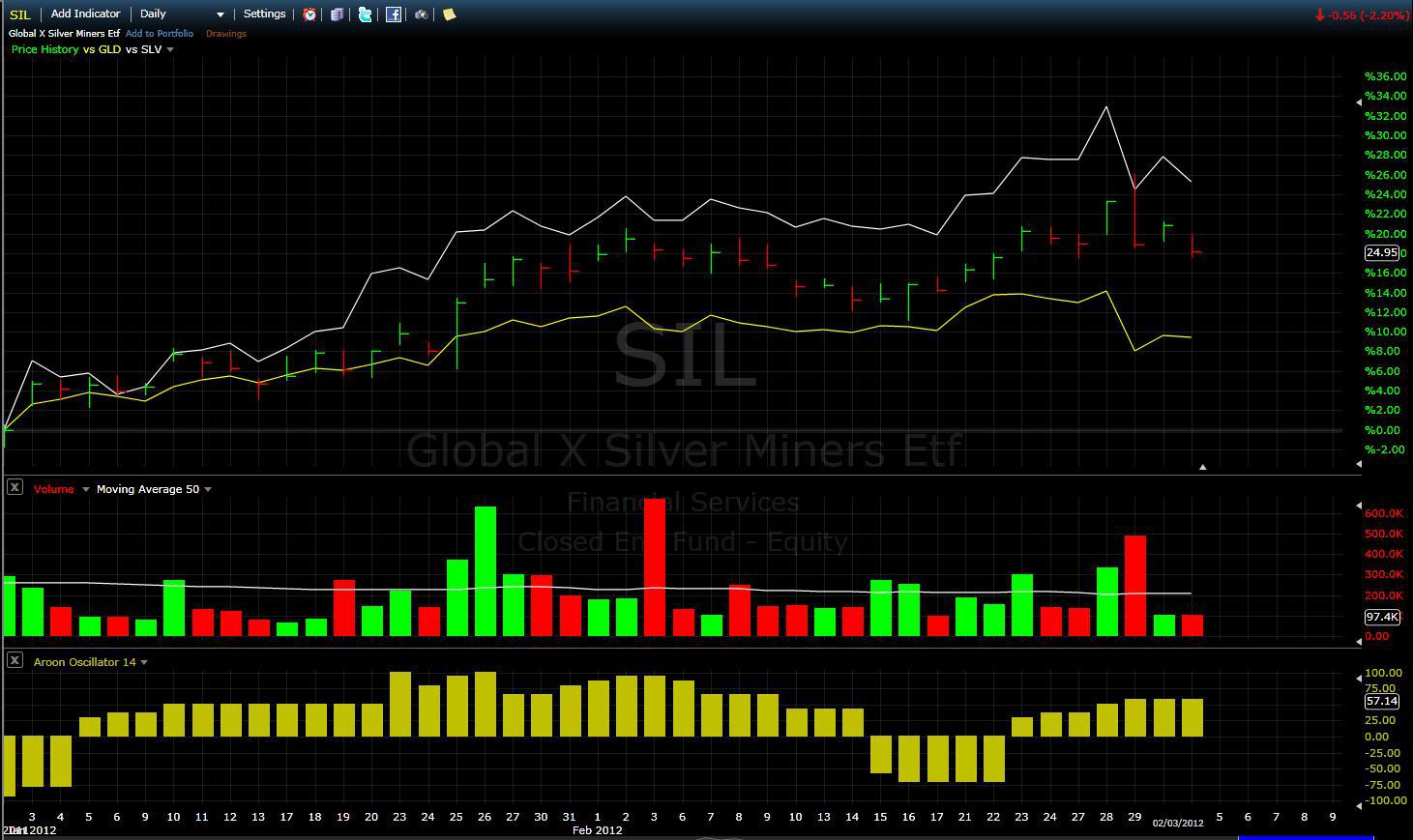 Click to enlarge
From the above chart, both gold and silver prices are in an uptrend since the beginning of the year. Gold has gained 9% so far in 2012's 60 days, while silver has gained a surprising 25%, almost triple the increase of gold. Silver is definitely the leader of the two and is showing much more volatility upwards and downwards as well.
The candlestick trace of the SIL silver miners sits definitely between the gold and silver prices traces in terms of gains with a gain to date of 17%. The silver mining equities as a whole in the SIL ETF are lagging the gains in the prices of the silver metal by about 8%. To my way of thinking, it may not pay to be exposed to the mining risks in the ETF's mining equities, when one could just own the gains from the silver metal itself. Truly, the silver equities as a whole are lagging the gains in the silver prices.
Comparison of Silver Stocks
In taking a closer comparative look at the precious metals and in particularly the smaller silver stocks in which I have an abiding interest (as I believe that silver leads the precious metals), there is a surprising or not so surprising movement upwards by a clutch of the junior or smaller silver stocks. I chose the beginning of 2012 as the starting gate for this comparison as that was a time of a depression in the silver prices and it would be revealing to see the gains since that date.
The table below is a comparison listing of a gaggle of silver stocks written about in an article earlier, together with the GLD gold ETF, the GDX gold miners ETF, the GDXJ junior gold miners ETF, the SLV silver ETF and the SIL silver miners ETF. I have only selected silver stocks that have actual production and I have not included the pure explorers.
Silver Stocks Comparison

Name

Symbol

Jan 3 2012

Mar 3 2012

Change

% Change

Gold ETF

152.00

166.00

14.00

9%

Silver ETF

27.00

33.76

6.76

25%

Large Cap Gold Miners

51.40

54.79

3.39

7%

Junior Gold Miners

24.60

27.71

3.11

13%

Silver Miners

21.40

24.95

3.55

17%

Silver Standard Resources

13.90

16.60

2.70

19%

Coeur D'Alene

24.50

27.57

3.07

13%

Hecla Mining

5.30

4.96

-0.34

-6%

Pan American Silver

21.90

24.54

2.64

12%

US Silver

2.15

2.52

0.37

17%

Revett Minerals

4.75

4.41

-0.34

-7%

Excellon Resources

0.58

0.63

0.05

9%

Silvermex

GGCRF.PK

0.40

0.46

0.06

15%

Avino Silver & Gold Mines

1.67

2.30

0.63

38%

Aurcana Corp

0.72

1.00

0.28

39%

Impact Silver

1.39

2.05

0.66

47%

Mag Silver

6.75

10.28

3.53

52%
A quick look at the GDX ETF's 7% gain so far, illuminates the fact again that the large caps in this ETF are causing this ETF to lag the gold price's gain of 9%. That is a 2% loss in owning the mining equities as opposed to just owning the golden metal itself. Here is a link to my conclusions of why gold miners are lagging the metal.
For the junior gold miners in the GDXJ ETF, it is a slightly different story, as this ETF has gained 13% YTD and has leveraged the gold price by about 4%. However, this 4% more than gold's gains of 9% is about a 45% increase relative to the gold price gains and from previous leveraging history, the gains should be more than twice as much or more than a 100% leverage in order to shoulder the risks associated with the junior miners. Again, it does not seem to be wise investing to take on the mining risks for only a paltry 45% leverage over the golden metals gains.
A look at the four large cap silver miners including Silver Standard Resources (NASDAQ:SSRI), Coeur D'Alene (NYSE:CDE), Hecla Mining (NYSE:HL) and Pan-American Silver (NASDAQ:PAAS) is showing that they are all lagging relative to the silver price gains of 25%.
A look at another four smaller cap silver miners US Silver (OTC:USSIF), Revett Minerals (NYSEMKT:RVM) Excellon Resources (OTCPK:EXLLF) and Silvermex (GGCRF.PK) is also showing that they are all lagging relative to the silver price gains of 25%. The amount of gains or losses is dependent upon their individual stories and not really dependent upon the silver prices.
In summary then, the silver producers, whether they are large or small are just not leveraging the prices of the raw silver metal itself. For reasons why they may not be leveraging the metal prices, it may be similar reasons as to why gold miners are not leveraging the gold prices as in my previous article.
Four Outstanding Smaller Silver Stocks
Now to the point of this article, where there has been some significant gains since January 3, 2012 by smaller silver miners that are higher than the 25% of the silver price, there are four listed in the above chart. The charts of each and comments are following:
Avino Silver & Gold Mines (ASGMF.OB) (Click to enlarge)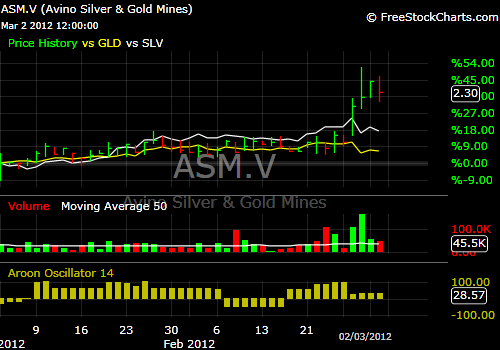 Click to enlarge
Avino Gold & Silver has gained 38% YTD, on the back of its re-developing the previous producing Avino mine. The company has provided a 2012 outlook here. Qualitystocks, a Seeking Alpha contributor has two updates on Avino here and here. Key to Avino's success are its small float of 27 million shares and an AMEX stock listing giving accessibility for investors.
Aurcana Corp (OTCPK:AUNFF) (Click to enlarge)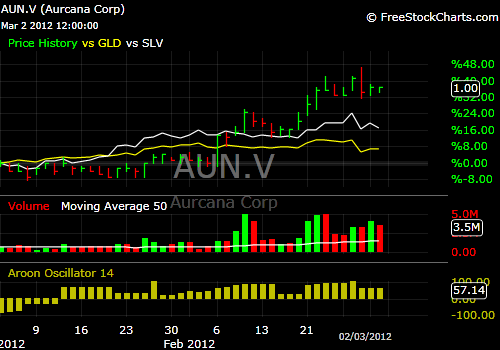 Click to enlarge
Aurcana has gained 39% YTD based upon its continuing production at La Negra, in Mexico producing over 1 million ounces of silver per year. Key to its growth is the plan to start production at the Shafter, Texas project by June of 2012, which is expected to produce over 3 million ounces of silver per year. Here is the link to the company website. Mike Niehuser, a Seeking Alpha contributor, writes about the Shafter mine here.
Impact Silver (OTCPK:ISVLF) (Click to enlarge)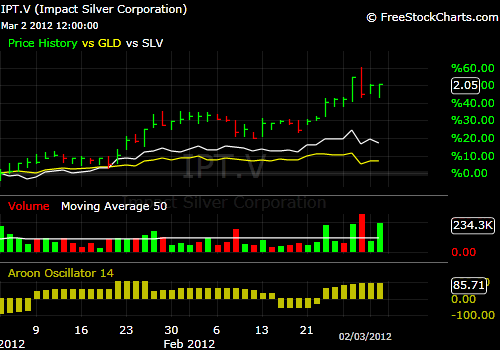 Click to enlarge
Impact Silver has gained 47% YTD based upon silver production from 3 mines in Mexico. The company is planning a 4th mine at its Capire project, Mexico in 2012 to bring company production to over 1 million ounces per year. The company has posted a 2012 outlook here. Mariusz Skonieczny, a Seeking Alpha contributor, has an article about Impact Silver from 2011 here.
Mag Silver (NYSEMKT:MVG) (Click to enlarge)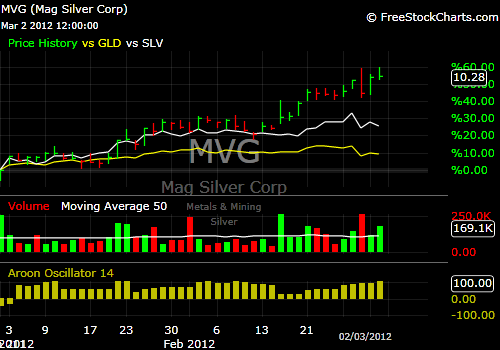 Click to enlarge
Mag Silver has gained 52% YTD based upon its JV with Fresnillo (OTCPK:FNLPF) on the company's Juanicipio property in Mexico. The company is expecting a preliminary economic assessment shortly for this significant project. The Juanicipio project contains "Indicated" 146 million ounces of silver and 384 thousand ounces of gold and "Inferred" 85 million ounces of silver and 370 thousand ounces of gold. Here is a link to Mag Silver's corporate website.
Small Silver Stocks Gain Because of Growth Perceptions
The four silver stocks standouts listed above are smaller silver miners working on increasing production and thereby providing a growth outlook for the company. The market respects this production growth and being coupled with the gains in the prices of their main commodity silver, gives these particular stocks good leverage over the silver prices. These are good examples of an investment theme of a sweet spot that well performing junior mining stocks may hit along the road to full production. A good example of this may be the growth that First Majestic Silver (NYSE:AG) experienced in 2011.
The juniors with growth prospects are in contrast with the other examined large and small silver miners that are in production presently and not leveraging the silver price. These silver producers are struggling price-wise as they are not showing any significant silver production gains. When a company becomes a mining producer, there comes a slew of market expectations with being a producer and any small hiccup causes price ramifications. As you investors all know, mining is not an easy enterprise to manage. Therefore these larger silver producers are all presently lagging the silver price gains.
Consequently the best gains will be in selected smaller silver stocks that execute well in growing their silver production and in communicating their stories to investors well as the silver prices increase. Perhaps one or more of these four highlighted silver stocks will soar to great heights as they grow up to be prime producers.
Disclosure: I have no positions in any stocks mentioned, but may initiate a long position in OTCPK:AUNFF, OTCPK:ISVLF, MVG over the next 72 hours.
Additional disclosure: Equities mentioned – GLD, SLV, SIL, GDX, GDXJ, AUNFF, ASM, EXLLF, ISVLF, MVG, RVM, GGCRF, USSIF, CDE, PAAS, SSRI, HL, AGI may also initiate a position is ASM over the next 72 hours.
Important Disclaimer: The information and opinions contained within this document reflect the personal views of the author and should be viewed as food for thought and amusement only. The author may from time to time have a position in any of the securities mentioned. There are no guarantees of the accuracy, reliability or completeness of the information contained herein. Independent due diligence and discussions with one's own investment and business advisor is strongly recommended. These writings are not to be construed as an offer or solicitation with respect to the purchase or sale of any security or as an endorsement of any product or service. We do not request or receive compensation in any form in order to feature companies in this publication. It is prohibited to copy or redistribute this document to any type of third party without the express permission of the author. This document may be quoted, in context, provided proper credit is given.