It has been a great year so far for Apple (NASDAQ:AAPL), and the stock's somewhat meteoric rise might be put to the test this week as the company will make its much anticipated iPad announcement. Could this be the catalyst that gets us to $600, or will profit taking set in and we head back down to $500? It's a good question, but before we look at where we are going, let's look at where we have been, specifically, the first two months of 2012.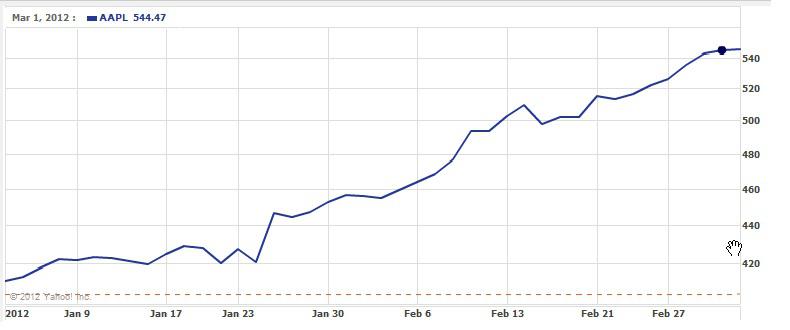 Of the 42 trading days so far in 2012, Apple is up 29 of those days. Apple is up more than $140 year to date, which in percentage terms, is more than 36%, and that is just in two months. Imagine what would happen if Apple maintained that pace for the rest of the year.
We all know that Apple's large rise was primarily due to the great earnings report for their fiscal first quarter, which blew away everyone's expectations. You can see the post-earnings rise quite clearly on the chart. But the more surprising part is how much Apple has risen since the earnings report. It is up another $100 since then, give or take a dollar or two. Apple gained $26.25 the day after earnings, which put it at $446.66. At that point, the post-earnings day gain accounted for 63% of Apple's year to date gains. However, as of Friday's close, the post-earnings pop only counts for 18.73% of the gains. It has been a truly remarkable move.
When Apple was trading near $400 during the end of 2011, the average analyst price target for the stock was about $500. Going into earnings, when Apple was at $420, the average was up to about $510. Now, plenty of analysts have raised their targets since then, which makes sense, but Apple closed Friday at $545.18. The average analyst target currently is just $573.56 (now the median is $600). That means, the gap between Apple's actual price and the target price has gone from more than $100 about three months ago, to less than $30 now. Apple is rising so fast, that analysts cannot even bring their targets up quick enough. Of course, we still have a few of them who believe Apple is a sell right now, and have ridiculously low price targets on Apple, like in the $275 area. Seriously. But hey, they've had that price target on Apple before the $140 rise recently, so why admit they were wrong now? Might as well stick with it at this point.
According to the Yahoo! Finance earnings page, the following table shows the average estimates for Apple earnings over the past three months, for the fiscal years ending this September and next.
| | | |
| --- | --- | --- |
| Estimates | FY 2012 | FY 2013 |
| 90 days ago | $34.62 | $38.86 |
| 60 days ago | $34.67 | $38.84 |
| 30 days ago | $42.14 | $46.89 |
| 7 days ago | $42.72 | $47.47 |
| Current | $42.73 | $47.49 |
Yes, analysts were forced to increase their estimates by quite a bit after Apple came in at $13.87 last quarter, which beat estimates by $3.71. A nearly $4 beat in the first fiscal quarter of the year has helped raise estimates on the year by more than $8, and for now, that seems about right. I'm sure if Apple beats by another couple of bucks this quarter, you'll see estimates rise towards $45 in the next few months. It's quite possible that Apple could even do $50 a share this year if they have a tremendous year. That seems a little unlikely to me right now, but we'll see how they do. For those who are asking, my current Apple estimate is for $160 billion in revenues and $45 in earnings per share, compared to the current street estimates of $156.8 billion and $42.73 per share.
We know that Apple's estimates have risen, which has accounted for a portion of the rise in stock price. But we've also seen some expansion in the price to earnings multiple, based on both this year's and next year's earnings. Now, I know that the following table only shows five specific points over the past three months, but you get the idea. Investors are willing to pay more currently than they were a few months ago, thanks to increased optimism after the blowout quarter. Some will argue that the P/E for Apple was too low then, others will argue that it still is too low now, but that's for another day.
| | | |
| --- | --- | --- |
| P/E Ratio | FY 2012 | FY 2013 |
| 90 days ago | 11.26 | 10.03 |
| 60 days ago | 11.86 | 10.59 |
| 30 days ago | 10.80 | 9.71 |
| 7 days ago | 12.23 | 11.01 |
| Current | 12.76 | 11.48 |
Apple's rise has been decisive, and it has been justified given the sheer volume of the products they are selling. However, some may call the move "parabolic", which usually leads to a quick and sharp selloff at some point, and that gets us to this week.
This Wednesday, March 7th, Apple is expected to make some sort of announcement regarding the iPad. Most expect a new version of the device, the iPad 3. There may also be a new edition of the iPad 2. I don't want to speculate on any specifics of what they'll announce, all I will say is that something new is coming, and that is the expectation.
If you are in the camp that the last $50 of this rally was in anticipation of the iPad announcement, you may also be in the "buy the rumor, sell the news" camp, which believes that Apple will sell off when it announces whatever this week. That is certainly a logical argument. Apple is also making the announcement during a week where US monthly jobs data is coming out, and that could provide some added volatility to any post-announcement news.
Back to my original question, has reality set in. I would say mostly yes. Apple shares for a while had the overhang of the fourth quarter "analyst letdown" (only missing because everyone's expectations were too high), which kept shares under $425 until the earnings report. They probably should have been at $450 or even $475 before that, with a rise to say $500 to $525 in the week or so following what would have been the big blowout. That would have been more logical. But because shares were trapped, they've been playing catch up, which is why the move has been so dramatic lately.
Apple has gained a little more than $90 billion in market cap recently, and that doesn't include the $26 post-earnings day pop. For those of you why don't understand the scale of that rise, it is about equal to the entire market cap of credit card company Visa (NYSE:V) or healthcare giant Abbott Labs (NYSE:ABT). If you include the after-earnings day rise, you are talking about $115 billion, or the size of Merck (NYSE:MRK). Go back to the beginning of the year, and add the last day of 2011 trading, and you've added the entire current market cap of Intel (NASDAQ:INTC). No, that is not a joke.
What happens this week? Well, I wouldn't be surprised to see Apple rise another few points into Wednesday, perhaps breaking the $550 level. Every time I say the following, everyone disagrees, but there is such a thing as a healthy pullback, and I would like to see one in Apple. We've seen a huge rise in Apple recently, but if Apple declines back to say $525 after the announcement, it's fine. The stock will still go higher, and you have to be realistic about these things. This has been one of the biggest moves we've ever seen (in terms of size, scale, market cap, whatever).
Why do I say reality has mostly set in and we are not there completely yet? Well, I think Apple's shares pre-earnings were too low, but I think that the rally has been a little out of control and we are a bit too high here. A pullback to $525 this week would bring us back to reality in my opinion, and then we can re-examine where we are. I hope we go back down to that level, or maybe even $500 in the next week or so, I'd love to pick up some shares there, and so would everyone else. Reality has mostly set in, but I don't think we are 100% there yet. Perhaps after this week we will be.
Disclosure: I have no positions in any stocks mentioned, but may initiate a long position in AAPL over the next 72 hours.