HP (NYSE:HPQ) is cheap on just about all metrics. As a 73 year-old firm with a diverse mix of businesses and well supported 1.9% yield, it appears to offer value. Clearly, price momentum and recent earnings are absolutely against the stock. And calling the exact turn is impossible with Q2 likely to see further earnings decline, but buybacks may increasingly backstop the stock against further downside. HP appears to make sense as part of a contrarian or value oriented investor's portfolio who has the patience to look beyond the next few quarters.
Context
HP was founded in 1939 and has an impressive legacy. So when the company is trading in the range of 8-9x earnings vs. 9-16x for computer hardware peers, it is time to take a serious look at the stock.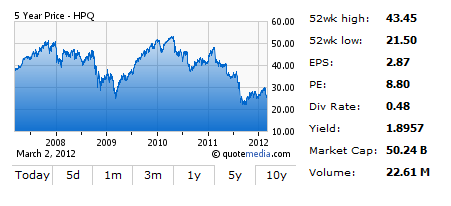 Comps
If we look at comparative companies, a couple of things are clear:
HP is cheap on a p/e basis relative to the sector

Whereas peers are at or close to 52 week highs, HP is languishing close to a 52 week low.
As an aside, looking at Dell's (NASDAQ:DELL) 9x p/e you might also wonder if Dell is cheap too, and I believe it is, as I wrote here in January. In addition, if you have done well from IBM's (NYSE:IBM) great run, a switch into HP now might be a good way to maintain sector exposure but offers more potential upside on a p/e basis.


Why Is HP At These Levels?
Most fundamentally, declining revenue and earnings per share (see chart below)

Indecision under Leo Apotheker as to whether HP wants to be a consumer business. (He has since been replaced by Meg Whitman.)

New form factors eroding HP's share of the computer market.

Concern over the long-term viability of HP's imaging and printing business in the face of growth of digital media and documents.

Recently, Thailand floods disrupting and raising prices of hard drive components.
Click to enlarge: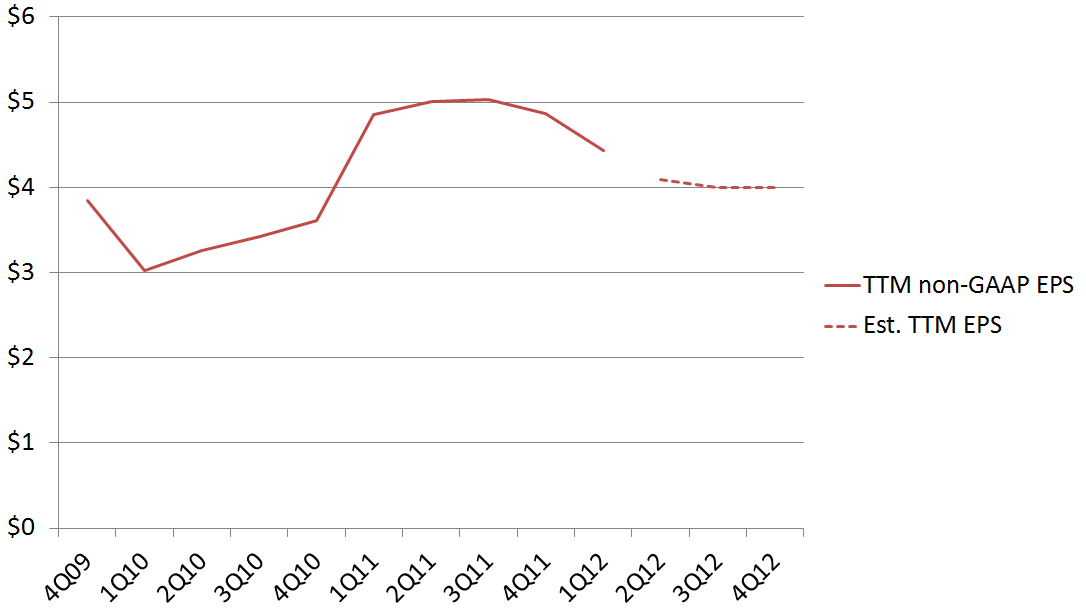 Overview of HP's Businesses
Although HP's personal systems business gets a lot of attention, it is important to to remember that HP's largest source of profit is services. Looking at the chart, my biggest concern is imaging and printing where substitution from printed to digital documents could erode HP's profitability over time. Nonetheless, HP has opportunities to more than offset this with growth in the Autonomy business it acquired and its services business.
HP Business Share Based on FY2011 Operating Profit (Click to enlarge)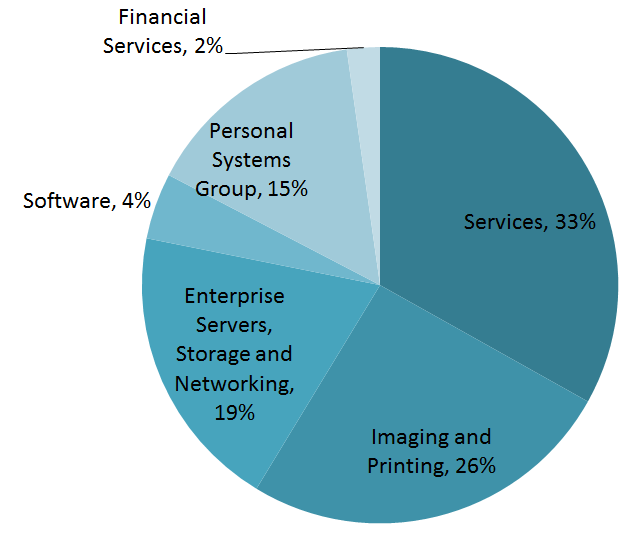 Sensitivity Analysis - HP stock price to p/e and earnings


Compared to peers, the main risk to HP appears to be further earnings declines. I suspect it is unlikely HP's earnings multiple will get much lower in the context of a market trading at over 15x earnings. As a reminder, HP trades at just over $25 currently.
Alternative Valuation Metrics
Earnings are reasonably similar to free cash flow for HP, with the company trading at 8x cash flow.

HP does have $8B of cash on the balance sheet, backing that out would lower the P/E to 7.4x.

HP yields 1.9%, which represents 17% of earnings. So there appears to be ample dividend coverage.

HP trades at 1.3x book, but bear in mind that goodwill is a significant part ($44B) of HP's assets, so I would not expect book value to support the stock.
Buybacks, HP's secret weapon
HP has authority to do $10B in buybacks, and has done close to $10B in 4 of the past 5 years. The company has $8B in cash on the balance sheet, so in addition to history as a sign that HP will do this, it has the resources.
If HP were to do $10B in buybacks and shrink earnings 20% this year, let's look at what would happen to the stock.
Sensitivity analysis - HP stock price to 2012 earnings change and buybacks. Current p/e ratio unchanged.



If HP does $10B of buybacks in 2012, then even with a 20% earnings decline EPS may be flat due to the reduction in the denominator (number of shares). Of course, that's not to say that HP will do these buybacks, but were the company to do so, support for the stock price could be significant. Whitman has done buybacks in the past.
Conclusion:
HP is cheap however you look at it. It would require seriously earnings decline to make HP's current valuation rational. That earnings decline is accelerating in Q1, but HP has a diverse mix of businesses (including some clear assets such as Autonomy growing double digits), and the Thailand hard drive issue should ease by Q3 at the latest. If management continues to target $4 of non-GAAP EPS in 2012, the stock offers real value. However as a backstop, stock buybacks could reduce any downside from an earnings decline.
Caveats
It will be a bumpy road for HP, and 2012 could see further bad news, especially from imaging and printing. But on a 2-3 year view, HP appears to offer value relative to both the market and the sector.

In addition, many believe HP is cheap right now, which is a bad sign for contrarians, there is a risk of being too early and it would be easier call if others were more disillusioned and closer to giving up on the stock.

This analysis does not hinge on detailed EPS projections for future quarters, rather it assumes that HP's earnings over the long term are unpredictable, but likely to be less bad that the stock price currently assumes.
Disclosure: I am long DELL.
Additional disclosure: I may initiate a long position in HPQ in 72 hours.