Is it time to flee to safety? With the economic and political climates only becoming more tumultuous I have been concentrating on high yield equities. We all know about the blue-chip dividend companies but there are attractive companies with high yields that are going ex-dividend every week. This strategy can work in one of two ways: either you buy before the ex-date to receive the dividend or buy after if the stock declines far below the after-tax amount of the dividend.
Buying the stock to receive the dividend is intuitive but many have contacted me requesting further details on the second strategy. Investopedia has a great example of how this works. To explain this, I will use AT&T (NYSE:T) as an example. AT&T declared a $.44 dividend to shareholders of record on January 10, 2012. On the ex-dividend date the stock price should decline by the after-tax dividend amount, with an assumed tax rate of approximately 15% because many dividends qualify for a preferential tax rate. As a result, an investor would expect the stock price to decline by $.37 = [$.44 * (1-.15)]. If AT&T declined by more than $.37 in the absence of negative news you might have an attractive opportunity. Executing this strategy can generate outsized returns over short periods of times but should only be performed on companies that you would be comfortable owning.
To focus on these opportunities I ran a screen with a focus on relative safety for the investments. I began with a specification of a dividend yield greater than four percent and an ex-dividend date within the next week. To provide some layer of safety I narrowed down the environment by looking at companies with market capitalizations greater than $1B, PEs between zero and 20, and institutional holding percentage of at least 25 percent. While not a precise requirement, I prefer companies that have underperformed the S&P 500 in the last 52 weeks as it indicates limited downside relative to peers. This is summarized below:
Dividend Yield ≥ 4.0%
Ex-Dividend Date = Next Week
Market Capitalization ≥ $1B
PE Ratio: 0-20
Institutional Ownership ≥ 10%
After applying this screen I arrived at the companies discussed below. Due to the sheer volume of utility companies this week, I have analyzed those in a separate article. Although I envision these as short-term trading ideas, you still need to be careful. The information presented below should simply be a starting point for further research and should not be taken as a recommendation. My goal is to present new companies to you and provide a brief overview of their recent developments and this should not be considered a substitute for your own due diligence.
American Capital Agency Corp. (NASDAQ:AGNC): 16.20% Yield - Ex-Dividend 3/5
From mreit.com:
An mREIT is a Mortgage REIT ... which is an entity that specializes in investing solely in mortgage products (e.g. purchasing and selling mortgage-backed securities). Like other REITs (Real Estate Investment Trusts), an mREIT can only deal with mortgages and 90% of earnings must be paid out to its investors annually.
Since these companies are required to distribute such a high percent of earnings to investors, the yields are much higher than you find with more traditional companies; however, the stock prices and dividends can both be quite volatile. Since I last followed the company the yield has plummeted nearly three percent as the stock has climbed ten percent over the same timeframe. While I personally avoid this space, there are many excellent articles on Seeking Alpha that can provide more color on the investment.
SeaDrill Limited (SDRL): 7.88% Yield -Ex-Dividend 12/8
SeaDrill is an offshore drilling company that operates over fifty oil and gas drilling platforms across the world. The high yield was initially concerning, so I dug deeper into the company as the oil and gas drilling industry can be somewhat volatile. The dividend history is short, but indicates a steady trend with a commitment to returning excess funds to shareholders. The fourth quarter financials also indicate a bullish stance on the dividend, despite the net loss in the quarter: "The increase in dividend reflects the improved market outlook, the strong revenue backlog, and solid support Seadrill receives from the financing market."
Power Hedge wrote a great article examining SeaDrill's recent activities and it builds my confidence in the pick.
Avoid: Broadcast Television
Cablevision Systems Corporation (CVC): 4.25% Yield - Ex-Dividend 3/7
Cablevision is an entertainment conglomerate that derives the bulk of its earnings from cable, Internet and telecommunication services provided to customers in the New York region. Cablevision does not operate in a very high growth area but has been the talk of the town since Linsanity entered the world's dictionary. While Madison Square Garden (NASDAQ:MSG) has surged to an all-time high, Cablevision has declined slightly in the last quarter. Cablevision has been severely punished in as it lags the S&P 500 by nearly 40% over the last year, indicating limited downside on a potential trade. Having said that, I think the other trades presented offer a more attractive risk/return profile.
Consider: Waste Management Services
Waste Management, Inc. (WM): 4.04 Yield - Ex-Dividend 3/7
Waste Management specializes in a business that few others want to deal with: waste and garbage. WM offers collection, transfer, recycling, and disposal services for both residential and commercial customers. The business is not just simply picking up garbage and depositing of it in landfills anymore. Now there are high-tech recycling and related operations that are integral to the business and offer WM a competitive advantage over smaller rivals. Aside from Waste Management s massive fraud in the 1990s, this company has been a steady performer that capitalizes on an unpopular business. The stock has appreciated twelve percent in the last year even after its poor fourth quarter earnings that declined over five percent. Even more troublesome is that the company issued a cautious outlook. Who says you cannot make money from garbage?
United Bankshares, Inc. (UBSI): 4.44% Yield - Ex-Dividend 12/7
United Bankshares is a commercial and retail bank with over one hundred locations in the Northeastern United States. UBSI looks like a standard regional bank, but the high PE is alarming for the beaten down industry, despite the company's strong history of dividend increases. Between this and recent earnings miss, I would personally avoid UBSI because the yield is not spectacular for the risk assumed.
Consider: Tobacco Companies
Reynolds American Inc. (RAI): 5.31% Yield - Ex-Dividend 3/7
Reynolds is the other "big tobacco" company like Lorillard (NYSE:LO), that arose in my screen last week RAI is one of the "big tobacco" companies, with brands including Camel and Kool. I have invested in both Altria (NYSE:MO) and Philip Morris (NYSE:PM) with tremendous capital gains and dividends over the years. Reynolds is slightly less expensive and has a comparably lower yield than Altria; however, I prefer Altria as a long-term investment but Reynolds holds up very well for this strategy. RAI is the best performing of the stocks in the screener in the last year, appreciated over 18%.
The legal ruling against strong warning labels on cigarettes should benefit all companies in the industry. Tobacco companies are both mature and safe; precisely what investors are seeking in this economy. For this reason, I hold PM in my "Great Recession II" portfolio.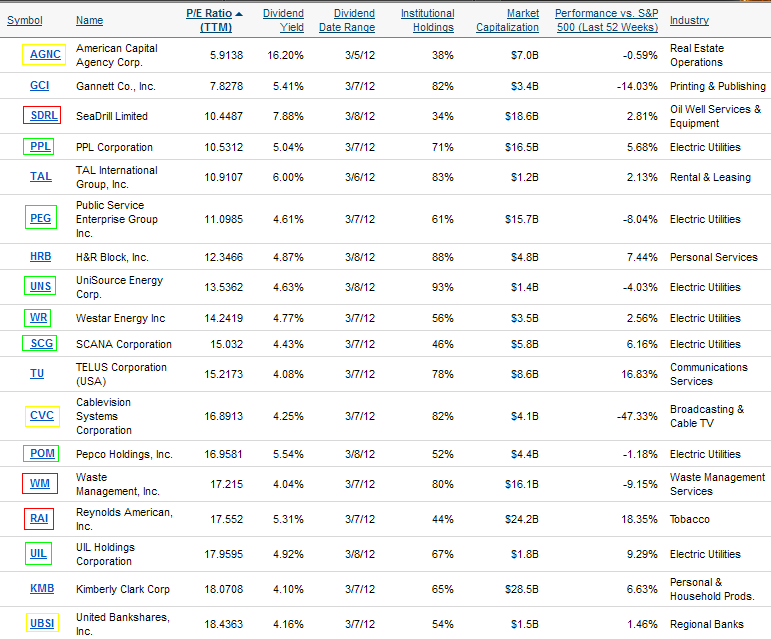 Disclosure: Author is long MO, PM, and T.