In our last writeup on Sirius XM (NASDAQ:SIRI) we showed through valuation analysis that SIRI's shares are worth $3 per share, and that was based on a more aggressive sub estimate than management was guiding to and what the current Street has modeled. Management is guiding for 1.3 million net additions for 2012 and the Street is estimating 1.4 million net additions. We believe that management is low balling the Street on net additions and that net additions may approach 1.6 million. However, even that estimate now looks conservative based on recent SAAR numbers.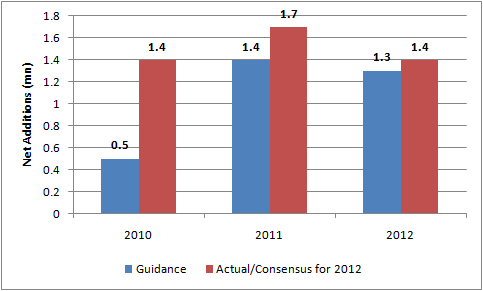 We are sticking with our 1.6 million net addition estimate for 2012 but the February SAAR number of 15.1 million was exceptionally strong. The number was up 14% y/y and is the highest since 2008.
If the economy remains robust and that 15 million SAAR handle is maintained throughout the year, then the 2012 net additions could approach 1.9 million. We base that estimate on the roughly two thirds of cars that will have a satellite ratio installed and the roughly 45% of those subscribers who convert to self-pay subscribers.
EBITDA for 2012 would be negatively impacted by the additional subscriber acquisition costs but the positive benefits would be felt starting in 2013, when all the revenues are recognized against zero subscriber acquisition costs for those subs. The additional EBITDA in 2013 would drive an additional 30 cents of value to our $3 price target, assuming the same 15x multiple, bring our price value to $3.30, up 43%.
The risks are obvious and include a slowdown in the recent strong macro economic numbers we have seen. High gas prices could also become a risk to car sales, although we believe that this specific risk maybe overstated.
Disclosure: I have no positions in any stocks mentioned, and no plans to initiate any positions within the next 72 hours.