As I said in a recent article on Geron (NASDAQ:GERN), biotech and small cap drug stocks are probably the hardest to invest in. They tend to generate more binary outcomes (10 baggers or heavy losses) than any other area of the stock market. The best way to play the sector is to spread your money on numerous attractive plays and be patient and accept the volatility of the sector. In addition to Geron and Vical, I am about to add Antares Pharma (AIS).
Antares Pharma:
Antares Pharma, Inc., a pharmaceutical company, focuses on self-injection pharmaceutical products and technologies, and topical gel-based products. It offers injection devices, which include Zomajet 2 Vision, Zomajet Vision X, Twin-Jector EZ II, and Tjet for human growth hormone; Medi-Jector Vision for insulin; Vibex disposable pressure assisted auto injectors that enables a controlled pressure delivery of drugs into the body utilizing a spring power source; and disposable pen injectors, which are needle-based devices designed to deliver multiple injections from multi-dose drug cartridges. (Business Description from Yahoo Finance).
7 Reasons to take a flyer on Antares at $2.50 a share:
The company is doing exactly what you want from a small cap drug stock with an expanding product line from an earnings front. The company lost 7 cents a share in FY2010, is projected to lose 4 cents a share in FY2011 and analysts have it earning 13 cents a share in FY2012.
It has approximately $26mm in net cash on its balance sheet. This is 10% of its market capitalization. Given its cash burn rate, this is good for another four years of funding at current levels. However, the stock should turn cash flow positive in FY2012 and no longer have any burn rate.
Insiders have been net insider buyers of the stock over the last six months.
The median price target on Antares for the 3 analysts that cover the company is $3.50.
Although sales are small (Around $15mm in FY2011), revenues are projected to grow over 100% in FY2012
The stock looks like it has bottomed and recently crossed over its 200 moving day average (see chart).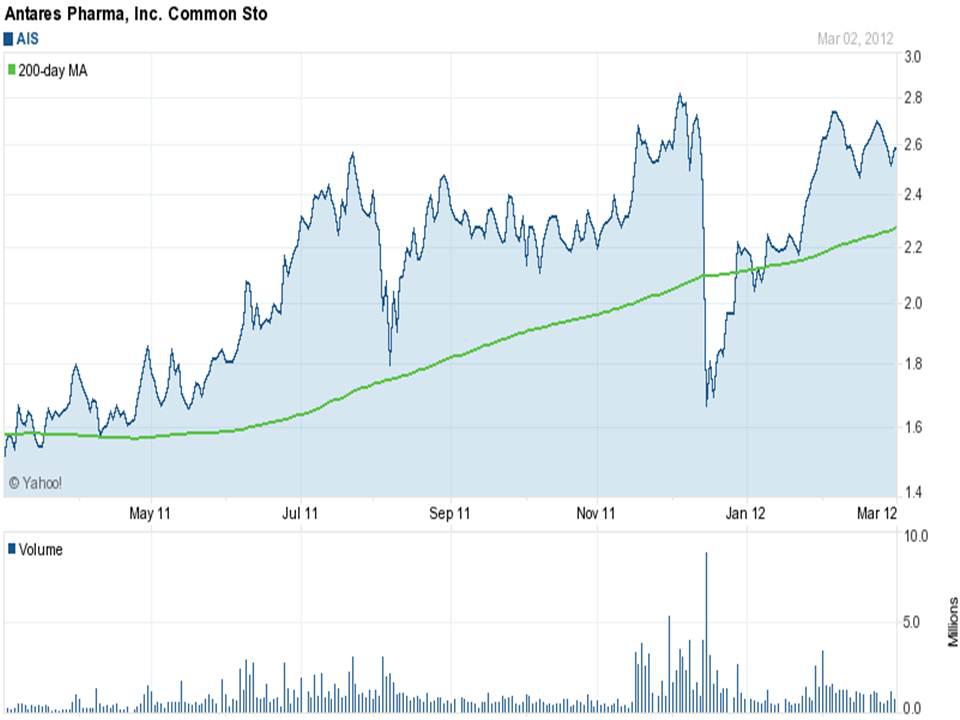 Click to enlarge
Given its strong pipeline, existing partnerships, growing sales and low market cap, Antares could make an easy and logical acquisition for a bigger player in the pharma space.
Disclosure: I have no positions in any stocks mentioned, but may initiate a long position in AIS over the next 72 hours.